ARUNACHAL STEPS UP TO PROTECT INDIGENOUS RIGHTS
Northeast Today
|
September 2020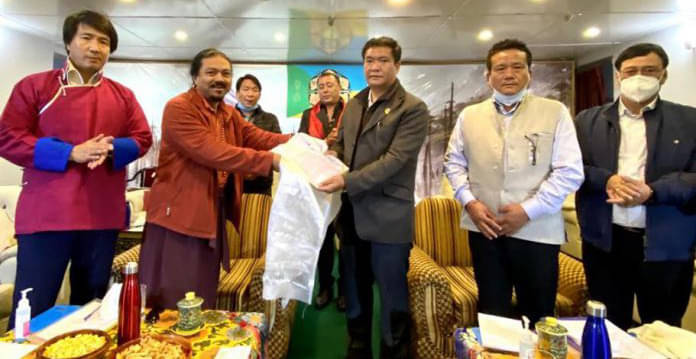 The ruling government in Arunachal Pradesh recently came under the scanner when the Mon Autonomous Region Demand Committee (MARDC) reiterated its clarion call for the Mon Autonomous Region. Various civil society organizations and students' association were vocal against the demand, which, according to them would impact other communities and initiate division among the tribes of the state. The state government led by Chief Minister Pema Khandu has been widely criticized for its alignment towards a particular community and the resignation of the CM was also demanded. However, the state government in consultation with various groups is now vouching for the implementation of Sixth Schedule in the state, following which the state Assembly on August 27, passed a resolution to include the frontier state in the Sixth Schedule of Constitution and amend Article 371 (H) to protect the rights of its indigenous population. From the recent development, it can be assumed that the state is in the process of decentralization of power and empowering various tribes and communities in the state. Northeast Today reports
Demand for an Autonomous Council resurfaced
The push for the creation of the two autonomous councils-Mon Autonomous Council (MAC) which consists of the Tawang, West Kameng and part of East Kameng District and Patkai Autonomous Council (PAC) comprising the three Eastern districts of Tirap, Changlang and Longding, was raised 17 years back in 2004. Even though resolutions were passed in the state assembly in two separate occasions for the creation of the Autonomous District Councils (ADCs), things did not materialize.
The call for the long-pending demand for the creation of MAR resurfaced when on July 29, the MARDC submitted a memorandum to CM Khandu. According to the MARDC, the 17-year-old demand for creation of the MAR, which started in 2003, is still pending before the Government of India. The Committee further exhorted to strong views of the extreme necessity of the MAR and expressed displeasure over the inordinate delay of the Government in granting the Autonomous Region. The Committee urged for the immediate creation of the Autonomous Region, and to pursue the same vehemently with the State Government and the Government of India. It also emphasized to have tripartite talks of the Demand Committee with the State Government and the Centre at the earliest for the creation of the proposed Autonomous Region. The meeting then finalized a memorandum requesting the State Government to take up the long pending demand of MAR.
Countering the Demand for ADCs
Arunachal shares international borders with Bhutan in the west, Myanmar in the east, and a disputed border with China in the north at the McMahon Line. Within the region, it shares its border with Assam and Nagaland in the south. It is home to a diverse group of tribes and communities, each with a unique identity.
As the proposal of the two councils emerged various groups and organizations have expressed their resentment as it will fuel the need for more such autonomous councils, thereby disturbing the integrity of the state.
More so, when there is trouble with China on the international border and the nation is grappling with Covid-19. The territorial claim of the eastern districts of Arunachal owing to the Naga political problem is another sensitive issue at hand.
You can read up to 3 premium stories before you subscribe to Magzter GOLD
Log in, if you are already a subscriber
Get unlimited access to thousands of curated premium stories, newspapers and 5,000+ magazines
READ THE ENTIRE ISSUE
September 2020