Young At Heart
New Zealand Listener
|
February 2-8, 2019
Latest research shows a lifelong fitness regime can shave decades off your biological age.
To mark his 80th birthday, Gavin Riley ran to the top of Te Mata Peak. Okay, he didn't run all the way, although he would have liked to. Restricted blood flow in his legs means such a feat is beyond the Havelock North octogenarian these days. Still, he did run the final 200m to the summit and his regular weekly exercise routine would put many people half his age to shame.
Riley has been a runner most of his life. He started racing in his early school days in the 1940s and even in his busiest years, working full-time as a journalist and raising four children, he ran to and from work to keep fit.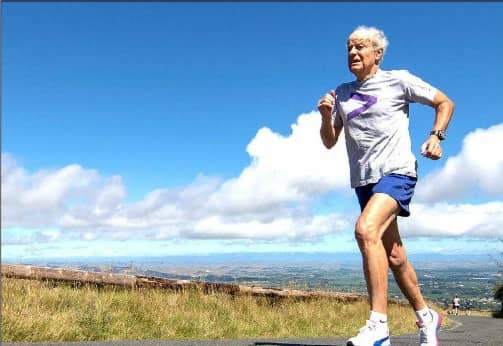 "I feel more alive when I'm running than when I do anything else," says Riley, now 82. He believes the mantra that all of us should live by is "wear out, don't rust out". Despite creaky knees, the claudication in his legs that causes them to cramp, and damaged vertebrae in his back from running on hard roads in thin-soled shoes back in the 1960s before modern trainers, he keeps pounding the pavements. These days, he heads out for 40 minutes of alternate walking and running three days a week and supplements that with a series of strengthening and flexibility exercises, including a lot of single leg squats and planking, in his garage.
"It totals six hours a week over five days," he says.
Riley admits his family think he is obsessed. "Someone did point out to me that all the hours of exercising may add up to far more than any extra lifespan. But I like the feeling of being fit.
And it slows down the diminishing of your quality of life. Keeping mobile is what it's all about."
At his peak in the 1970s, Riley was running more than 200km a week. Even at 57, he came third in a 24-hour race in Tauranga, and he didn't retire from racing until he was 62. He believes his continued regimen is what keeps him healthy.
"I have low blood pressure, low cholesterol and a low heart rate. The only medication I take is a statin as protection against possible blocking of my narrowed arteries. I'm convinced from my many years of experience that aerobic exercise in some form can slow the ageing process for almost everyone," he says.
Increasingly, science is backing him. According to the latest research, lifelong fitness devotees such as Riley are biologically about 30 years younger than their chronological ages.
MEASURING HEALTH BENEFITS
Scott Trappe is the director of the Human Performance Laboratory at Ball State University in Indiana. He has long been focused on the effects of aerobic and strength training on people in later life.
"Between 70 and 80 is when the major decline starts to happen," Trappe says.
Recently, he realised he had the opportunity to do something different. Thanks to the running boom of the 1970s, lifelong exercisers were ageing into the category he was most interested in.
"So, I started going to races to meet these people. They'd win the 70-plus category and I'd introduce myself. From there it snowballed, with them recruiting their training buddies for us."
Trappe ended up with 28 people, including seven women. These weren't elite athletes, just enthusiasts who had combined their hobby with busy careers and family lives, continuing to run, cycle or swim whenever they had the chance.
You can read up to 3 premium stories before you subscribe to Magzter GOLD
Log in, if you are already a subscriber
Get unlimited access to thousands of curated premium stories, newspapers and 5,000+ magazines
READ THE ENTIRE ISSUE
February 2-8, 2019