Baltimore: A Most Violent Year
New York magazine
|
November 30- December 13, 2015
Baltimore, the laboratory city.
Benjamin Wallace-Wells, photos by Devin Allen
PART I
On the clear April afternoon when the Freddie Gray riots escalated, most members of the city's political Establishment were inside the New Shiloh Baptist Church in West Baltimore for the funeral of Gray himself. They might as well have been in a box. Gray, the 25-year-old man whose spine had snapped after he was handcuffed and allowed to bounce around inside a police transport van, had been anonymous in life, but in death his invisibility had made him a symbol of the vulnerability of African-Americans in Baltimore and beyond. The police commissioner did not attend the funeral, but the Reverend Jesse Jackson did. So did Elijah Cummings, the ranking Democrat on the House Oversight and Government Reform Committee. Nearby was Mayor Stephanie Rawlings-Blake—young, a modernizer, the president of the U.S. Conference of Mayors. There too was her popular predecessor, Sheila Dixon, removed from office amid scandal but contemplating a run to reclaim City Hall.
It was obvious already that Gray's death had revealed a rupture in Baltimore—since he had fallen into a coma, there had been protests or vigils just about every day, small at first, then growing larger—but its extent was not yet clear. Many of the first protests had been led by an unknown 26-year-old storefront preacher named Westley West, who presided over street funerals at no charge, and so the initial images of the movement centered on a young man of no reputation and no direct relationship to the Gray family marching toward the Western District police headquarters with purpose, a huge crucifix swinging from his neck and his brother shouting in his ear. By the time of the funeral at New Shiloh Baptist, some members of the Gray family were relegated to the balcony, and behind them sat Gray's neighbors from the Gilmor Homes housing project. The balcony, though, turned out to be a good place from which to see what happened next: everyone surreptitiously checking their cell phones for news of the insurrection growing outside.
Among the mourners in the church was a man named Ted Sutton, once a close associate of the legendary West Baltimore gangster Little Melvin Williams and now a youth pastor and an anti-violence advocate. He left the funeral and gathered a group of men to try to locate the protesters. They traveled first to Mondawmin Mall, but it was quiet. Then they came closer to the center of the city, to the corner of Fulton and North Avenues, which wasn't quiet at all. The police had massed in riot gear, but then they had fallen back, unsure about what their posture ought to be. The protests during the past week had been organized, with slogans and signs, but here there was more chaos and confrontation. Sutton remembers seeing an Asian liquor-store owner being beaten; he intervened and called an ambulance and the man's son. But within this disorder, Sutton, a student of the relationship between power and violence, also noticed signs of intent. He saw a cluster of small businesses on North Avenue (a hardware store, a dry cleaner) that belonged to his old mentor, Williams, who had long ago sworn off crime. None had been touched. The targets seemed mostly to be chain stores or those owned by outsiders. Sutton thought this was a good sign; it meant the protests had some discipline and direction.
Anywhere in the world, anytime police line up in riot gear across from a crowd of citizens, the space between them becomes a stage. A teenage boy walked into the middle with his arms out. The police had been firing pellets into the crowd. "Shoot me!" the boy was crying out. "Shoot me!" Sutton became alarmed. He recognized the boy, whose name was Nehemiah; he was a student whom Sutton had mentored at a West Side middle school. Sutton, six-foot-four and broad, pushed through the crowd and ran out to the boy. "Nehemiah, this isn't a game! They'll kill you!" he yelled. Together with one of his men, Elder G, Sutton pulled Nehemiah back from the stage and returned him to the crowd. Then a police officer fired a tear-gas canister toward the protesters, and it became difficult to see.
Everyone in Baltimore seemed to get arrested that day, April 27. By the end of the evening, the city jail was packed—eight-man cells held 16, two-man cells held four. A nursing home being built on the East Side was torched, though no one was ever arrested for the arson, and the motives remain inscrutable; crowds looted pharmacies and clothing stores up and down the West Side; late into the night, cars full of young men circled slowly in prosperous neighborhoods; the television cameras were ubiquitous, unmissable symbols of the broader world's interest. No one went home and no one died.
Each of the American cities where high-profile police killings have inspired demonstrations these past three years has had a different experience of violence, of political protest, of social change—each is part of a composite. Baltimore's has been the most prolonged: After Gray's killing, and then after the protests, there was a third phase, more devastating than anywhere else, in which the police seemed to retreat and then the largest wave of homicides in a quarter-century overwhelmed the city. That wave has still not fully subsided; the disturbance that became visible with Gray's death continues.
There was something else unique to Baltimore's experience that deepened its tragedy and mystery. Baltimore's political leadership is composed almost entirely of progressive African-Americans, many of whom had marched in Black Lives Matter protests. Under their watch, zero-tolerance policing had been curbed, and, for the first time in many years, the city had grown more prosperous and inviting and people had been moving in rather than out. Even so, there was no large personal distance between these figures and street violence. Representative Cummings spoke at Gray's funeral about his own nephew, murdered in Baltimore: "Every day I mourn what could have been." The nephew of the City Council president, Bernard Young, had recently been murdered, too. And so what followed the demonstrations in Baltimore was more complicated than what happened in Sanford, Florida, after 17-year-old Trayvon Martin was shot by a neighborhood-watch volunteer; or in Ferguson, Missouri, after the police shooting of 18-year-old Michael Brown: outrage, but also self-doubt. The gaze in Baltimore went inward, not just to the politics of race and violence, not just to the social structures that shaped those politics, but to the emotional terrain underneath.
On the afternoon of April 28, a senior police official named Melvin Russell took an unusual call from a friend. A private meeting of rival gang leaders, who had themselves been disturbed by the violence within the protests, was about to begin, and the friend thought Russell would want to be there. Russell, a lieutenant colonel who runs the department's community-relations division, grew up in Baltimore and has been an officer in the city since 1981. Since the protests began, he had spent far more time in meetings than he would have liked, and so his experience had a nightmarish quality, "like I was watching someone dying in the street, a few feet from me, but could do nothing about it." The friend gave an address—a church in Northwest Baltimore—and said not to tell the press. Russell called some members of Gray's family to encourage them to come too. Then he went.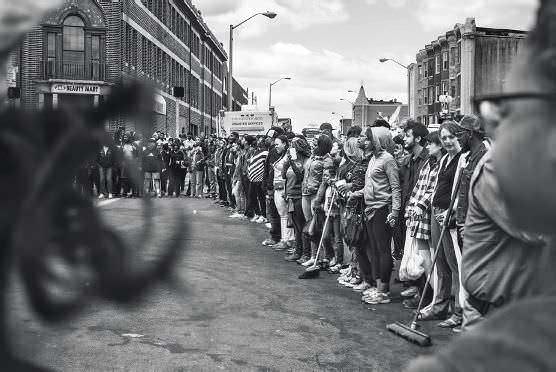 Someone told the press. As Russell arrived, there were camera vans out front, so he slipped in the back door. "We lost the members of the Gray family at that time, because they pulled up and saw the cameras," Russell told me. They lost a few gang members, too. But eventually the reporters left. Inside the church, there were representatives from the three major Baltimore gangs: the Bloods, the Crips, and the Black Guerrilla Family. They looked at Russell—a tall African-American man in his 50s who wore his authority heavily—"cross-eyed." The gang leaders had arrived with a specific grievance. As the first protests had unfolded, someone in the police department had told a reporter that they had been organized by Baltimore's gangs in order to attack cops. The report spread: It was broadcast on Fox and made headlines in several papers.
The gang leaders were furious. One man from the Crips faction relayed a story: When the teenagers were coming down Pennsylvania Avenue, some Crips saw a cop outside his car. "And they said, 'Get in that business quick,' because he wasn't close enough to his car," Russell said. The crowd destroyed the car, but the officer had heeded the Crips' warning and hid. "So this guy"—the Crip—"was emotional about this. He said, 'How are you saying we tried to kill cops when we were saving their lives?' " This went on for a while. Russell said, "They were absolutely right."
The meeting lasted an hour and a half. Eventually conversation turned to what might be done. Russell asked that representatives of the gangs meet him at the corner of Pennsylvania and North each evening at nine to help disperse the crowds. Each night that week, Russell saw them out as promised: the Crips in their blues, the Bloods in their reds. The Black Guerrilla Family doesn't wear colors, but he recognized their faces.
The violence that first week was often symbolic, but because the cameras were everywhere, it was all on television. Not far from where Ted Sutton had waded into the crowd, and not long after, a CNN reporter was interviewing a street activist named PFK Boom. "The people in my city are not happy," he declared. Then, in the background and on live television, a tall man in a bright-pink hoodie sliced open a hose that firefighters were using to put out a blaze. For a few seconds there was pandemonium—it was hard to tell what had happened—and then the camera focused on the same man, his face covered by a gas mask, as he stabbed the fire hose again with a knife and water spurted into the air. The young man bounded away.
According to the police account, that same man was arrested a few hours later when he walked into a corner store while possessing a weapon. (The police believed he was there to loot the place, though his lawyers would argue that he intended to help protect it.) His name was Gregory Butler Jr., then 21 years old and from the East Side, and he had been a basketball star headed out of the city until an administrative detail cost him an athletic scholarship. Baltimore's schools, unlike most, give no extra weight to the honors classes Butler had taken, and so his GPA was too low to qualify. Since graduating, he had generally stuck close to his own neighborhood, but the Gray protests had loosened something in him. He had attended most of them, shouting alongside young men from other neighborhoods he would have usually avoided, sensing the familiar fears of street violence dissipating. Even after his arrest, in the city jail, he found that "most of the conversation was political. There was no fear." Later in the summer, Butler would attend youth-activist forums, speaking with feeling of the "hopelessness" of the children in his neighborhood, of the necessity that someone mentor them. It says something about the sheer confusion of the moment, of the ways violence upended all of Baltimore's normal moral categories, that during the last days of April, Greg Butler Jr. was the force of nihilism and chaos and the Bloods and the Crips the forces of order.
This confusion of categories was everywhere. It was hard to distinguish between the rioters and the protesters, or discern whether these grievances were simply part of the national activist wave. But from up close, there was less surprise; the events had a specific, local history. "You could see this coming," Russell said, "for about two years."
The summer of 2013 had a particular significance to many activists in Baltimore, because that was when an unarmed 44-year-old man named Tyrone West died after being beaten by at least eight Baltimore cops, according to a lawsuit his family later filed. West had been pulled over while driving his sister's Mercedes-Benz; police would later say he'd been moving furtively inside and that they'd found cocaine tucked in his sock. Told to sit on the curb, West got angry, stood up, and started fighting the police, according to the account of a passenger in his car. It took ten minutes for him to succumb.
The city prosecutor declined to charge any policemen; a key component in West's death, the coroner eventually ruled, had been a heart condition. To West's family, this seemed like an evasion. His sister, Tawanda Jones, organized a vigil seven days after his death, and then another one seven days after that. The vigils became small weekly demonstrations against police brutality, and soon she began moving them around the city, into its most violent neighborhoods. West's name resonated across the city. (PFK Boom would mention him on CNN.) So did that of Anthony Anderson, a 46-year-old man killed in 2012 when a police officer tackled him from behind, rupturing his spleen. Anderson collapsed in front of his mother, sister, son, and daughter and died minutes later. Like West's, his death had come in an everyday setting.
You can read up to 3 premium stories before you subscribe to Magzter GOLD
Log in, if you are already a subscriber
Get unlimited access to thousands of curated premium stories, newspapers and 5,000+ magazines
READ THE ENTIRE ISSUE
November 30- December 13, 2015