"Workers are being sacrified''
Mother Jones|July/August 2020
We're offering this story for free to read so that you can stay updated on the COVID-19 outbreak
As coronavirus cases mounted, a giant meatpacker kept workers on crowded factory floors.
By Esther Honig and Ted Genoways
ON HER PHONE, Crystal Rodriguez keeps a photo of her father hooked up to a ventilator. Nurses at the hospital sent her the image after he'd spent close to a month in the intensive care unit at UCHealth Medical Center of the Rockies in Loveland, Colorado, battling severe complications from COVID-19. At 58, he was unable to speak or visit with family. Rodriguez is convinced that her father was exposed to the coronavirus at work on the meatpacking line at JBS, a Brazilian- owned multinational that brings in $50 billion annually as the world's largest meat processor. "They have so much money and so much knowledge of everything," Rodriguez says. "Why didn't they help protect us?"
A 33-year-old single mother of four, Rodriguez grew up in Greeley, Colorado, home to JBS' American headquarters and a massive plant that employs 6,000 workers. Rodriguez has worked there, on and off, alongside her father since she was 18. In the photo on her company ID, she has thick black hair and a wide smile, but her happy expression belies the reality at work. She saysJBS is like a bad ex-boyfriend who you keep trying to leave, "but you still go back for some reason."
Every workday in Greeley, plant employees herd 5,000 cattle onto the kill floor, where more workers stun, bleed out, decide, dehair, gut, and split the carcasses. The hanging halves are chilled and aged before a line of still more workers, standing along with a snaking conveyor system, butchers them into individual cuts for packaging. For eight hours each shift, Rodriguez stands elbow to elbow with a dozen other employees, pulling slabs of beef off a conveyor belt and swiftly trimming them into cuts of lean brisket. The work is taxing, and the repetitive, forceful motion takes a toll. Rodriguez says her hand's tingle at night, and her fingers are curled and misshapen from holding a knife and hook all day. She calls them her "grandma hands."
Her latest stint atJBS began in August of last year. She made decent money, $15.35 an hour, and she could share lunch breaks with her dad, who had spent the last 40 years working there. Sergio Rod riguez took a job atJBS at the age of 18, shortly after arriving in the US from Durango, Mexico. In doing so, he joined the legions of new arrivals, immigrants from Latin America and later refugees from countries like Somalia and Myanmar, who today make up half of the workforce at all of America's meatpacking plants. Often with limited English skills—at the Greeley plant alone there are roughly 30 languages spoken—they find themselves relegated to one of the most dangerous jobs in the country.
Still, Rodriguez says her father raised her and her siblings on hisJBS wages. For years he worked in fabrication, shearing away meat from the ribs and spine until he sustained a work-related hand injury and was reduced to "light duty" in the laundry department, passing out gloves to other workers. Growing up, Rodriguez remembers he'd warn her and her siblings to stay in school. He didn't want them to work atJBS. "They treat you like your nothing like you're an animal," he'd tell them.
By mid-March, Rodriguez says she started noticing co-workers missing from the line. According to data from the county health department, COVID- 19 had already begun spreading among workers at the plant. Yet even as Colorado schools were ordered to close and the country declared a national emergency, the production line atJBS continued to run as usual.
On March 20, Rodriguez showed up for her shift at 5:45 a.m. and later that day shared lunch with her dad. As she left that afternoon, her mom called to say her dad had come home sick and gone to urgent care with a high temperature. Doctors said his symptoms were consistent with COVID-19 and advised him and the rest of the family to self-quarantine. Rodriguez says she called her supervisor report that she'd likely been exposed. "They said, 'But you're not symptomatic, so you should come to work.'" If she wanted to take two weeks off to quarantine, Rodriguez says, she was told she would lose her job and would have to reapply after 90 days. "No one is forced to come to work and no one is punished for being absent for health reasons," JBS spokesperson Nikki Richardson said in an emailed statement. "If anyone experienced something different, that is troubling and not consistent with our culture or our policies."
A week after visiting urgent care, Rod Rodriguez's father was admitted to the hospital, where he tested positive for the virus and was placed in the icu on a ventilator. Days later, news hit the local press: TheJBS plant was in the grip of a full-blown outbreak. Over the next six weeks, the Colorado Department of Public Health and Environment found that 316 workers tested positive, and seven died. But the company refused to offer tests of its line workers, and it reopened on April 24—barely halfway through a two-week quarantine mandated by the health department. On April 28, President Trump issued an executive order to classify meatpacking plants as critical under the Defense Production Act, meaning plants would be required to remain open. "We thank the Administration for acknowledging the important role food companies serve and ensuring that our food supply will remain resilient during these unprecedented times," JBS wrote in a statement praising the move.
AsJBS restarted production, advocates say that protections for workers were insufficient. "All these years that my dad has given them," Rodriguez says. "This is how they're going to show they care?"
JBS WAS MADE aware of the first positive case among its Greeley workers as early as March 26. That day, the company gave employees 5 pounds of ground beef as a thank you for coming to work, and the plant continued to operate as normal. As more workers were hospitalized and tested positive, including Sergio Rodriguez, who had been passing gloves out to hundreds of people a day, fear began to spread. On Monday, March 30, more than 800 employees walked off the job at the plant in Greeley. According to the United Food and Commercial Workers (UFCW) Local 7, the mass no-show was likely prompted by panic among workers afterJBS disclosed internally that it had 10 positive coronavirus cases. But the next morning, the plant once again opened as usual, and JBS still had made no public acknowledgment of its cases.
That same day, March 31, Cuyler Meade, a reporter with the Greeley Tribune, received an anonymous tip in his inbox. The sender never explained their connection toJBS but claimed that several workers at the plant had tested positive for covid-19, and now four were hospitalized. Meade ran a story about the walkout, and the messages from workers began spilling in. "All of a sudden, it's just a flood of people coming forward saying it's really bad," he said, "and these are the things they're doing wrong." Through anonymous and on-the-record sources, Meade was able to report on Beatriz Rangel, the daughter of longtimeJBS worker Saul Sanchez. Rangel had tried desperately to inform supervisors that her father had tested positive for the virus. Another source described how a different JBS employee had failed to receive the regular wages he'd been promised as he fought for his life on a ventilator. Meade credits Rangel's willingness to speak on the record with helping to "break open the usually impenetrable concrete walls of the beef plant during a critical time."
Many workers still feel afraid to speak out. Saul Sanchez and his daughter had US citizenship, giving them some security to answer questions from the press. But those working without legal status, who account for an estimated quarter of meatpacking workers in America, do not feel so empowered. They are particularly worried now, as Trump-era crackdowns mean that publicly raising concerns about workplace safety might mean not only losing their jobs but being deported.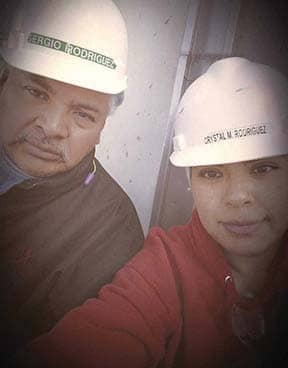 You can read up to 3 premium stories before you subscribe to Magzter GOLD
Log in, if you are already a subscriber
Get unlimited access to thousands of curated premium stories and 5,000+ magazines
READ THE ENTIRE ISSUE
July/August 2020