We Are Huron
Mother Jones|May/June 2020
How a town in the heart of Trump country became a haven for refugees
The transformation from fowl to meat begins with carbon dioxide. The gas knocks the turkeys out; a blade finishes the job. It's all surprisingly clean, down to the vacuums that suck out their lungs. Stripped of organs and feathers, the line of identical denuded carcasses splashes into a cooling bath.
While the work at Dakota Provisions may be monotonous, its workers are markedly diverse. They hail from Brazil, China, the Dominican Republic, El Salvador, India, Nepal, South Korea, Vietnam, Puerto Rico, and the Micronesian archipelago of Chuuk. But most of the 1,200 employees are Karen, members of an ethnic group from Myanmar (historically known as Burma) whose families came to the United States as refugees. Their presence in Huron, South Dakota, 8,000 miles from their homeland, is an accident of history that has revived a dying city.
Just before the turkey plant opened in 2005, about 97 percent of kids in Huron schools were white. Today, just over a third of kindergartners and first graders are white. In 2018, the Huron area took in more people from abroad and Puerto Rico, as a share of its 18,800-strong population, than any other place in the United States. In less than 15 years, the community has gone through a demographic transformation that usually takes generations.
This is the story of how Huron—the only sizable town in Beadle County, which Donald Trump carried by 37 points in 2016—became not only a magnet for immigrants but a place where they are celebrated. It's the story of how the deepening divide over immigration can break down when newcomers are neighbors, not abstractions—and how a small town in a red state embraced change when the alternative was decline and decay.
Huron's success was neither immediate nor inevitable: The first Karen (Kuh-REN) refugees were greeted with wariness, sometimes hostility. But city leaders were determined to overcome it. Migrants and their supporters spoke to churches and clubs to explain how Karen people had been forced out of their homeland. They patiently answered questions, even the ones about whether the newcomers would eat their neighbors' dogs. The superintendent restructured the school system to make segregation impossible. The result has made Huron an unlikely model for the nation, even as most Huronites are happy to stay out of the spotlight.
That reticence was on display in November 2018, when President Trump pardoned two Thanksgiving turkeys, named Peas and Carrots. They'd come from Dakota Provisions, whose chairperson stood alongside the president in the Rose Garden. "Love South Dakota," Trump said about the state where a crowd at one of his appearances had recently chanted "Build the wall!"
No one mentioned the plants where the rescued turkeys had nearly met their end, or the immigrants who would have slaughtered and processed them. Huron, a town that quietly undercuts so much of the narrative about immigration, was invisible.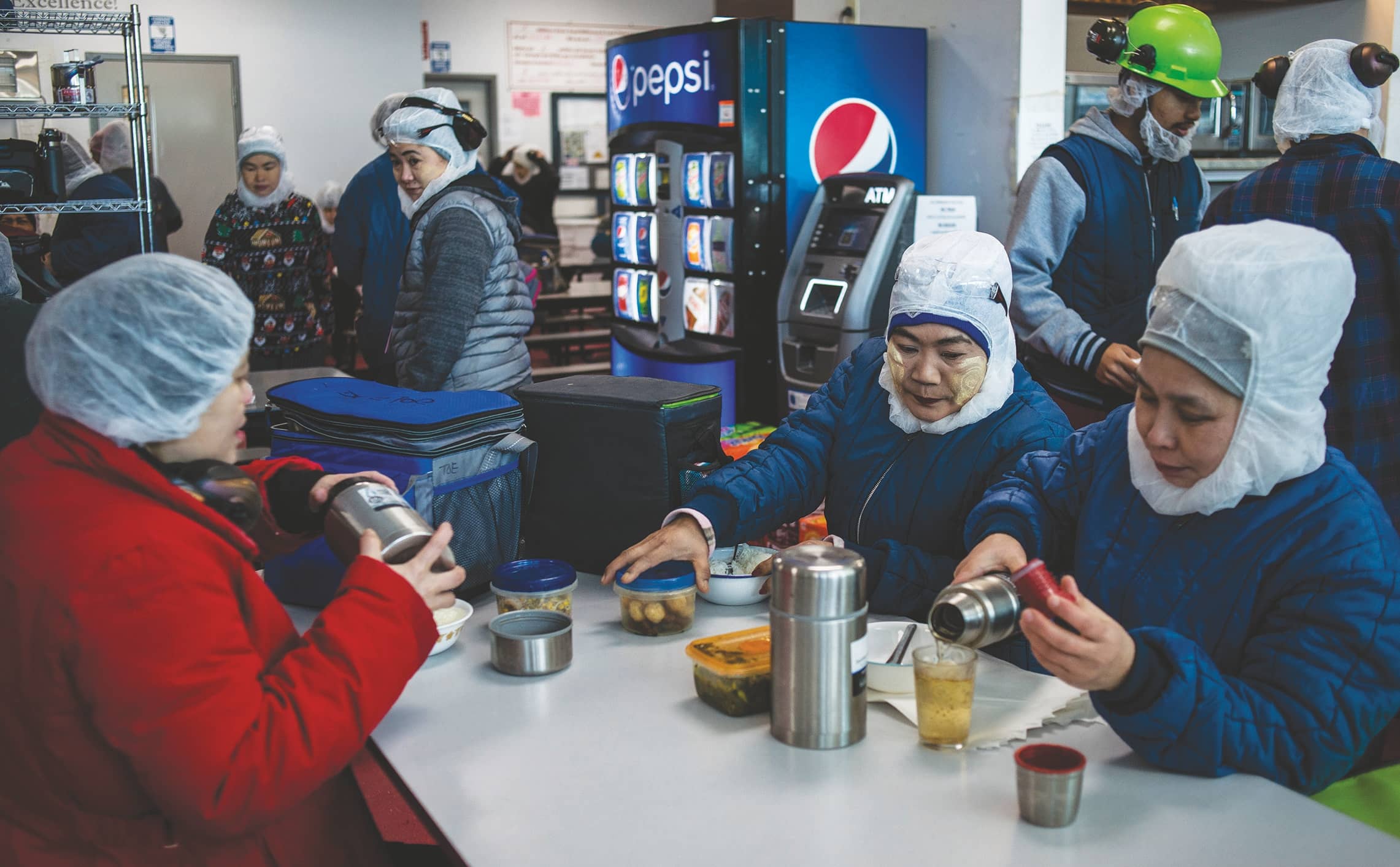 Huron's claims to fame are the state fair it hosts each September and the world's largest pheasant sculpture (28 feet high, made from 22 tons of steel and fiberglass). Local heroes include Cheryl Ladd, who went on to play one of Charlie's Angels, and Hubert Humphrey, who worked at his dad's drug store before becoming a Minnesota senator and vice president. But Huron is not white Americana in amber: Though there are plenty of empty storefronts on Main Street, alongside the old mom-and pop standbys are new Asian and Latino churches, restaurants, and grocery stores buzzing with vitality.
Huron was a meatpacking town for most of the 20th century, but it lost two beef plants in 1983 and 1990. The 1997 closure of a hog slaughtering operation that employed 850 people became known as Black Thursday. The town's population declined from around 14,000 in 1970 to less than 12,000 in 2005. The school system, which once had about 200 students per grade, now had barely 100 in the lower grades.
Huron's revival began with the Hutterites, an Anabaptist group that shares roots with the Mennonites and the Amish and whose members live in isolated communities, called colonies, across South Dakota. Many Hutterites, who speak a language derived from 18th-century German dialects, are turkey farmers. Rather than send their turkeys to be slaughtered out of state, 44 colonies came together to form Dakota Provisions. In 2004, the new company announced that it would build a plant in Huron that would employ up to 1,000 people. A headline in the Sioux Falls Argus Leader summed up the importance of the news: "Huron: from Gloom to Boom."
The challenge was how to get people to work in Huron, which is a 120-mile drive from the nearest major airport, in Sioux Falls. The task fell to Dakota Provisions' human resources director, a Huron native named Mark Heuston, whom everyone calls Smoky. A white-bearded bear of a man—the pelt of an actual black bear he shot is splayed across the wall of his office—Smoky resembles a muscled Santa Claus, a role he has sometimes filled at local Christmas events.
Smoky had experience with refugees from Southeast Asia; he'd worked with Hmong people from Laos at a meatpacking plant in Wisconsin. When it came to finding out about the Karen, he said, "Truthfully, I got lucky." He knew that the Twin Cities had among the country's largest Hmong populations. So in 2007, as he struggled to find enough workers around Huron, he went to Minnesota to recruit at a Hmong community center.
"When I was interviewing individuals, I kept walking by this one room with 40, 50 people in it," Smoky recalled. The people showing Smoky around said not to bother with the people in the room, who were Karen ESL students, since he was there to recruit Hmong workers. "I don't care what nationality they are," Smoky told them. He knew nothing about the Karen, but it didn't matter. If they wanted a job, there was one waiting for them in Huron.
In 2007, Tha Gerh "Tiger" Paw, her six siblings, and their parents were the first Karen family Smoky recruited to live in Huron. Two years earlier, they'd migrated from Bangkok to St. Paul after fleeing what was then the world's longest-running civil war. During World War II, the Karen, some of whom had converted to Christianity, fought alongside the British against the Japanese and Burma's Bamar ethnic majority. British officers promised Karen soldiers a nation of their own after the war. Instead, the British government established a united Burma in 1948, and civil war broke out. Of the roughly 5 million Karen in Burma, hundreds of thousands fled the Burmese military's attacks into the jungle and across the border into Thailand. By the late 1990s, nearly 100,000 were living in refugee camps in Thailand. Paw, now an employee of the South
You can read up to 3 premium stories before you subscribe to Magzter GOLD
Log in, if you are already a subscriber
Get unlimited access to thousands of curated premium stories and 5,000+ magazines
READ THE ENTIRE ISSUE
May/June 2020