Underexposed
Mother Jones
|
September/October 2020
From lockdown to the uprising, "TrapLanta" was there, forcing viewers to look with new eyes on a world they thought they knew.
''TRAPLANTA'' IS A living portfolio of photographs taken by Willis, a mononymous, 36-year-old Navy reservist and art student who lives in Marietta, about 30 minutes north of Atlanta. He describes his work, which he posts on Instagram under the handle @_traplanta_, as "Southern vernacular, urban reportage, fine art journalism." The images he captures a range from Day-Glo glimpses of strip clubs to resolutely matter-of-fact portraits of neighborhood drug corners, each photo accompanied by an archly oblique caption. Take the photo of the bottom half of a person fanning out more than 18 $100 bills on the ground. Only a pair of dark hands, legs, and bright white Air Force 1s are visible. The photo is juxtaposed with a bit of history, gleaned from Wikipedia: "James 'Honest Dick' Tate was a Kentucky State Treasurer, so-called due to his good reputation." In reality, he had quietly misappropriated over $250,000 ($7 million in present value) from the treasury. In 1888, he fled the state with a sack of gold and silver coins and was never seen again."
The photos are addressed to two audiences at once, demanding that each scramble its subjectivities: Willis wants people in the hood to see their environment through fresh eyes, and he wants people who don't live there to see it with the matter-of-factness of someone who does.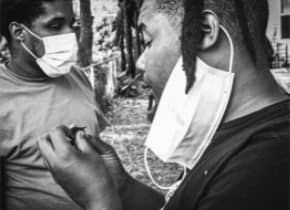 Shortly after the arrival of the coronavirus, Willis began documenting the pandemic's effects on local dealers, who'd grown desperate amid the cratering of the drug trade because of shelter-in-place orders. Soon, too, he was taking photos of the uprising following the killing of George Floyd, which is how he wound up spending two days in jail for violating curfew.
Here is Willis in his own words, with some of his work from the lockdown through the uprising, a time when all of America's subjectivities got scrambled. —Jamilah King
You can read up to 3 premium stories before you subscribe to Magzter GOLD
Log in, if you are already a subscriber
Get unlimited access to thousands of curated premium stories, newspapers and 5,000+ magazines
READ THE ENTIRE ISSUE
September/October 2020