The Terror Connection
Mother Jones
|
September/October 2018
Does a plot to bomb Times Square reveal the next front in the war against ISIS?
At first glance, Abdulrahman el-Bahnasawy, a Muslim kid from the suburbs of Toronto, seemed an unlikely jihadi. A soft-spoken 18-year-old with delicate features and thick curly hair, he had rejected Islam at 15, announcing to his parents, conservative Egyptian immigrants, that he was now an agnostic. This, he would write later, was just one of the many troubles he caused his family: After he discovered weed at 14, his terrified parents moved with him and his older sister to Kuwait. There, lonely and bullied in school, he began to take every drug he could get his hands on. He attempted suicide several times. Foreshadowing the bipolar disorder and schizophrenia he would later be diagnosed with, he would sit on the toilet in his parents' house for hours, hu ng butane and hallucinating, conversing with "Hamtaramo," an imaginary pilot who spoke to him through the radio. "He was," Bahnasawy wrote later, "like a friend."
Back in Toronto, after he did a stint in rehab, his family put him in an Islamic school where he soon turned to the Koran with the same ravenous enthusiasm he had previously reserved for drugs. At his parents' house, he haunted jihadi chat rooms that served as de facto recruitment centers for disaffected young Muslims yearning for something different and purer than their lives in the West. "I realized Islam would fix all the problems in society or the world in general," he wrote later, "and that its lifestyle would have prevented the life I lived."
Online, he met a hardened fighter who went by the nom de guerre Abu Isa alAmriki, "The American." Despite his sobriquet, The American was a Sudanese national living in Syria, and according to the Pentagon, he was a member of ISIS's secretive external operations branch, devoted to building a global network of homegrown terrorists to challenge the enemies of the caliphate on their own turf. After Bahnasawy proved his commitment with a donation of $500 and some cellphones for the brothers in jihad, Amriki began to give him assignments, small tasks like vetting other new recruits and hacking into the cellphones of members to discover if they were undercover law enforcement—in one case, when Bahnasawy determined a recruit was a cop, he doxed him, releasing his photo to a chat group with an admonishment to kill him.
Another recruit Bahnasawy met online was an 18-year-old much like himself, a Muslim raised in Colorado named Talha Haroon who sometimes went by the screen name "Kill Kuffars," or "Kill Infidels." Haroon's interest in joining ISIS might have been personal revenge: In 2007, his father, Haroon Rashid, was deported from the United States following a conviction of misdemeanor assault (that was later overturned) and, in an unrelated incident, terrorism charges that were later dropped. In 2014, Haroon joined his father in Pakistan, where, he told Bahnasawy, he linked up with the Taliban and hoped to fight with ISIS. A photo published by ibc English shows a long-haired, beatific young man barely old enough to vote, wearing a white shalwar kameez, holding a white cockatiel, and raising his right index finger, a common gesture of support for ISIS.
In early 2016, Amriki off ered the two 18-year-olds the opportunity to demonstrate the depths of their commitment. ISIS was being pressed on all sides by an alliance of countries that included the United States, France, Iraq, and Canada, Bahnasawy's home, and to show ISIS's capacity to fight back, the organization's leadership was planning a series of worldwide assaults for Ramadan that summer. Would Bahnasawy and Haroon team up to carry out a suicide attack?
They agreed. But Bahnasawy didn't want to hit Canada. As he later explained, the country had recently stopped air- strikes, "and it didn't make sense to transgress...against them in such a way." The United States, however, would be a perfect target.
Bahnasawy proposed they board intersecting lines of the New York City subway with rifles and ride in synchrony, killing until they reached their rendezvous. If they were still alive, they would escape to their car for a final drive-by on Times Square. Haroon liked the plan, with one addition: To cause maximum carnage, he suggested they build explosive vests. "Then once we reach the second station get off and start killing on that station as well," he wrote, "and if we get trapped we let the vests go off . But we need to make sure to do it on a very busy day." Most importantly, he cautioned, "we kill all in the train regardless of who." And, he added, "remember do not stop shooting even if u see women or kids. No mercy is rule one."
Their plan had some potential hiccups that might have been funny in another context: The pair failed to account for subway delays; they placed a lot of faith in their ability to find parking near Times Square; they didn't start looking for a summer cabin rental in upstate New York—for use as a bomb-building and "training" site—until about two weeks ahead of time, when they found to their dismay that campsites were all booked.
But the biggest issue was that neither of them had much money. In Pakistan, Haroon was selling his personal possessions to fund the flight to America. In Canada, Bahnasawy had ordered 40 pounds of hydrogen peroxide, a key precursor in making bombs, but he ran out of cash.
Then, on April 22, 2016, disaster struck: "The American," who had brought the two co-conspirators together, was targeted by a US-backed airstrike that blew up his apartment east of Aleppo, Syria, killing him and his Australian wife, who had recruited war brides online. To replace him, Bahnasawy brought in another ISIS sympathizer from Ohio, a shadowy man he'd met on the internet—let's call him Rahman—who agreed to meet the two aspiring terrorists in New York to help complete the plot. "[T]he path of jihad is something very rare in this century," Haroon wrote excitedly to Rahman, "and it's a huge blessing for us to be a part of it."
The final step was to cobble together enough cash to buy guns and the remaining ingredients for explosives. Ramadan was now less than a month away. Luckily, "The American" had left Bahnasawy a list of financiers good for small donations. The best of them, Bahnasawy determined, was a British doctor named James Klein. Klein was, in fact, a Filipino orthopedist named Russell Salic who had been funding terror plots for years—he kept his real name secret from the others, at least at first, as a security precaution. But from Salic's "James Klein" Facebook page, Bahnasawy could see he was the real deal, even if he wasn't who he said he was: The month before, the doctor had published a picture of a militant holding a severed head, with the caption, "I didn't know they have it also in South East Asia. Amazing. Ya Allah."
Salic wasn't scared to communicate or send money openly, he explained to his teenage conspirators, because he was in a country that was "a breeding ground for terrorists... hahahaha": the Philippines. The country, he wrote, was a place with a uniquely welcoming environment for jihadism. And indeed, in the months to follow, ISIS-linked fighters would raise the black flag in towns and cities in the southern Philippines, prompting President Rodrigo Duterte to send in tanks and helicopters.
During the tumult of the last two years, Bahnasawy and Haroon's plot has mostly been forgotten, as has the war in the southern Philippines. But amid President Donald Trump's talk of defeating ISIS across the globe, it is telling for two reasons: It shows how disaffected young men, whether teens in America and Canada or impoverished youths in Southeast Asia, are being drawn to the cause. And it reveals that the Philippines, like Iraq and Afghanistan before it, is a place where a scorched-earth campaign may radicalize factions for decades to come. Facing extradition to the United States, Salic could head to trial in the next year, and observers hope testimony will reveal whether ISIS's presence in the Philippines is the next big threat poised to come home to roost in America.
"[B]ro we need to rise up," Salic wrote, enthusiastically agreeing to finance Bahnasawy and Haroon's massacre. The two boys didn't know, as a Philippine military spokesman would later tell Reuters, that Salic had allegedly been treating wounded ISIS militants in clandestine camps, nor did they know his real identity. But he was candid about his hopes for their Times Square attack. He looked forward to the destruction of a place that off ered so much evil temptation, or fitna, to good Muslims like themselves. "The fitna," Salic wrote, "is oozing there in the big apple."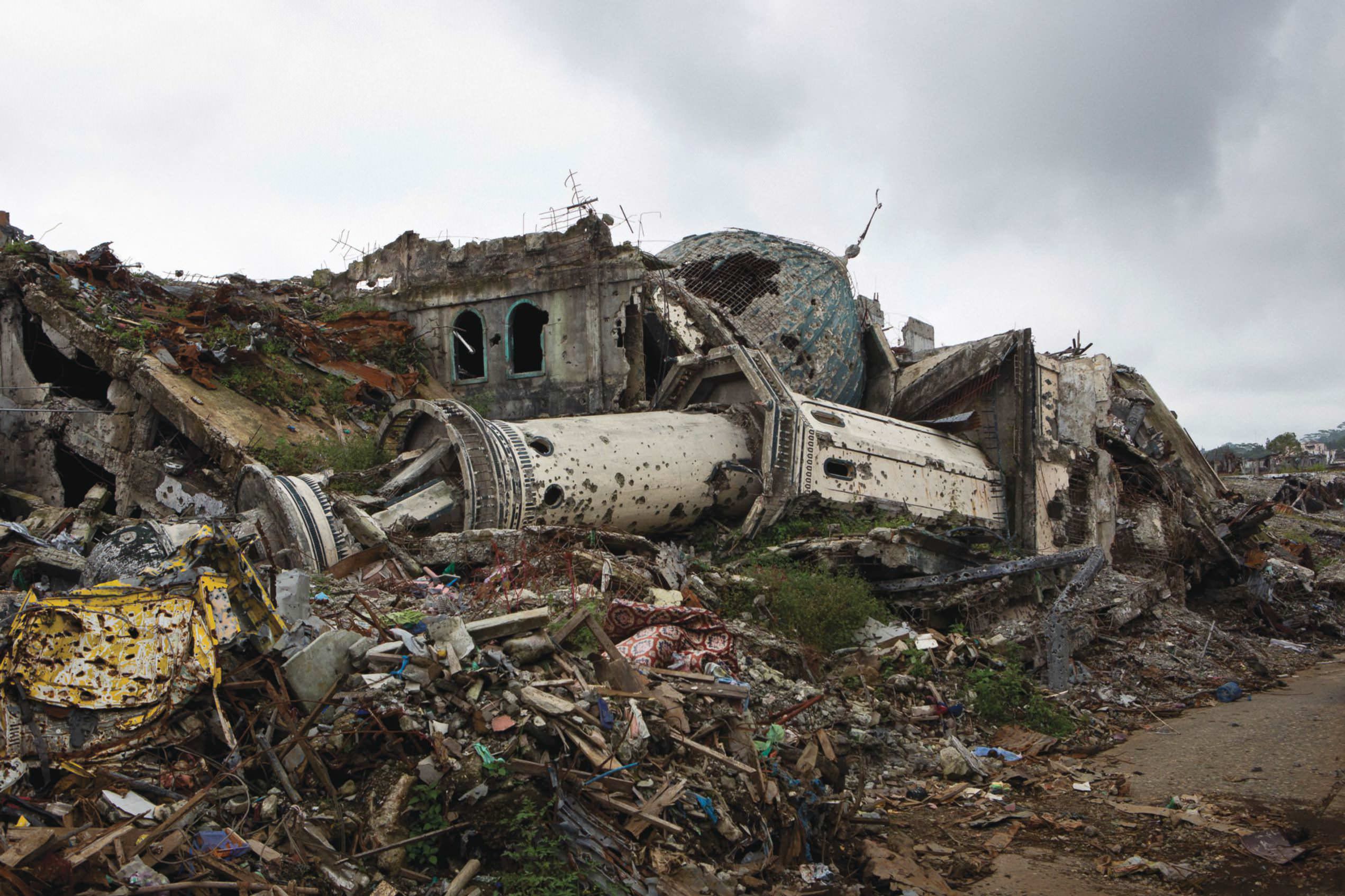 The philippines—a former US colony and one of America's longest-standing allies in Asia—doesn't seem to fit in with ISIS's other breeding grounds in Africa and the Middle East. Home to 100 million people, about 5 percent of whom are Muslim, the country is an ever more important pivot of the world economy, with extensive US telecommunications interests and a long history of military cooperation with the United States. Since becoming president, Trump has deepened ties with Duterte, selling weapons and contributing logistical military support to efforts to quell ISIS militants in the south. Many observers have slammed Trump for ignoring Duterte's abysmal human rights record—thousands of suspected drug dealers and users have been killed in extrajudicial executions. But other Filipinos admire Duterte for these killings, and he has earned loyal support for presiding over a massive spike in the country's economy. Last year, foreign direct investments in the Philippines reached a record high of $10 billion. Growth, infrastructure spending, and gdp are up, leading Bloomberg in January to call the Philippines one of the "decade's economic stars."
But prosperity hasn't extended to the southern island of Mindanao, home to the vast majority of the country's Muslims and the birthplace, in 1980, of Russell Salic. About the size of Cuba, Mindanao is a visual feast of beautiful highland mountains and beaches, populated by about 5 million Muslims and 15 million Christians who live in mostly peaceful but occasionally tense cohabitation. It was in and around Marawi, the largest city in Mindanao's Muslim autonomous region, where ISISaligned rebels waged a five-month insurgency in 2017, burning churches, killing Christians, and sending hundreds of thousands fleeing. Inequalities between the re ligious groups, and between Filipinos from Mindanao and the rest of the country, are stark. Sixty percent of residents in the autonomous region live below the Philippines' poverty line of about $2,000 a year. More than 40 percent of the population does not have access to clean water, and just 27 percent have adequate plumbing.
You can read up to 3 premium stories before you subscribe to Magzter GOLD
Log in, if you are already a subscriber
Get unlimited access to thousands of curated premium stories, newspapers and 5,000+ magazines
READ THE ENTIRE ISSUE
September/October 2018