The Social Network
Mother Jones
|
November/December 2020
The pandemic made traditional campaigning a thing of the past. And that may be for the best.
November 2017, Emily Isaac packed her belongings and flew to Texas. More specifically, to the 21st Congressional District, gerrymandered to include half of San Antonio, a scoop of Austin, and a large rectangle of Texas hill country, where a Bernie Sanders acolyte named Derrick Crowe was running for Congress. "We did all of the right things," says Isaac, who had spent six months as a field organizer on Sanders' 2016 presidential campaign. Crowe's team built a massive door-knocking operation "dwarfing what our opponents were doing in terms of volunteers." Isaac expected Crowe to win, but he came in third. "I left feeling like, 'Wow, did any of that move the needle?'" she says. "That's when I realized voters at the door will tell you whatever you want to hear to get you off the doorstep."
A few months later, Isaac drove 150 miles east to work for another Democratic congressional candidate: Sri Kulkarni of Sugar Land, outside of Houston. The district has been a Republican stronghold since the 1980s, but there was promise for Democrats in its growing diversity, including immigrant communities from South and East Asia. Unfortunately, the voter file provided by the Democratic National Committee lumped them all together as "Asian," an overly broad category for people with different cultures and languages. So Isaac's team tasked volunteers from those communities to sort the 85,000-row spreadsheet by surname, dividing entries into more than 20 community categories, from Arab Christian to Zoroastrian. The campaign would ultimately run phone banks in 15 languages.
As the volunteers pored over the spreadsheet, they added personal notes: "This family moved" or "in college and needs an absentee ballot." One star organizer was a student named Chris. "We would give him a list of the 18-year-olds zoned to his high school, and he knew like 160 of them." But he could also spot who wasn't on the voter list and needed to be registered. "It was this lightbulb moment," says Isaac. "Not only are our volunteers able to reach these folks in their preferred language, they personally know so many of them."
Though Kulkarni narrowly lost, his organizing strategy was a clear success, bringing him within five points of his opponent— the closest margin the district had seen in over a decade. Kulkarni announced another run in 2020, but Isaac didn't stick around. This new way of campaigning was too big to keep in Texas.
While working for Kulkarni, Isaac began to hear a buzzy new term: "relational organizing." At its most basic, relational organizing is simply facilitating conversations between friends, family, neighbors, and co-workers. Instead of relying on traditional strategies like door knocking, phone calls, or texts from strangers, it harnesses existing relationships to mobilize voters. It was, Isaac realized, exactly what she'd been doing.
A handful of progressive organizers deployed the tactic in 2016 and 2018. Their efforts were tracked with the help of the Analyst Institute, a secretive progressive research firm whose meta-analysis of voter turnout studies found that outreach from friends and family was three times more effective at mobilizing voters than a door knock.
Effectiveness made relational organizing attractive, but the coronavirus has made it urgent. Unlike traditional mobilization tactics, relational organizing is adaptable to social distancing. Kristee Paschall runs an organizing program for 50 progressive groups across the country through Community Change Action, a nonprofit focused on empowering low-income communities. In early March, she realized that campaigning had changed overnight—how can you ring doorbells or hold rallies during a pandemic? Her small team set up Zoom trainings on relational organizing, unsure if anyone would come. Within weeks, nearly 300 organizers showed up. This summer, as the Black Lives Matter movement transformed the political landscape through community mobilization and difficult conversations, these organizers saw proof of concept.
With the pandemic having forced hundreds of voter mobilization groups to embrace relational organizing, the November election will provide a clear test of its potential. The tactic will be "exponentially bigger and more important" this year than ever before, says Paschall. "It's going to be a major part of the 2020 playbook," agrees Nick Chedli Carter, managing director of Resilient Democracy, a civic engagement initiative. In key swing states like Wisconsin, Pennsylvania, and Michigan, where dips in participation, particularly among Black voters, hurt Hillary Clinton four years ago, community groups run by and for people of color have turned to relational organizing. One of them is Voces de la Frontera Action, which set out to engage 23,000 Latinos and other voters in Wisconsin who were unlikely to vote in 2020—Trump's margin of victory there four years ago—and by September was already two-thirds the way there. The political arm of the civil rights group Color of Change is using relational organizing. "For me, relational totally makes sense and is in line with generations and generations of organizing work," says Arisha Hatch, the group's vice president and chief of campaigns.
Community-based groups already steeped in organizing have been quicker to use the strategy than candidates have. Political campaigns are often cautious, risk averse, and shaped by what's worked before. With high stakes and limited resources, innovation is constrained. So while Democratic candidates have taken note of relational organizing, few, including Joe Biden, have fully embraced it. To the dismay of organizers who believe the resources of a presidential campaign could be harnessed to engage Americans on a transformative scale, his campaign's strategies skew toward the conventional. "We're in the fight right now for the soul of our democracy," says Paschall, "and more digital ads and more television isn't the answer."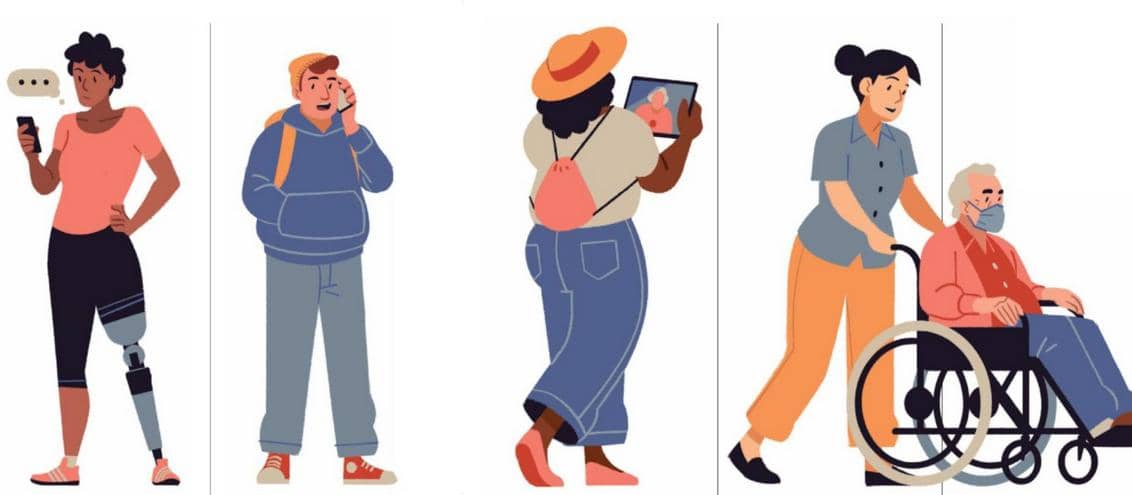 THE FIRST THING relational organizing evangelists say is that their approach is nothing new. Word-of-mouth and community-based activism were the backbone of the civil rights, women's rights, farmworkers', and labor movements. Political parties once had their own local networking machines, for better or worse, facilitated by free holiday turkeys, reliable snowplowing, and government jobs for somebody's nephew. But in the second half of the 20th century, just as more Americans gained access to the ballot box, campaigns turned to consumer-based approaches like television advertising, and mass marketing became the primary way politicians reached voters.
As Madison Avenue and opinion pollsters continued to remake politics as a business, the people-based movements of the 1960s—civil rights, feminism, environmentalism—fractured into specific issue-based advocacy organizations in the 1970s, according to Johns Hopkins political scientist Hahrie Han. Direct-mail campaign tactics drew on marketing innovations, and armchair activists were encouraged to cut checks—not take to the streets.
You can read up to 3 premium stories before you subscribe to Magzter GOLD
Log in, if you are already a subscriber
Get unlimited access to thousands of curated premium stories, newspapers and 5,000+ magazines
READ THE ENTIRE ISSUE
November/December 2020