Letting states decide who gets representation is the new front in the Republican War on Voting Rights.
By Ari Berman. Ilustrations by Ben Giles
TWO DAYS AFTER Tropical Storm Imelda battered her district in Houston, state Sen. Carol Alvarado drove from its heavily Latino east side, past taquerias and signs for immigration attorneys, to another predominantly Latino neighborhood just north of the downtown skyline.
Senate District 6 is shaped like a dragon whose head starts in the city's industrial outskirts while its body snakes and stretches into its center. She arrived at a red, Southwestern-style building that houses a community center named after Leonel Castillo, who led a boycott of the city's segregated schools in 1970 and became the first Latino elected to citywide office. As she went to the podium to address more than 100 of her constituents, Alvarado praised Castillo as "a trailblazer who paved the way for so many of us, like myself, to be able to run for office."
The daughter of a cement worker with a third grade education, Alvarado grew up in Manchester, a Latino neighborhood squeezed between the train tracks, the freeway, and the port of Houston. Rail cars frequently blocked the main road leading into the area. Her school playground overlooked massive chemical tanks and oil refineries that billowed gray smoke. Residents of the neighborhood breathe some of the dirtiest air in Texas and suffer from some of its highest cancer rates. Her 92-year-old mother still lives there, next to the Catholic church that Alvarado attends on Sundays. She got involved in politics "because of where I lived," the 52-year-old Democrat told me over beef enchiladas at the community center. "I saw what was going on around me. It pissed me off."
She joined the City Council, then the state House of Representatives, where she served five terms, and was elected to the state Senate in a special election in Dec ember 2018. Despite being outnumbered by Republicans in Austin, she's proved to be a skilled legislator, helping pass 32 bills in the 2019 legislative session, and securing more funding for schools, flood protection, and mammograms. "You're getting a very good return on investment from me," she said jokingly at the meeting.
Even in the best of times, serving this district is a big job. Alvarado represents over 850,000 people—about 100,000 more than a typical member of Congress. After highlighting her legislative successes, Alvarado talked about the bills that would have been vital for her district if her Republican colleagues had not blocked them: One in five residents of Harris County are uninsured, but the legislature refused to expand Medicaid; Texas has some of the lowest voter turnout rates in the country, but it won't adopt online voter registration; despite the recent mass shootings in El Paso and Santa Fe, Alvarado couldn't pass a single one of her gun control bills.
These hot-button issues were a mere prelude to the fight to come. "The next session, as we move forward, the redistricting process will dominate," she said, referring to the once-in-a-decade exercise of redrawing the state's legislative boundaries that will follow the 2020 census. "The census gives us the numbers, we take those numbers, and then we use that during the redistricting process." But if President Donald Trump's gop has its way, 2021 could be the year Texas and other Republican-controlled states upend the traditional way of counting who gets represented by state legislators. This could radically transform districts like hers, undoing decades of demographic change and disempowering lawmakers of color like Alvarado. And it would be a dramatic win for the conservative war on voting rights, allowing Republicans to game the system by consolidating electoral power they can't win at the ballot box.
ON JULY 11, a visibly agitated Donald Trump appeared in the White House Rose Garden to announce that his administration was dropping its bid to add a citizenship question to the 2020 census. The Supreme Court had blocked the plan two weeks earlier, with Chief Justice John Roberts writing that the administration's claim that the question was needed to better enforce the Voting Rights Act "seems to have been contrived." Civil rights groups said such a question would spark fear that the information would lead to deportations, causing a severe undercount of immigrant communities. Census Bureau researchers predicted it could lead to 9 million people not filling out the census. But, Trump said defiantly, "I'm here to say we are not backing down on our effort to determine the citizenship status of the United States population."
Trump then made a move that could still turn citizenship data into a political tool to boost the influence of white Republican areas. He announced an executive order calling on federal agencies to send all existing information on who is and isn't a citizen to the Department of Commerce, which oversees the Census Bureau. Trump suggested how those details might be used: "Some states may want to draw state and local legislative districts based upon the voter-eligible population." For the past decade, Republicans have sought to exclude non-citizens from the redistricting process. Now Trump was going even further, suggesting that anyone who is not eligible to vote, including children, did not have to be counted toward apportioning representation at the state and local level.
It's long been a bedrock principle of American democracy that elected officials represent all of their constituents, whether or not they are eligible to vote. Almost all congressional and state legislative districts are drawn based on their total populations, including voters and nonvoters, citizens and non-citizens, adults and kids. Yet while the 14 th Amendment requires that congressional districts are based on total population, the Supreme Court has never definitively ruled on what the standard should be for state districts, although since the 1960s nearly all states have counted everyone. Drawing state legislative districts based on eligible voters instead of total population would be a huge win for Republicans, who tend to represent areas with fewer noncitizens. Democrats currently hold all of the 50 upper state House seats with the highest percentages of foreign-born noncitizen residents.
Using the voting-eligible population as the metric for reapportionment could lead to half of all state legislative districts in the country being redrawn. Those new districts would exclude up to 55 percent of Latinos, 45 percent of Asian Americans, and 30 percent of African Americans from being counted as constituents—compared to 21 percent of white people, according to the Leadership Conference on Civil and Human Rights. As the group argued in a legal filing in 2015, "This would amount to a massive shift in political power away from groups that are already disadvantaged in the political process and further concentrate power in the hands of a white plurality that does not adequately represent the full diversity of the total population."
That seems to be the point. Thomas Hofeller, the late Republican gerrymandering mastermind who played a central role in the push for the citizenship question on the census, wrote in a 2015 study, commissioned by the conservative news site Washington Free Beacon, that redrawing districts based on the voting­age citizen population "would clearly be a disadvantage to the Democrats" and "advantageous to Republicans and Non­Hispanic Whites." (The document came to light after Hofeller's estranged daughter turned over his hard drives to Common Cause as part of a lawsuit challenging gerrymandered maps he'd drawn in North Carolina.) In Texas, such a shift would leave almost 2.7 million noncitizens and 7 million children without political representation, according to census data compiled by the state's Hispanic legislative caucus.
No Senate district in the state would be affected more than Alvarado's. More than half of her constituents cannot vote—30 percent are under 18, and 22 percent are adult noncitizens. Because the US Supreme Court has ruled that districts must be roughly equal in population, Alvarado's district would have to be redrawn, potentially adding hundreds of thousands of new voters so she'd have the same number of voters as other districts with fewer children or noncitizens, causing her district to grow to more than 1 million people. The district might be "packed" or "cracked": It could swell with more Democratic voters, weakening the party's representation elsewhere, or it could take in thousands of Republican-leaning voters, diluting its Latino majority and possibly costing Alvarado her seat. "If I have to absorb hundreds of thousands of people, that's going to change the dynamics of the district," she told me. "And it changes all the adjoining districts."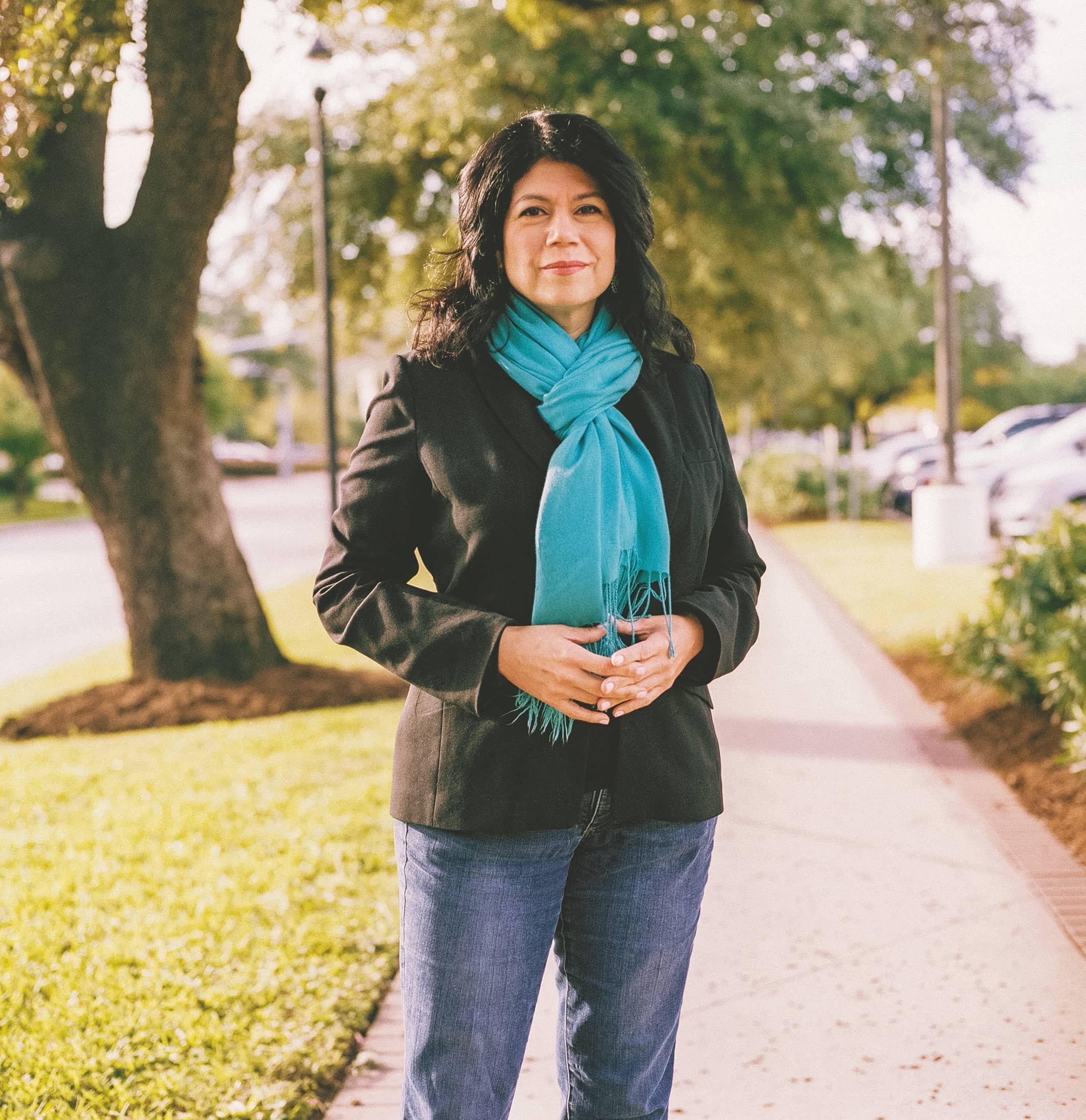 Continue Reading with Magzter GOLD
Log-in, if you are already a subscriber
Get unlimited access to thousands of curated premium stories and 5,000+ magazines
READ THE ENTIRE ISSUE
January/February 2020