Meet The American Who's Taking The Fight To ISIS
Can a former prep schooler from Baltimore help protect the Christians of Mesopotamia from the Islamic State? A dispatch from northern Iraq.
IF THERE WERE AN AWARD FOR THE AMERICAN WITH THE LONGEST rap sheet in the Middle East, Matthew VanDyke would be a top contender. By his own estimate, the 36-year-old from south Baltimore has been arrested in Iraq no fewer than 20 times, each time for essentially the same offense: being an American with no official business in Iraq. The last time, he and a friend were mistaken for Al Qaeda operatives at an Iraqi Army checkpoint on the road from Kurdistan to Baghdad. They were on motorcycles, headed to the Iraqi capital to begin filming an adventure documentary called Warzone Bikers: Baghdad to Bagram.
VanDyke's bike was damaged during the arrest, and after he defiantly asked the Iraqi soldiers to fix it, the duo were hooded, beaten, and driven to a compound in Baghdad where they were lined up against a wall and mock-executed. "I figured we were going to die, but I wasn't about to give them the satisfaction of seeing me afraid," VanDyke says matter-of-factly. "But don't worry. Those days are over." I'm glad to hear it, because right now, as he's telling the story, we're driving through Iraq on some very unofficial business.
There are two others in the Toyota Hilux: an ex–U.S. Army para trooper called Kojak and our driver, a burly Iraqi in his early 30s with a DIY tattoo of a cross on his wrist. The Iraqi, I'm convinced, is trying to kill us—swerving through an endless procession of oil trucks at 90 miles per hour as we ascend along a narrow two-lane road into the bright green mountains of Kurdistan.
Sitting shotgun, VanDyke is the only one wearing a suit, his chin length hair slicked back like an '80s-era investment banker or a Hollywood hit man. Kojak is sporting the usual gun-for-hire getup: a baseball cap, tactical cargo pants, and a vigilant stare on his bearded face. I'm hungover, squinting like a newborn because I left my Ray-Bans back in Erbil. It's a confusing sight for the peshmerga soldiers manning the numerous checkpoints that line the route to Dohuk, a remote mountain town about 50 miles north of Mosul. Each time we're stopped, I try not to imagine what the soldiers would do if they discovered the cache of flak jackets, camouflage uniforms, and tactical radios hidden beneath our luggage in the bed of the truck. Or if they knew that we're on our way to meet with members of a Christian paramilitary group so my two American compatriots can begin training and equipping them to go to war. But VanDyke doesn't seem the least bit concerned. He's done this before.
IMAGINE IF SOMEONE handed you a button and said that if you pressed it, a firing squad would wipe out a whole platoon of Islamic State fighters. Chances are you'd press it all day. The importance of defeating the Islamic State is one thing citizens of the civilized world can agree on. But when a guy—a civilian, a Baltimorean, with no actual skin in the conflict— picks up a rifle and heads to the front, his motives are immediately called into question. Is he a lunatic? A zealot? A profiteer?
Since taking up arms with rebel forces during the Libyan civil war in 2011, VanDyke has found his life's calling as a frontline player in myriad Middle East conflicts. To some, he's a man of action, a champion of the underdog, a self-styled revolutionary who's willing to give his life to help justice and democracy prevail in one of the most oppressive regions of the world. To others, he's simply a guy who likes sticking his nose where it doesn't belong.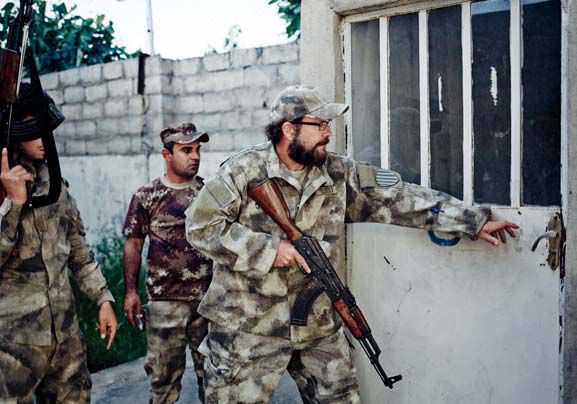 VanDyke's latest endeavor, a "nonprofit security contracting firm" he recently established called Sons of Liberty International (SOLI), might just be his most polarizing yet. Its mission is to provide "free security consulting and training services to vulnerable populations to enable them to defend themselves against terrorist and insurgent groups." Right now, that vulnerable population is the Christians of northern Iraq—an ancient ethnic minority group known as Assyrians—who took up arms last summer when ISIS rampaged through their native land. The plight of the Assyrian people has sent shock waves through Christendom, raising concerns that their very existence is at stake. "More biblical activity took place in Iraq than in any other country in the world except Israel," says former U.S. Congressman Frank Wolf, who thinks Washington should provide more military aid to alleviate the crisis. "Abraham is from Iraq. Ezekiel is buried there. Daniel is buried there. It's the birthplace of Christianity."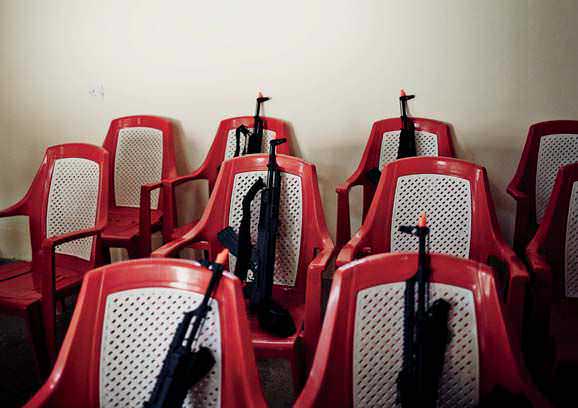 In many ways, SOLI's approach to counterterrorism mirrors a key pillar of U.S. military strategy in the Middle East: training, advising, and assisting indigenous forces on the battlefield.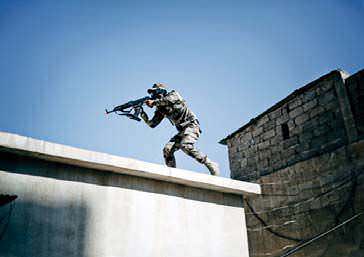 VanDyke, however, has never served in a conventional military, and SOLI has no official ties to any government, Iraqi or otherwise. But as the international community scrambles to devise an effective strategy to "degrade and destroy" the most formidable terrorist organization to emerge in the 21st century, the situation on the ground is sliding further into chaos—an "anything goes" environment with scores of private militias, advocacy groups, and mercenaries pouring into the fight daily, each with its own unique motivations and objectives. "Now, obviously, ISIS isn't a nation-state, but this should be dealt with by nation-states," says Gen. Stanley McChrystal (Ret.), who commanded NATO forces in Afghanistan from 2009 to 2010. "Whenever you have private organizations or armies enter in wars, you get dynamics that can be bad, no matter how well-intentioned they are." As for VanDyke, his intentions are clear: help the Assyrians drive the Islamic State from their ancestral territory, which includes the ISIS stronghold of Mosul. It's a ludicrously ambitious undertaking, fraught with gruesome possibilities. But the chaos of war is fertile ground for grand strategies. Which raises a very big question: How far is he willing to go?
MATTHEW VANDYKE'S story begins among the narrow streets and row houses of south Baltimore. After his parents separated in 1980—a year after VanDyke was born—his father moved to Louisiana. "My grandparents lived with us, so I might have been more spoiled as an only child," he says. "But generally it was a pretty normal upbringing." VanDyke's mother, then a public school principal, entered him into Baltimore's prestigious private school system. There were piano and tennis lessons during the week and science club at a local college on the weekends. But VanDyke never embraced the lifestyle of his affluent peers. "I didn't get along with the kids I went to high school with," he says. "I didn't go to their country clubs, and I wasn't part of their social circles."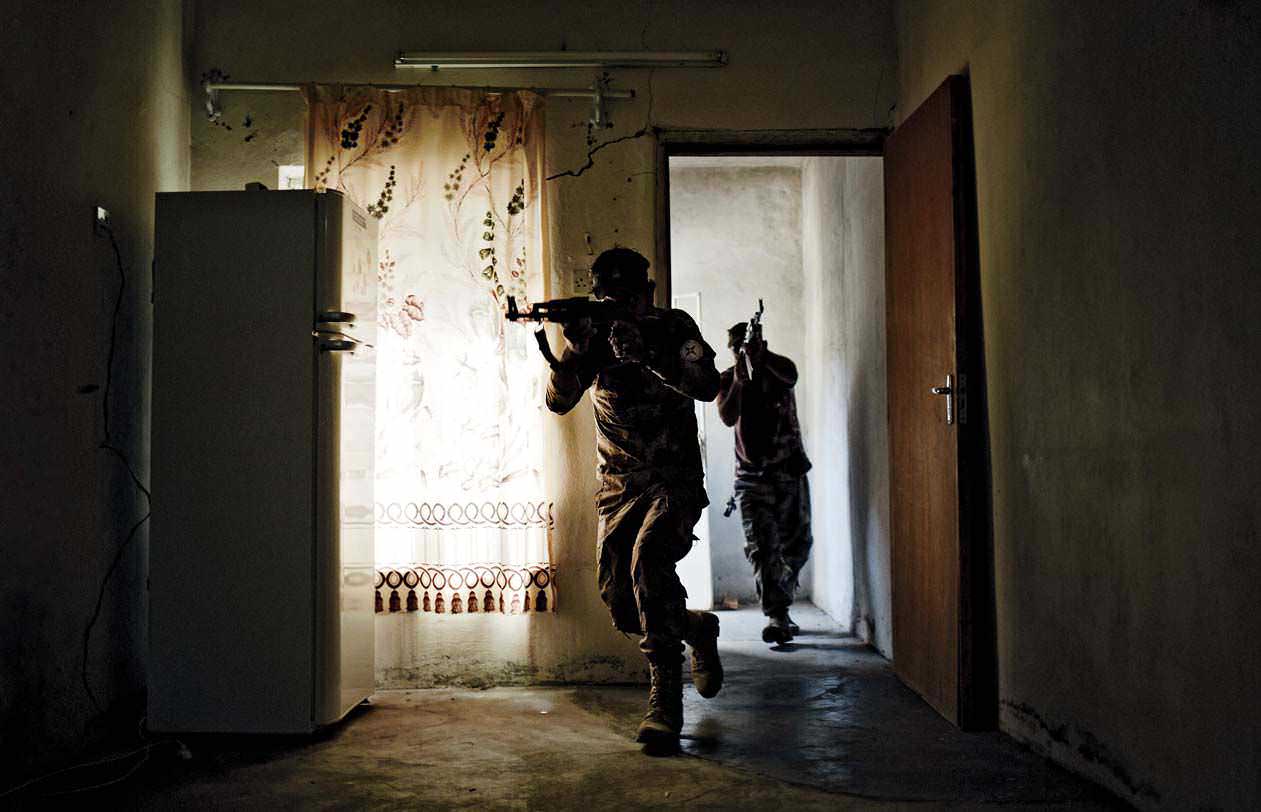 He prevailed in academia nonetheless. After graduating with a degree in political science from the University of Maryland, Baltimore County, VanDyke was accepted into the extremely competitive Security Studies program at Georgetown University's Walsh School of Foreign Service at the ripe age of 22. "They almost didn't take me because I was too young," he says. "But I came out of undergrad with a 4.0 GPA and good recommendations from professors. So they took me purely on academics." At Georgetown he decided to focus on Arab culture and the Middle East—a decision that in the aftermath of 9/11 all but guaranteed a career in foreign service. But not quite. "My first semester, the CIA gave me an offer of employment," VanDyke recalls. "I got really far through the process: passed the initial interview and the assessment of my analytical abilities. I even went to Langley and met my future coworkers. But then I got nervous during the polygraph. The position was supposed to start that summer. It was already spring by then, and they said, 'Just apply next year.'
The American-led invasion of Iraq got under way soon after, and VanDyke quickly decided the U.S. military strategy was doomed to failure. No longer interested in pursuing a career with the CIA, he instead got involved in the antiwar movement at Georgetown. "Most of the people in the movement were peace-loving types," he recalls. "Not me. I was like, 'We do need to get rid of Saddam, but we need to do it a different way.' I wanted what was later done in Libya: air support and supplying local ground forces to have people liberate themselves."
After a year of working in a boatyard in Delaware and "basically just chilling on the beach," VanDyke embarked on a dangerous journey that would consume the next three years of his life. Inspired by Australian documentary filmmaker Alby Mangels, known for his World Safari series, VanDyke's film Warzone Bikers: Baghdad to Bagram was to be a chronicle of his journey biking through some of the world's most hostile territory. "When Alby did his adventures in the '70s and '80s, it was a big deal to go to Africa," he explains. "But now a lot of people go to Africa. So I had to update it for the 21st century. But I didn't just throw a dart at a map. I had a strong background in what I was doing." Equipped with helmet cams and a handheld recorder, VanDyke captured his travels through Iraq, Iran, Afghanistan, Libya, and everywhere in between. It was, in his words, a "quest for adulthood"—one that nearly cost him his life on several occasions.
You can read up to 3 premium stories before you subscribe to Magzter GOLD
Log in, if you are already a subscriber
Get unlimited access to thousands of curated premium stories, newspapers and 5,000+ magazines
READ THE ENTIRE ISSUE
August 2015