Exploring Full Potential Of Coastal And Inland Shipping
Indian Transport & Logistics News
|
November - December 2018
With India's road and rail infrastructure in most high-traffic areas running at full capacity, transportation through coastal and inland waterways could be a viable solution to ease the load. the challenging part is to persuade the industry to accept the massive modal shift.
With an extensive coastline and a chain of major and minor ports, India's policy makers have at all times been aware of the importance of the maritime industry and the alterations it can bring into the economy. However, in the past couple of years, a lot of activities, announcements, planning and discussions surrounding the Indian maritime have propelled its momentum and has brought it into the limelight. Sagarmala, Direct Port Delivery (DPD), cabotage rule are to name a few that have received top billings.
Distance covered till now
With a total of 605 projects identified till today, the mammoth Sagarmala initiative was one of the top agendas of the NDA government to leverage the maritime industry. Almost two years from then, today it seems to be driving in a slow lane with completion of 88 projects worth Rs 14.658 crore and 164 additional projects costing Rs 238,031 crore awarded.
Giving an update on the current status, Kailash Kumar Aggarwal, Joint Secretary (Sagarmala), Ministry of Shipping says, "Master Plans have been finalised for the 12 major ports. Based on the same, 142 port capacity expansion projects (total cost: Rs 91,434 crore) have been identified for implementation over the next 20 years. More than 50 of these projects are already under implementation while rest will be taken up in a phased manner," says Aggarwal.
"TEFRs (Techno-Economic Feasibility Report) have been finalised for six new port locations, namely – Vadhavan, Enayam, Sagar Island, Paradip Outer Harbour, Sirkazhi and Belekeri. DPR (Detailed project report) has been prepared for new port at Sagar Island and EFC (Expenditure Finance Committee) approval has been obtained. Small pieces of port land have also been earmarked for port led development under Sagarmala programme by five major ports- two coastal economic units at Kamrajar port and VOCPT port, two smart industrial port cities at Paradip and Kandla, one SEZ at JNPT," Aggarwal further shares.
Apart from this, 14 Coastal Economic Zones (CEZs) are proposed to be set up as part of port-led industrialisation objective of Sagarmala programme. These CEZs will be set up close to coastline that will help reduce cost of imports and exports for manufacturing units.
Also efforts are underway to accelerate use of waterways as a mode of transport of goods. This will help bring down logistics costs. 111 National Waterways (NW) have been identified of which five are being developed on priority.
"Government of India has declared 111 inland waterways as 'National Waterways' in 2016. These waterways, stretching over 20,000 kilometres all over India, are being taken up for development in a phased manner depending upon their technical feasibility for navigation," shares Rajat Sachar, senior economic adviser, Ministry of Shipping.
Sachar informs that the NW-1 from Allahabad to Haldia on the GangaBhagirathi-Hooghly river system, NW-2 from Dhubri to Sadiya on Brahmaputra River and NW-3 from Kottapuram to Kollam on the West Coast Canal along with Udyogmandal and Champakara Canals are operational and cargo and passenger vessels are moving on them.
Construction and dredging is in process on the Jal Marg Vikas Project, the flagship Inland Waterway Transport (IWT) project on the Haldia – Varanasi stretch on Ganga. This is being carried out with the technical and financial assistance of the World Bank at a cost of Rs 5369.18 crore with the objective to enable movement of 1500 – 2000 DWT (Deadweight tonnage) vessels. The project would be completed in 2022. Phase-I of development of NW-4 on the Vijayawada – Muktyala stretch of Krishna River has commenced at a cost of Rs 96 crore wherein work for installation of floating terminals at four locations is at an advanced stage.
Importantly, a large amount of preparation goes into making this extensive network of inland waterways fit for operations, including measures like establishment of modern infrastructure, dredging to provide adequate draft, suitable vessel designing, River Information System (RIS) establishment etc.
Gaining confidence
With so many projects running parallel to lessen turnaround times at the ports and pressure on the highways, a vital question remains how to persuade the industry to accept this massive modal shift. The approach adopted here is to ensure ease of doing business by means of digitalisation, policy changes, fee reduction, technology upgradation, infrastructure expansion and its optimal utilisation and undertaking pilot movements to build in confidence among the industry stakeholders.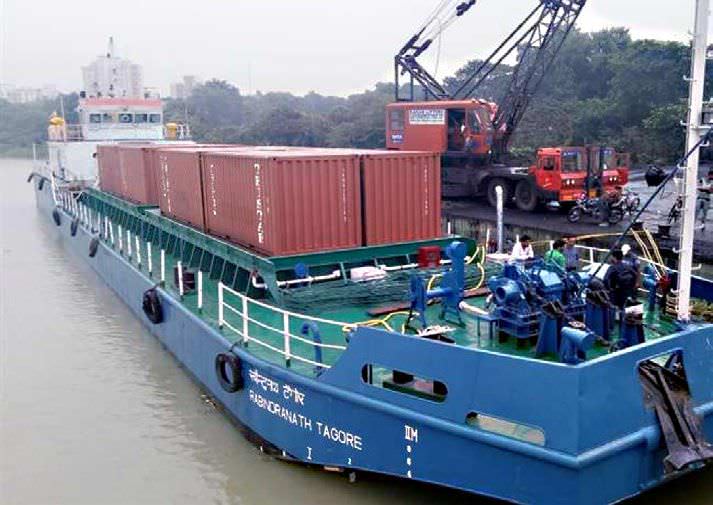 On the technology front, Aggarwal shares that the Ministry has switched to e-forms instead of manual forms and has eliminated Form 11 and 13. This is applicable at all three terminals at JNPT and other major ports. All 31 shipping lines at JNPT are compliant with e-delivery capability and have implemented issuance of e-delivery orders. Other major ports have also been directed to implement the issuance of e-delivery orders. Also, all the major ports are in the process of implementing radio-frequency identification (RFID) gate automation system. The tendering process to procure RFID is in progress and all major ports are expected to complete this process by end of this year. All major ports are now using advance information of import cargo online by way of accessing Import General Manifest (IGM) message through integration with Customs software ICEGATE. This process has cut down dwell time significantly. Furthermore, at the ports, the Port Connectivity System is being upgraded to PCS -1X.
You can read up to 3 premium stories before you subscribe to Magzter GOLD
Log in, if you are already a subscriber
Get unlimited access to thousands of curated premium stories, newspapers and 5,000+ magazines
READ THE ENTIRE ISSUE
November - December 2018