Following Buddha's Footprints
Over the last few years, India has been aggressively marketing itself as a Buddhist tourism destination. The results have begun to show, but a lot more needs to be done to optimise the potential.
For centuries, India has attracted tourists from Asia, keen on visiting the numerous sites and centres of Buddhism, spread across the country. Back in the 3rd century AD, Fa Hien (or Faxian) became the first Chinese Buddhist monk to visit India in search of greater knowledge about Buddha and to visit the monasteries to learn more about Buddhism from the monks in India. Over several years, he travelled extensively all over India, visiting key centres of Buddhism, which was flourishing at the moment, and he penned his experiences which have today become a great source of information about India and Buddhism in that era.
Fa Hien was followed by many other visitors from various parts of Asia, notably his own countryman, Hiuen Tsang (or Xuanzang) in the 7th century AD, who spent nearly 20 years tracing the path of Buddhism and learning in great centres such as the Nalanda university in today's Bihar. His travelogues have also become a global source of information about Buddhism of the period as well as the state of the Indian society.
But barring these famous and scholarly visitors, India has not really been flooded by a mass of Buddhists, living mainly all over Asia. This was partly due to the fact that India woke up to Buddhist tourism rather late in the day, only about a decade ago, when the idea that Buddhism could be a strong marketing plank for promoting tourism to India.
"It has been a core tourism point for India and we could have marketed it long ago but it is better to be late than never. We appreciate our ministry's decision to develop these places with world class infrastructure. We need not compete with anybody as out of eight Buddhist circuit sites, seven are in India. So we have great potential with world class infrastructure and proper marketing," says Zelam Chaubal, Director of Kesari Tours, a leading travel company in India.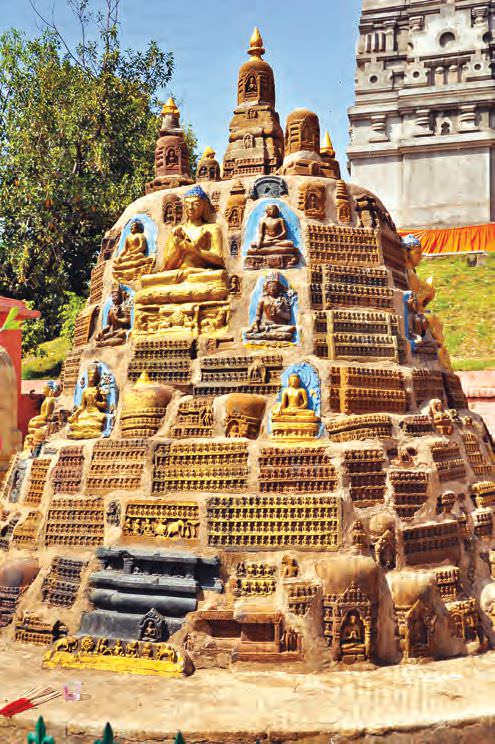 A key market
The market for spiritual tourism linked to Buddhism is a big one. With over 450 million followers, Buddhism is the fourth largest religion in the world and the advantage for India is that most of these people live in Asia itself, mainly South East and North East Asia, making the journey to India a rather short one, a major factor in the decision of a tourist while choosing a destination. Millions of Buddhists live in Sri Lanka, Thailand, Myanmar, Vietnam, Cambodia, Japan, China, the two Koreas, as well as Indonesia and Malaysia. All these nations offer a ripe market for India to tap in its promotion of Buddhist tourism.
Though Buddhism flourished in Asia, it is no longer limited to Asia. The religion has attracted followers, in significant numbers, in many European nations as well as the United States, including several Hollywood celebrities, giving a boost to the religion. The Dalai Lama, the spiritual leader of the Buddhists around the world, is immensely popular in the West and he makes frequent trips to the EU and the United States to address thousands of disciples.
Ramesh Punjabi of Le Passage to India, an inbound travel company, says that the current traffic and focus markets for promotion of Buddhist tourism include Japan, South Korea, Singapore, Indonesia and Thailand. "The Buddhist circuit is already established as a major pilgrimage route catering to a substantial market of 450 million Buddhists worldwide. The Buddhist Circuit concept has its own brand image and of the key markets for India, the Japanese market has been performing very well," he says.
You can read upto 3 premium stories before you subscribe to Magzter GOLD
Log-in, if you are already a subscriber
Get unlimited access to thousands of curated premium stories and 5,000+ magazines
READ THE ENTIRE ISSUE
September - October 2016