Eat, Pray and Art, at Little Lhasa
India & You|September - October 2016
McLeod Ganj, home of the Dalai Lama, the spiritual head of the Tibetans, offers an eclectic mix of Indian and Tibetan cultures, which exist in this small town dominated by Buddhism preachers and tap-toed by foreign tourists.
It's a terrace cafe with a hippie-chic ambience and crowd, where I sit and sup some hot, clear soup. The chilly winds have blown my nose tip cold and lips dry. As I ingest the soup and enjoy the warm trail it is creating down my throat, I look over the lush green valley of Mcleod Ganj also known as Little Lhasa, and a crowded street with a plethora of shops selling Tibetan carpets and handicrafts, Buddha idols and souvenirs, Thangkas, traditional paintings on cotton or silk; shopping is a material fiesta here and the art a reflection of Indian and Tibetan culture.
I am enjoying the mild dance of the flipping and flopping of the colourful, triangular flags that are constantly being hit by breeze and are hanging loosely all around, from tress, shops, and even backpacks and bikes of the tourists who are mostly foreigners and young Indians.
The environment is a mix of the silence of the hills, a city vibe flowing through cafes and the monks in red robes and exquisite monasteries, which make for a dominant Buddhist culture in this part of Himachal Pradesh. I am swaying in my environs, when misty clouds surround me, the already shy sun sets away and it gets dark; at midday, it gets really dark.
This is a typical June day in McLeod Ganj, at an altitude of 1,770 m, in Dharamshala, which is formally the seat of the Tibetan government in Exile.
Capital in Exile
The first Dalai Lama, the leader of Tibetan Buddhist, founded Mcleod Ganj as an ideal place to establish the 'Capital in Exile'. The Central Tibetan Administration, (CTA) is an organisation based in India, with the stated goals of rehabilitating Tibetan refugees here till the time that Tibet gains freedom from China. This suburb, around 4 km north of Dharamshala is the residence of his holiness, the 14th Dalai Lama and the site of the exile community's main temple. This explains why the tiny hill station is home to a large population from India's neighbour and why the walls around here have graffiti shouting 'Free Tibet'.
The culture of this place is dominated by the residents and it is evident here not just because of the practice of Buddhism but also the art and architecture that the place boasts of and the traditions, customs and culinary delights that have settled along with the Buddhists, who practice their religion extensively here, and the place has come to be known for it.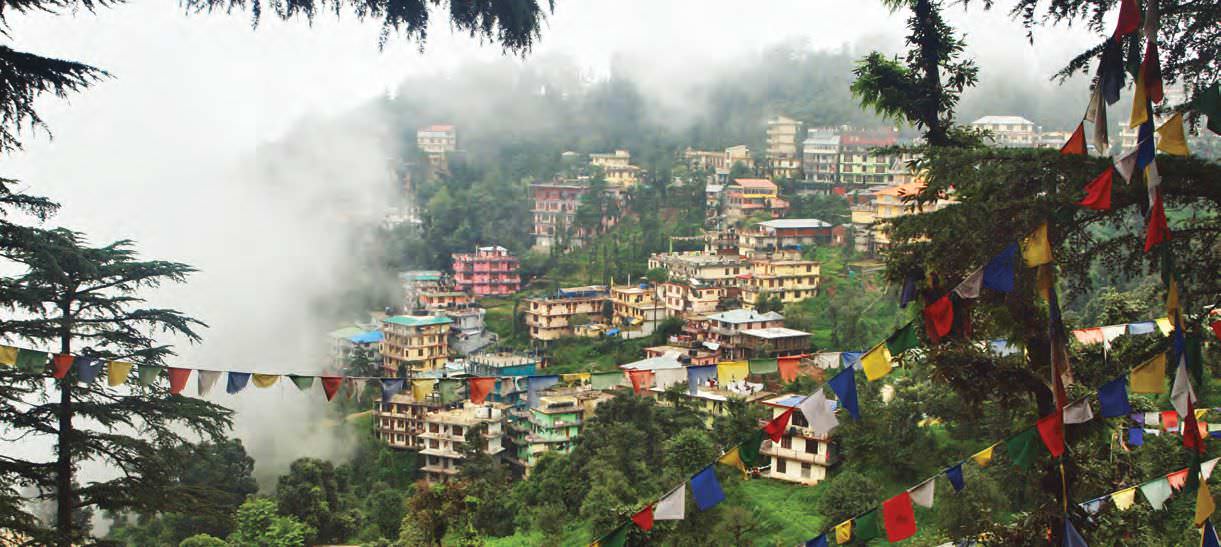 Food to gorge and a culture to experience
You can read up to 3 premium stories before you subscribe to Magzter GOLD
Log in, if you are already a subscriber
Get unlimited access to thousands of curated premium stories and 5,000+ magazines
READ THE ENTIRE ISSUE
September - October 2016