Why Social Media Wants You Angry
India Today
|
September 28, 2020
How the business models of social media platforms thrive on anger, hatred and the divisive fake narratives often spread by political parties
IN June 2019, during the first Parliament session after the BJP's return to power at the Centre with an enhanced majority, Derek O'Brien of the Trinamool Congress (TMC) raised four questions in the Rajya Sabha that suggested that the saffron party had won the general election by "creating a culture of digital mobs, conditioning minds and spreading fake news". In short, he alleged that the BJP's victory was aided by social media manipulation. Fourteen months on, allegations by O'Brien have hit the ruling party again following foreign media reports about how social media giant Facebook has been allegedly favouring the BJP. A report by
The Wall Street Journal
details how Ankhi Das, Facebook's public policy director for India and south and central Asia, failed to take down Telangana BJP MLA T. Raja Singh's account despite his transgression of hate-speech norms.
Another report by Buzzfeed News details the allegations made by Sophie Zhang, a data scientist recently fired by Facebook, in a 6,600-word memo this August criticising the company for overlooking evidence that the platform was used to sway public opinion and manipulate elections globally. Among various examples, she mentioned a "politically-sophisticated" network attempting to influence the Delhi assembly election in February. Zhang did not disclose the identity of the network.
Referring to Raja Singh's account, which Facebook eventually took down, the company's India MD Ajit Mohan said in an interview to The Times of India: "If it's the speech of an elected official, the idea is that the voters and constituents should be able to make a call for themselves in terms of the nature of that speech...we should not be in a position, which is possible, of censorship of speech from elected officials or political leaders. But having said that, there is no exception for hate speech and, therefore, even in this case, going back to 2018, we have taken down content that violated our community standards on the platform."
In response to Zhang's allegations, Facebook said the company regularly removed coordinated influence campaigns. Predictably, a war of words erupted between the BJP government and the Opposition over the reports. The Congress and the TMC wrote to Facebook demanding that the allegations be scrutinised. In another letter to Facebook, Ravi Shankar Prasad, the Union minister for law & justice, communications and electronics & IT, claimed that its employees were "on record" abusing Prime Minister Narendra Modi and his cabinet colleagues and that these biases reflected in the social media platform's operations.
The controversy indicates how social media fashions narratives. Platforms, such as Facebook, Twitter, Instagram, YouTube and instant messaging app WhatsApp, have not only democratised public opinion but also spurred political and social movements—protests in Iran over rigging of the 2009 presidential election, Arab Spring in Egypt (2010), Anna Hazare's anti-corruption movement (2011) and the Nirbhaya gang-rape protests (2012), to name a few.
Over the years, spontaneous public opinion on social media has given way to curated discourses orchestrated by political parties, groups, individuals and corporate houses, often determining which narrative will get national attention. For billions, social media has become the primary source of information, giving it unprecedented power to influence the discourse in almost every aspect of mass communication. "Social media discourse may not reflect the real public mood, but it does affect the minds of users. People fear they would be ostracised if they are not part of the popular or majoritarian narrative on an issue," says Priyanka Chaturvedi, deputy leader of the Shiv Sena in the Rajya Sabha.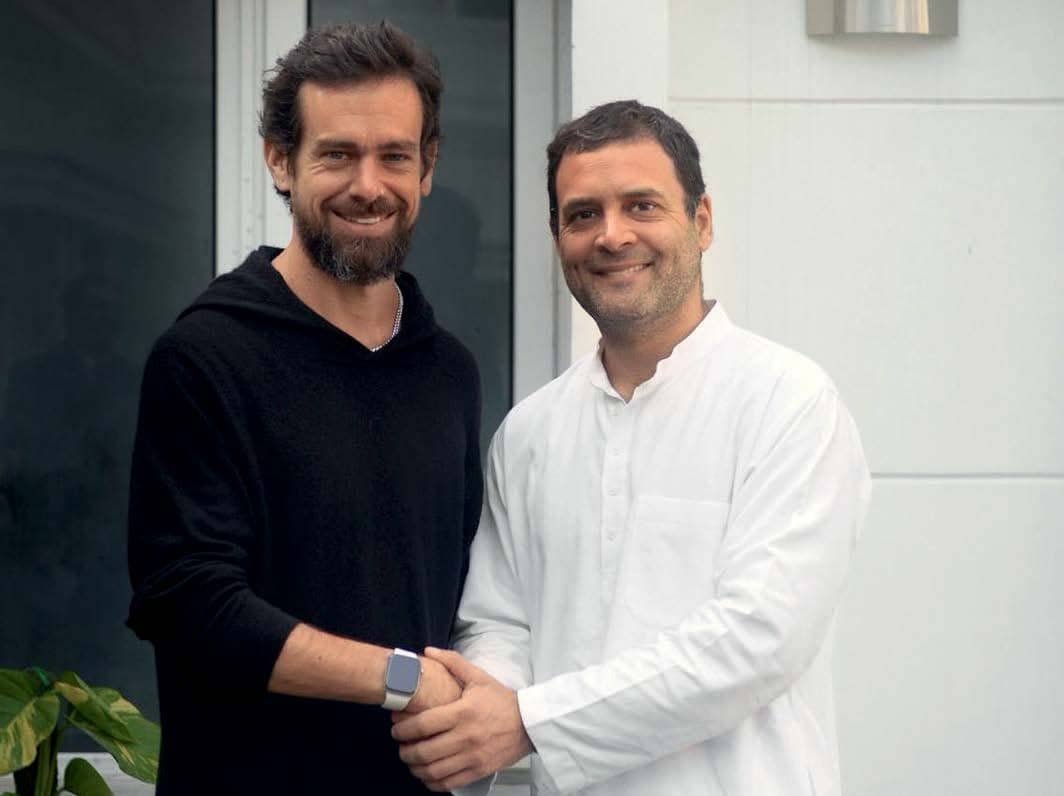 THE SOCIAL MEDIA UNIVERSE
Active social media population
WORLD
3.96 BILLION 46% of the total population
INDIA
376.1 MILLION 28% of the total population
17 HOURS Average time Indian social media users spend on platforms each week, more than social media users in China and the US
₹3,835 CRORE Or 28% of the total digital ads, worth Rs 13,683 crore, spent on social media in 2019
98% of Facebook's global revenue comes from advertisements
87% of Twitter's revenue came from advertisements; 13% came from data licensing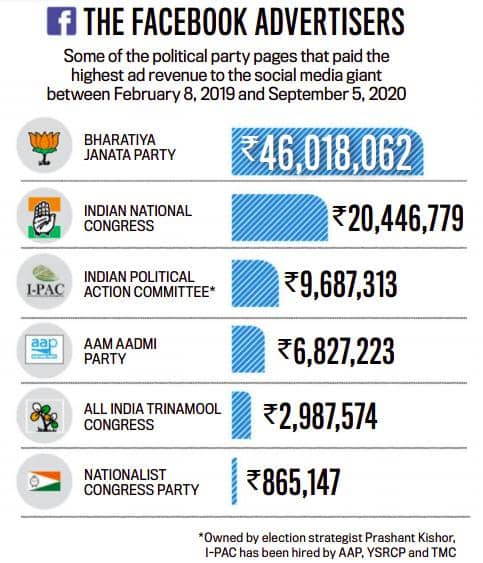 ₹62.1 CRORE spent on ads related to social issues, elections or politics on Facebook between February 8, 2019 and September 5, 2020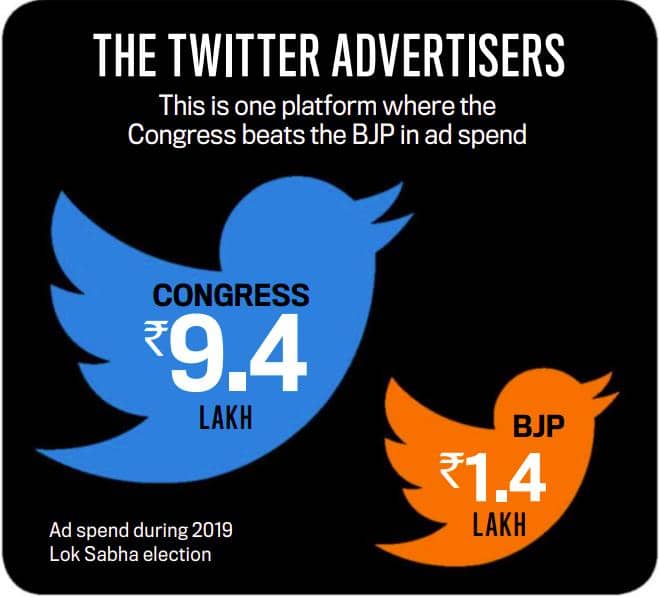 Chaturvedi cites the case of actor Sushant Singh Rajput's death to add: "So many Twitter accounts came up just to tweet on the case, creating an impression that this was the most hotly discussed issue on social media, whereas other important issues do not get the same attention." Just how a 'national narrative' can be built through social media is evident from the trending Twitter hashtag #CBIForSSR—in support of a CBI inquiry into Rajput's death—that has generated nearly 3 million tweets.
Social media platforms have often faced accusations of cultivating narratives in exchange for money or favours. The networks were seen as taking little tangible action when fake narratives for and against the CAA (Citizenship Amendment Act) and NRC (National Register of Citizens) spread, even stoking violence. When hate speeches by politicians amplified during the Delhi election this year and the riots that followed, social media platforms remained mute spectators.
As usual, political parties trade charges instead of ending this spiteful game. If Congress spokesperson Supriya Shrinate has claimed that Ankhi Das's sister was an activist of the RSS-affiliated Akhil Bharatiya Vidyarthi Parishad, BJP IT cell head Amit Malviya alleged that Siddharth Majumdar, a Facebook executive, is associated with the Congress. "At first, it was about the platform being misused. Now, it's about Facebook misusing the platform," says Nikhil Pahwa, founder of MediaNama, a mobile and digital news portal. "We do not exactly know the accusations of biases against the BJP or the Congress [within Facebook] because these have been anecdotal. This is why we need greater scrutiny of large platforms like Facebook." Facebook did not respond to queries from INDIA TODAY.
You can read up to 3 premium stories before you subscribe to Magzter GOLD
Log in, if you are already a subscriber
Get unlimited access to thousands of curated premium stories, newspapers and 5,000+ magazines
READ THE ENTIRE ISSUE
September 28, 2020