What It Takes to Put Our Man In Space
India Today
|
November 19, 2018
The grand ambition of sending a manned mission into space by 2022 has spinoff benefits far beyond the bragging rights that will accrue to the fourth space superpower.
"WHEN I FIRST SAW INDIA FROM ORBIT, I THOUGHT SARE JAHAN SE ACHCHHA. BUT DAYS LATER, I FELT FROM SPACE THERE ARE NO BORDERS. THE WHOLE PLANET IS ONE."
RAKESH SHARMA, first Indian in Space, India Today, April 30, 1984
"ONE OF THE STRANGEST THINGS ABOUT BEING IN ZERO GRAVITY IS THAT WHEN I WENT TO SLEEP, I REALISED I WAS ONLY AWARE OF MY THOUGHTS. BECAUSE YOU ARE WEIGHTLESS, YOU DON'T FEEL YOUR LEGS OR YOUR BODY. IN A SENSE, THEN, YOU ARE JUST YOUR INTELLIGENCE."
KALPANA CHAWLA, the late American astronaut and the first woman of Indian origin to be in space, India Today, January 26, 1998
"IN A LITTLE SPACECRAFT ZIPPING AROUND THE EARTH, MAYBE YOU ARE TAKING FOR GRANTED WHERE YOU ARE AND WHAT YOU ARE DOING, BUT THINGS LIKE GANESHA AND THE GITA BRING YOU BACK HOME."
SUNITA WILLIAM American astronaut of Indian origin holding the record for maximum time on spacewalk, India Today, October 15, 2007
Rakesh Sharma was in his cottage in the Nilgiri Hills, in Tamil Nadu's idyllic Coonoor hill station, watching the telecast of Prime Minister Narendra Modi's Independence Day address from the ramparts of the Red Fort. He sat up and cheered when Modi said, "We have a dream, our scientists have a dream. We have resolved that by 2022, when India celebrates 75 years of Independence, or maybe even before that, certainly some of our young boys and girls will unfurl the tricolour in space... I feel proud to announce that very soon, as part of our manned space mission, we will be sending an Indian into space. This will be pursued by our esteemed scientists, and we will proudly be the fourth such nation to have launched a successful manned space mission."
Sharma's record of being the first and only Indian to travel in space—when he orbited the Earth for a week aboard a Soviet spacecraft in April 1984—is soon likely to be broken. But he feels both relieved and elated. As he puts it: "It was an immense relief to hear the prime minister. I have been waiting an announcement of this kind for 34 years because we have not had a manned space programme since I went up. I am extremely thrilled that it has finally happened." Does it bother him that he is soon likely to be upstaged? "No, not at all," he says promptly (see Our First Man). "The more the merrier."
In Bengaluru, at the headquarters of the Indian Space Research Organisation (ISRO), and at space centres dotted across the country, there was a spontaneous outbreak of joy at the prime minister's announcement. Since 2006, when ISRO formally submitted a proposal for a manned space mission to the central government, its scientists have been eagerly awaiting just such an announcement. As Dr K. Sivan, chairman of ISRO, says, "The prime minister has given us a huge gift. We have been perfecting technology demonstrators all these years for the manned space mission, and this gives us the confidence that we will deliver on the deadline of 2022 that has been set for us." Mission Gaganyaan, as the prime minister has termed it, plans to put three Indians in orbit for a week around the Earth.
For ISRO, a successful manned space mission will put it in the league of space giants—the US, Russia and China (the most recent entrant into this exclusive club). Since it was established in 1969, ISRO has delivered like few public sector institutions have in the country. Over the decades, it has mastered the sophisticated and complex rocket and satellite technology needed for space-faring nations. Today, it has achieved a degree of mastery over all major rocket types—solid fuelled, liquid fuelled and cryogenic—and has also built some of the heaviest launch vehicles in the world. It can boast of injecting state-of-the-art, made-in-India satellites into orbit for a variety of tasks, including communications, meteorology, navigation and military. In recent years, it has entered the field of space exploration by sending unmanned spacecraft to orbit the Moon and Mars—succeeding in its first missions while keeping costs low. Manned space missions are the next logical step for ISRO, an opportunity to build expertise in the human-space interface—one of the trickiest technologies to master. Sivan believes it will take Indian science and technological advancement to a much higher plane. As he told india today, "This is not just an ISRO project but a national one, as we will require many agencies, institutes and entities to demonstrate their capability and strength to make it a success." (See interview)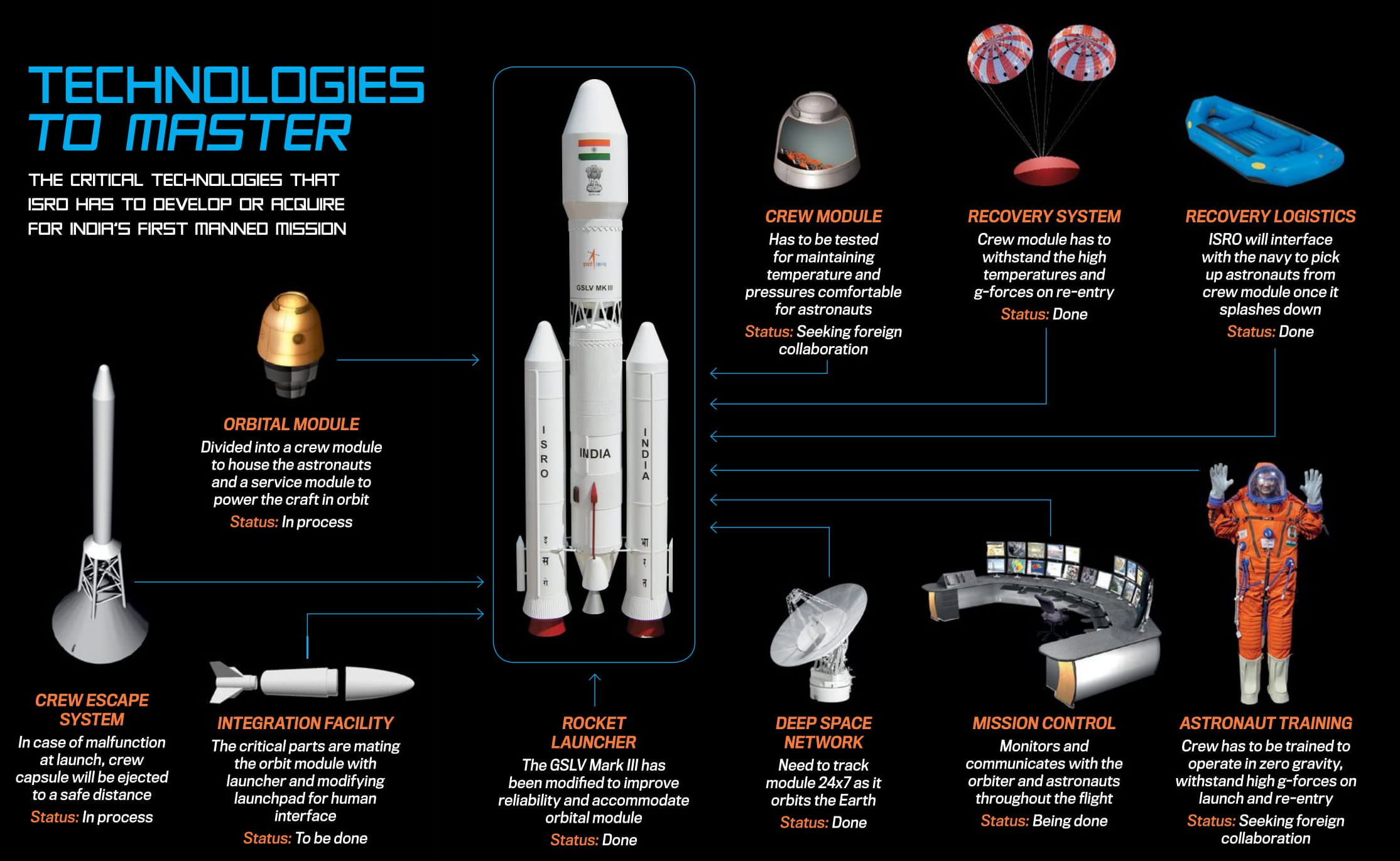 Yet, there are sceptics—and rightly so—about the government's motives and thinking in clearing a manned space mission. "Sending Indians into space is the most silly and idiotic idea, especially 50 years after Neil Armstrong first landed on the moon," veteran space scientist V. Siddhartha is said to have told the BBC. His point: robotic missions can now do many things that astronauts do, without the risk involved in sending humans into space. Kiran Karnik, a reputed space and information technology expert, is concerned that there is too much rhetoric about prestige and glory. He believes that a manned mission is worthwhile if there is a long-term plan to prepare for humans to escape the devastations caused by catastrophic climate change or a nuclear war or even to shift environmentally harmful industries to the Moon or other parts of the solar system.
You can read up to 3 premium stories before you subscribe to Magzter GOLD
Log in, if you are already a subscriber
Get unlimited access to thousands of curated premium stories, newspapers and 5,000+ magazines
READ THE ENTIRE ISSUE
November 19, 2018