The Rise And Fall
India Today
|
August 05, 2019
50 Power People
Top Gun
Whether you see it as a blessing or a curse, there is really no doubt anymore that we live in extremely interesting times. And if you think that's a cliché, well, we have plenty more for you: the old order changeth—and it remains la même chose too. After all, contradiction is our favourite national cliché.
In this 16th edition of the High & Mighty list, we give you a group portrait of the people who really count in this country of 1.3 billion today. Compare it to last year's list and what emerges is same—but different. The country, like much of the world, has been in the throes of the slow rolling surge of right-wing populism that now seems to have entrenched its own elite. 'Might makes right' ran that old cautionary cliché. It could be rewritten for our times as 'the Right makes might'. Perhaps the most dramatic manifestation of this is in our list of leading politicians who, for the first time, are a monochrome set of saffron. Our power list of movers and shakers is dominated as usual by businessmen, and marked by the rise of a new generation of start-up and digital entrepreneurs. Here too, there's no mistaking the growing importance of those with proximity to political power.
The saffron tide has also left its mark by sweeping away an unprecedented number of familiar faces—replaced by 16 new entrants to the High & Mighty list. That said, there's no shortage of perennials here. The High & Mighty list remains a record of the shifting fortunes of India's elite—not a revolution. We've used all our collective expertise and the algorithms of editorial discussion to compile this definitive list. The process is a little like Indian democracy: not everyone likes the results, but everyone is heard.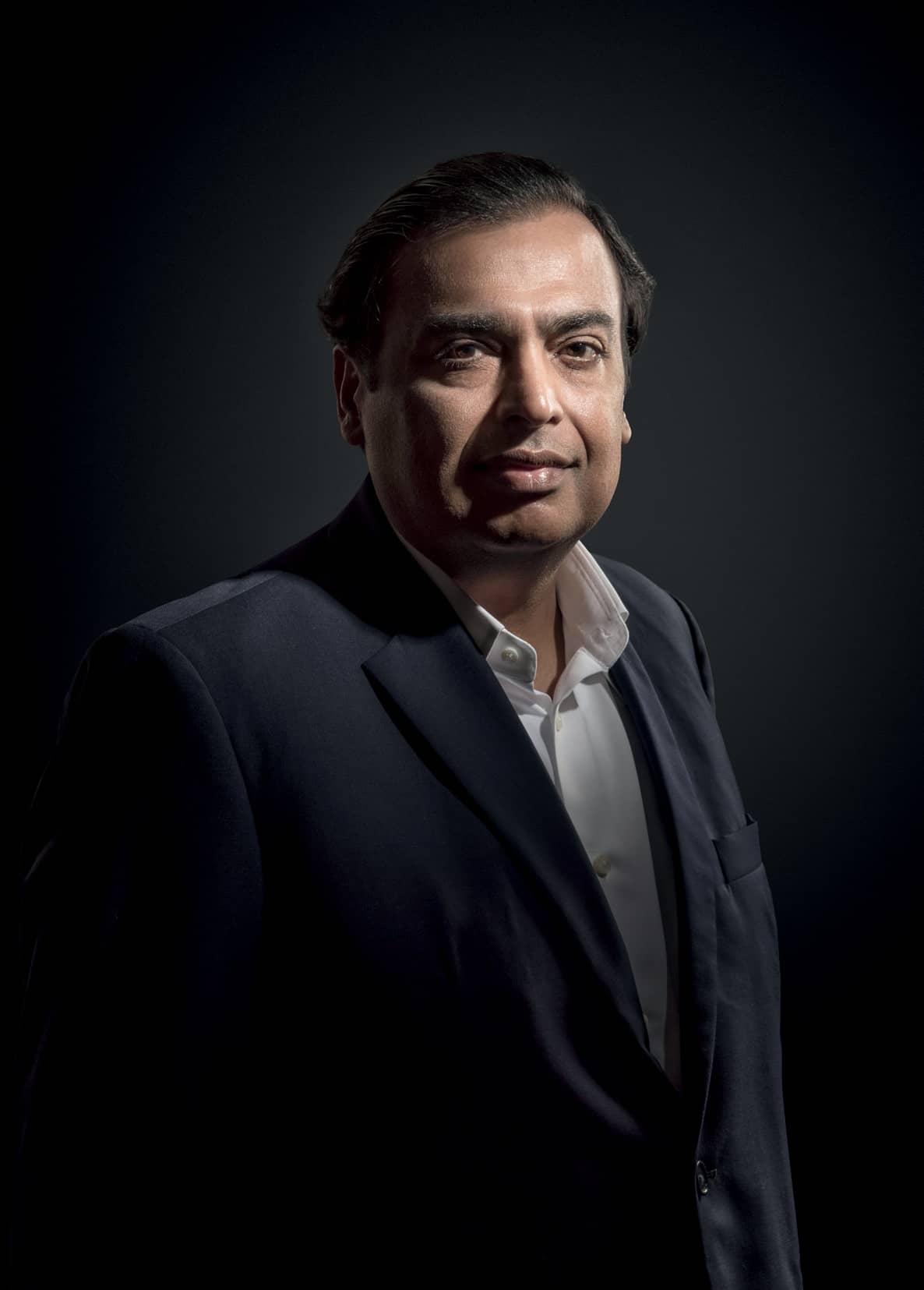 1 MUKESH AMBANI 62, CMD, Reliance Industries
Because he is India's biggest wealth creator. Reliance Industries Ltd (RIL) is the country's most valuable company, with a market cap of Rs 8 lakh crore as on July 24; and cash, cash equivalents and marketable securities of Rs 1.32 lakh crore as on June 30, 2019
Because RIL posted its highest-ever quarterly profits in the fourth quarter of FY19—Rs 10,362 crore. Total profits for the year stood at Rs 39,588 crore on revenues of Rs 6.22 lakh crore (up 45 per cent from FY18)
Because the world's 13th richest man, with a net worth of $50 billion (Rs 3.45 lakh crore), has seen his wealth increase 25 per cent in a year (FY19), according to Forbes
Because even as the company's tra d it ional refining business slowed down, modern ones have flourished—Reliance Retail crossed Rs 1 lakh crore in revenues in FY19, and mobile telephony business Jio is now No. 2 with 322.9 million subscribers (June '19 figures)
CROSS-CONNECTION
Known to be close to PM Narendra Modi, he surprised many by publicly endorsing Congress candidate Milind Deora for the Mumbai South Lok Sabha seat. That Deora lost is another matter
LIKE FATHER, LIKE SON
Son Akash Ambani plays a big role in Jio, being the force behind the 10-odd acquisitions the cellular business has made. This includes an 87 per cent stake in artificial intelligence (AI) chatbot company Haptik Infotech, the integration of its digital music service, JioMusic, with music streaming service Saavn, and picking up a majority stake in Den Networks, Hathway Cable and Datacom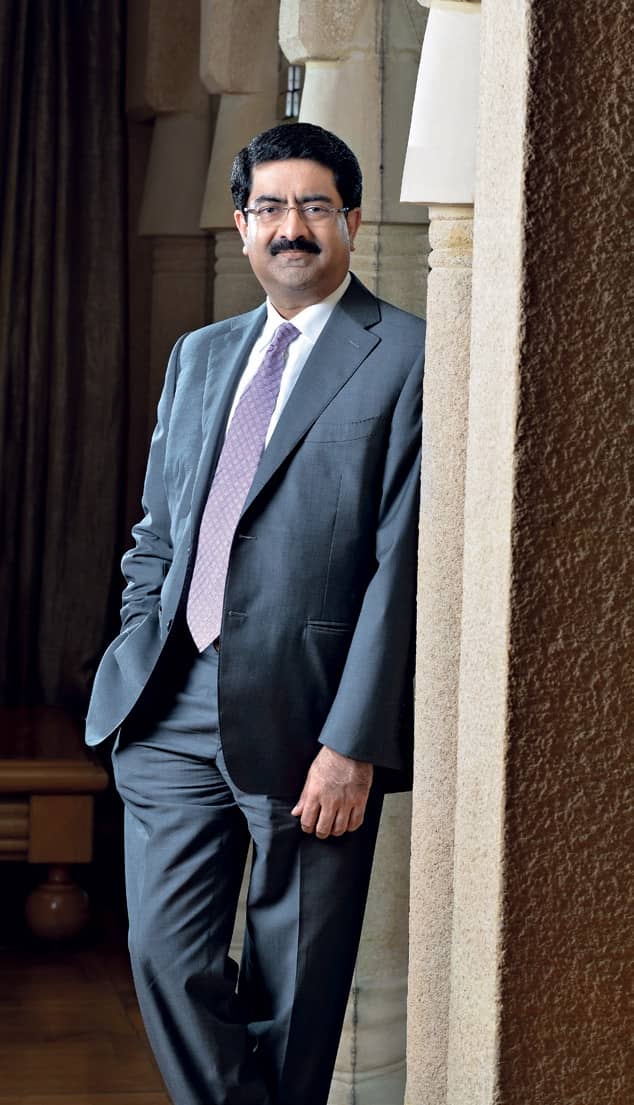 2 KUMAR MANGALAM BIRLA 52, Chairman, Aditya Birla Group
ROCK STEADY
Because he has been steadily steering the Aditya Birla Group into a higher orbit, with group revenues touching $48.3 billion (Rs 3.3 lakh crore) from 14 different businesses
Because the group merged its Idea Cellular with Vodafone India in July 2018 to create India's largest mobile telephony company, with 387.5 million subscribers in June this year
Because Hindalco's wholly owned subsidiary, Novelis Inc, acquired US-based Aleris Corporation, a global aluminium rolled products major, for $2.58 billion (Rs 17,286 crore) in July 2018. This marked Novelis' entry into the high-end aerospace segment, with technological capabilities in manufacturing and R&D in Aleris' facility in Koblenz, Germany
Because cement business UltraTech is now the market leader after absorbing the businesses of Century Textiles and Industries
FORCE MULTIPLIER
Under Birla, the company's turnover has increased more than 24 times, from $2 billion in 1995 to over $48 billion now
OLD ORDER CHANGETH
B.K. Birla, his grandfather and inspiration, passed away on July 3 this year, following which Kumar Mangalam was chosen as chairman of the former's company, Century Textiles and Industries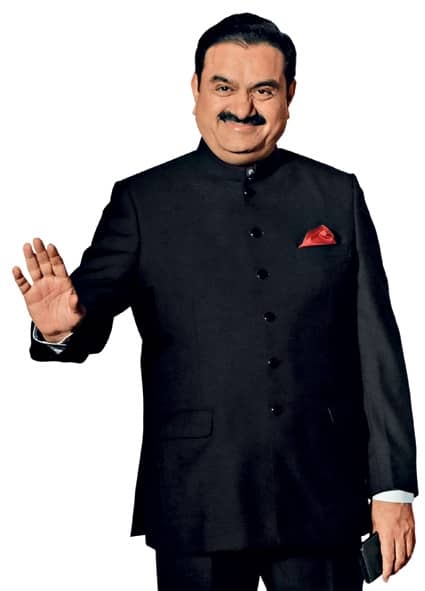 3 GAUTAM ADANI 57, Chairman, Adani Group
POWER POINT
Because the college dropout-turned-businessman from Gujarat, known to be close to Prime Minister Modi, has been on an aggressive expansion spree, announcing Rs 50,000 crore worth of projects in Gujarat itself in January 2019, and diversifying from the older businesses of ports, power transmission, coal and mining into newer ones, such as aerospace and defence, data centres, urban water management, roads, rail, metro and airports
Because under his watch, shareholder value for six of the Adani Group's publicly listed companies grew 600 times over 30 years, with a combined revenues of $13 billion (Rs 89,700 crore) now
Because Adani Power is now India's largest power producer with an installed capacity of 10,480 MW; and Adani Ports and Special Economic Zone Limited (APSEZ) is the largest commercial ports operator, accounting for nearly one-fourth of the cargo movement in the country
Because the group has moved a step closer to producing coal from its Rs 10,000 0 crore Carmichael mine in Queensland, Australia. Held up for over a decade, it has now got two envir ronmental clearances for mining 10 million tonnes of coal annually
Because the group emerged as the highest bidder for six Airports Authority of India (AAI)-run airports put up for privatisation
FAMILY MAN Loves spending time with his two-year-old granddaughter, who he often accompanies to kindergarten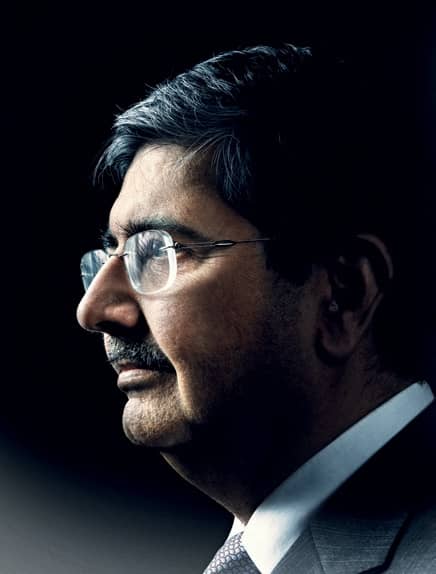 4 FORT KOTAK
UDAY KOTAK 61, Industrialist
Because Kotak Mahindra is the country's third largest private bank today. And because he is the Modi government's go-to person for financial advice, having been appointed chairman of the beleaguered IL&FS in October 2018
Because the bank buttressed its financial inclusion credentials by including in its customer base 4.29 lakh bottom-of-thepyramid households. Most loans were given to women engaged in farming and allied activities
Because it advised 14 domestic and crossborder transactions with a cumulative value of $7.8 billion (Rs 53,820 crore) in FY19. It also led the largest IPO, largest Real Estate Investment Trust IPO, and largest Qualified Institutional Placement, raising a total of Rs 32,983 crore across 14 transactions
UNFINISHED BUSINESS
The RBI fined his bank Rs 2 crore in July 2019 for allegedly not complying with its stake dilution norms, a matter pending in the Bombay High Court. A dilution of his stake from 30 per cent to 20 per cent, as required by the RBI, in November 2018 was expected to fetch him over $3 billion (over Rs 20,700 crore)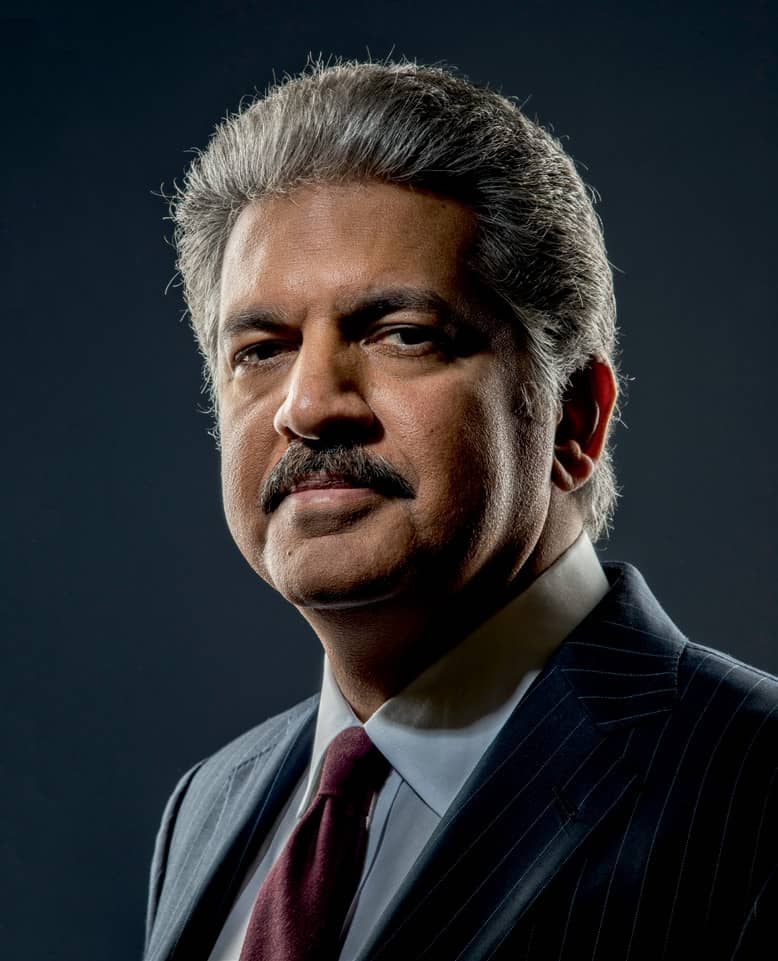 5 ANAND MAHINDRA 64, Chairman, Mahindra group
EASY RIDER
Because he is a champion of India's private enterprise, transforming the Mahindra group into a large federation of companies with $21 billion (Rs 1.4 lakh crore) in turnover after diversifying from automotive into aerospace, defence, real estate and infrastructure, retail, rural housing finance, hospitality and IT
Because Mahindra is a businessman with a heart, ever engaging his over 7 million followers on Twitter on social issues and has gone beyond the call of business to represent India in the Global Climate Action Summit (GCAS). Mahindra has announced that his group would be carbon neutral 10 years before the 2050 deadline
Because he is constantly thinking out of the box, relaunching the famous Czech brand Jawa motorcycles in India in November 2018. The response has been so good the company was forced to stop bookings. Waiting periods now are up to six months
KEEP THE BEAT
Mahindra group's 'Rise for Good' brand-building initiative leads the way in cultural outreach programmes such as Mahindra Blues, the Mahindra Excellence in Theatre Awards (META), the Kabir festival in Varanasi, and the Mahindra Open Drive in Goa for driving enthusiasts who also love music
GO ELECTRIC
Mahindra Electric Mobility is the pioneer of electric vehicle technology in the country with a range of products such as Treo (three wheelers), electric sedan eVerito and passenger van eSupro, among others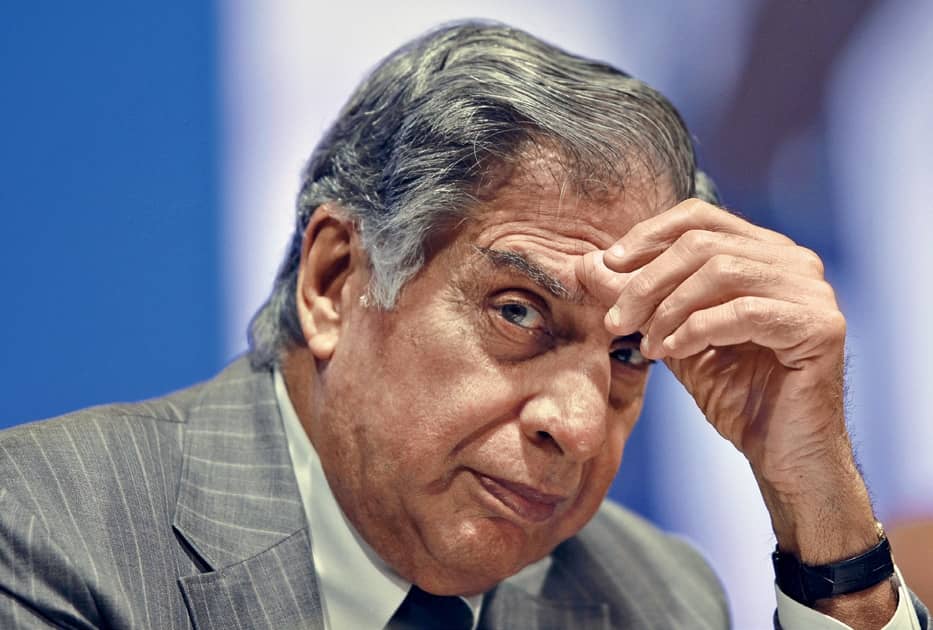 6 RATAN N. TATA 81, Chairman Emeritus, Tata Sons
THE COLOSSUS
Because a revered industrialist, he is also a big mentor/ financier of over 20 start-ups, including Ola Electric, weather forecast firm ClimaCell, Paytm, CarDekho, UrbanLadder and Lenskart. Tata Trusts has committed Rs 30 crore to incubate start-ups
Because as chairman of Tata Trusts, he is supporting the establishment of a distributed model for cancer care so that affordable facilities come up close to where patients live
Because after its support to the Swachh Bharat Mission,Tata Trusts is deploying, at state and district levels, a cadre of qualified professionals or 'Swasth Bharat Preraks' to implement the 'poshan abhiyan' and improve the nutritional outcomes of Indians. Tata Trusts also spent around Rs 1,500 crore in philanthropic activities in 2018-19
HOUSE THAT Before taking over the reins of Tata Sons from J.R.D Tata in 1991, Ratan Tata studied architecture at Cornell University and had plans to stay on in the US permanently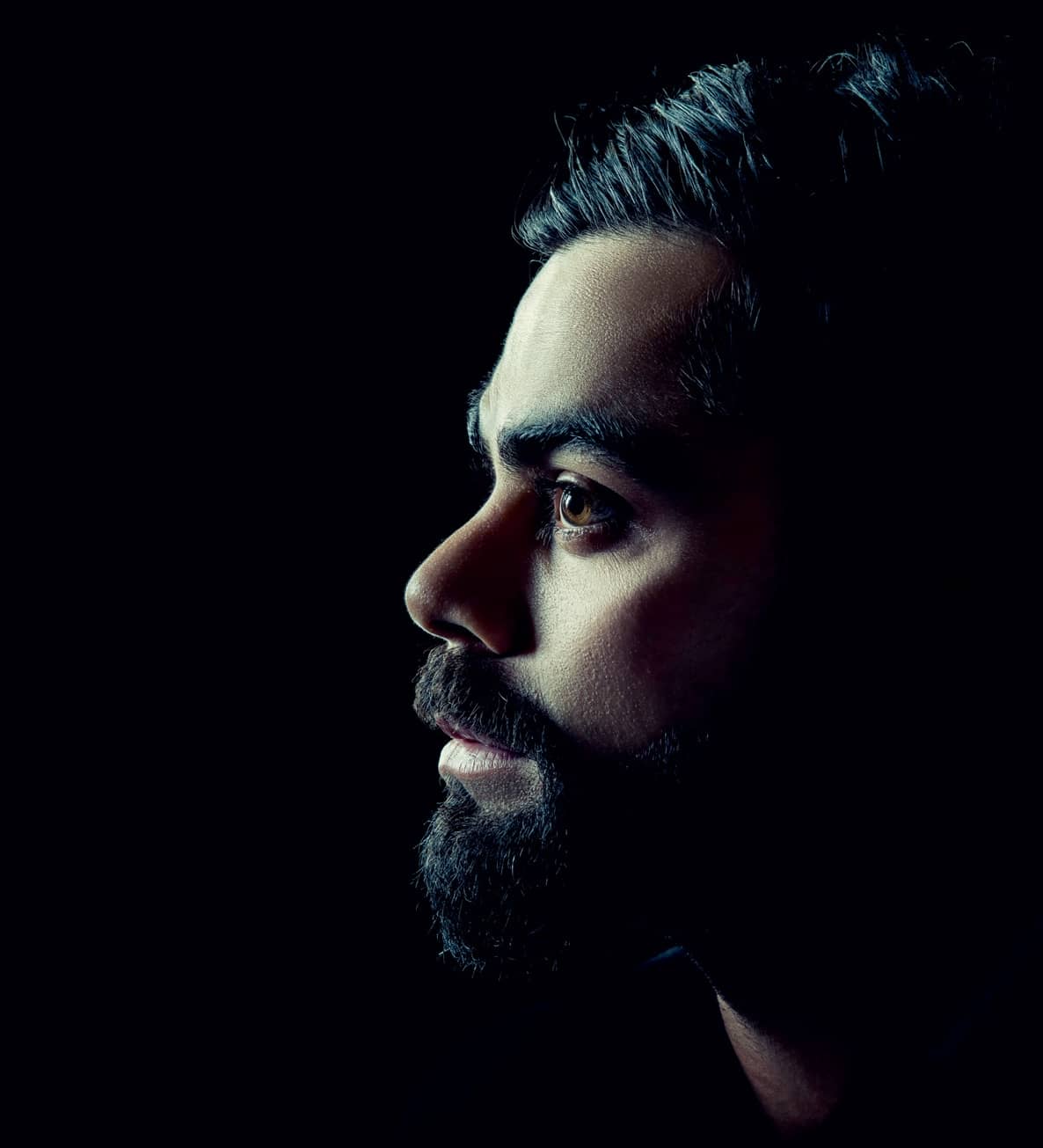 7 VIRAT KOHLI 30, Captain, Indian Cricket Team
STRAIGHT BAT
Because there is universal consensus that he is the best batsman playing today in all three cricket formats
Because in 2018, he became the first player to win the ICC's top three awards—ODI Cricketer of the Year, ICC Test Cricketer of the Year and ICC Cricketer of the Year—in the same year
Because he is the top celebrity endorser for the second year in a row in the Duff & Phelps list. Valued at $170 million, he endorses 24 brands
Because he is the only Indian in the Forbes 2019 list of highest-paid athletes (No. 9); he is also the only cricketer in the Instagram Rich List for sportspersons
BEHIND THE STUMPS
Kohli has kept wickets twice in intern­ational cricket—in a Test against South Africa in Johannesburg (2013), and in an ODI against Bangladesh in Dhaka (2015)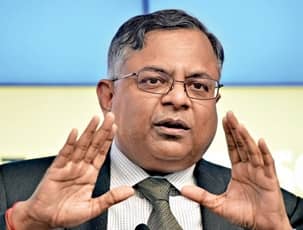 8 N. CHANDRASHEKHARAN 56, Chairman, Tata Sons
REV IT UP
Because on his watch, Tata Motors has tried to revive its flagging domestic per­ formance with new launches of electric vehicles (EVs). The Tata Tigor EV was launched in June this year, and 40 elec­ tric buses were delivered to the Jammu and Kashmir government on July 2
Because Tata Steel has been pursu­ ing capacity expansion in India after its JV plan with Germany's Thys­ senKrupp fell through, scaling up the Kalinganagar plant in Odisha and acquiring bankrupt Bhushan Steel and the steel assets of Usha Martin
Because hard choices were made in exiting its bleeding mobile telephony business. Tata Tele merged with Bharti Airtel but had to pay Rs 50,000 crore to settle debt, spectrum dues
RUN WITH IT
An avid runner, 'Chandra' also loves trekking in the Kugti Valley in Himachal Pradesh and in Sikkim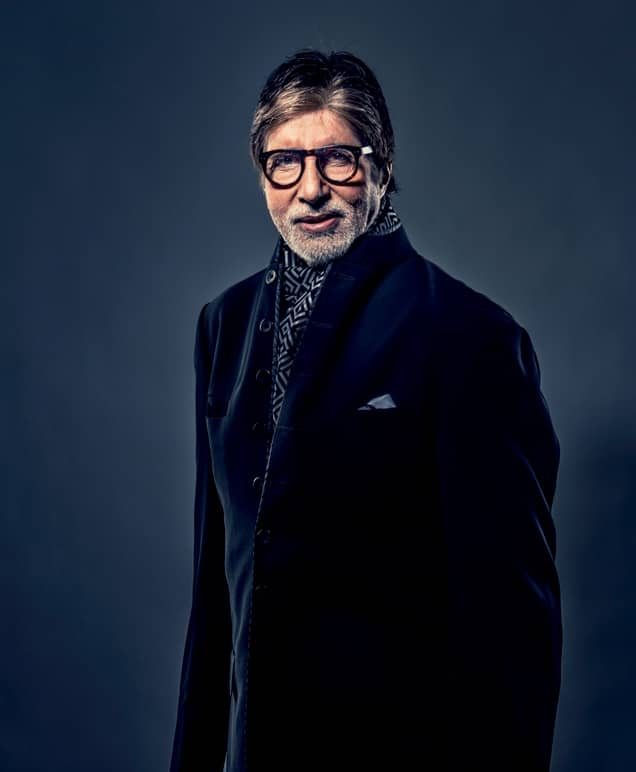 9 AMITABH BACHCHAN 76, Actor
BACHCHANALIA
Because he is still box­office gold with last release Badla (2019) raking in Rs 87.5 crore
Because he's a reliable brand, ranking No. 7 in the Duff & Phelps list, with a brand value of $41.2 million (Rs 284 crore). He currently endorses products for 22 companies
Because he wins hearts on social media. Big B has been writing daily on his blog for over 4,000 days now. He's active on Twitter where he numbers his tweets, Facebook and also on Instagram
Because he is big on the small screen too. As host of Kaun Banega Crorepati, one of In­dia's most popular quiz shows, the actor advocates social causes every Friday with 'KBC Karmveer'
COMING SOON
Movies Jhund, Chehre, Gulaba Sitabo, Brahmastra and his Tamil debut, Uyarntha Manithan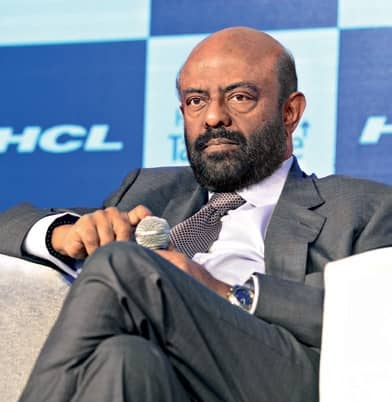 10 SHIV NADAR 74, Founder & Chairman, HCL
Because he is an IT pion­eer and HCL Technologies, with a revenue of $8.6 bil­ lion, is India's third­largest software services company. Nadar was No. 82 on the 2019 Forbes Billionaires list; net worth: $14.4 bn
Because he is one of India's top philanthropists, donat­ ing $662 million to the Shiv Nadar Foundation, which works on providing quality education to the needy
Because he hasn't forgot­ ten his roots, don a ting Rs 15 crore to the corpora­ tion school he studied in
THE REINVENTION
When the US stock markets tanked in early 2001, HCL was in a fix as 76 per cent of its revenues came from there. The company had to completely reinvent itself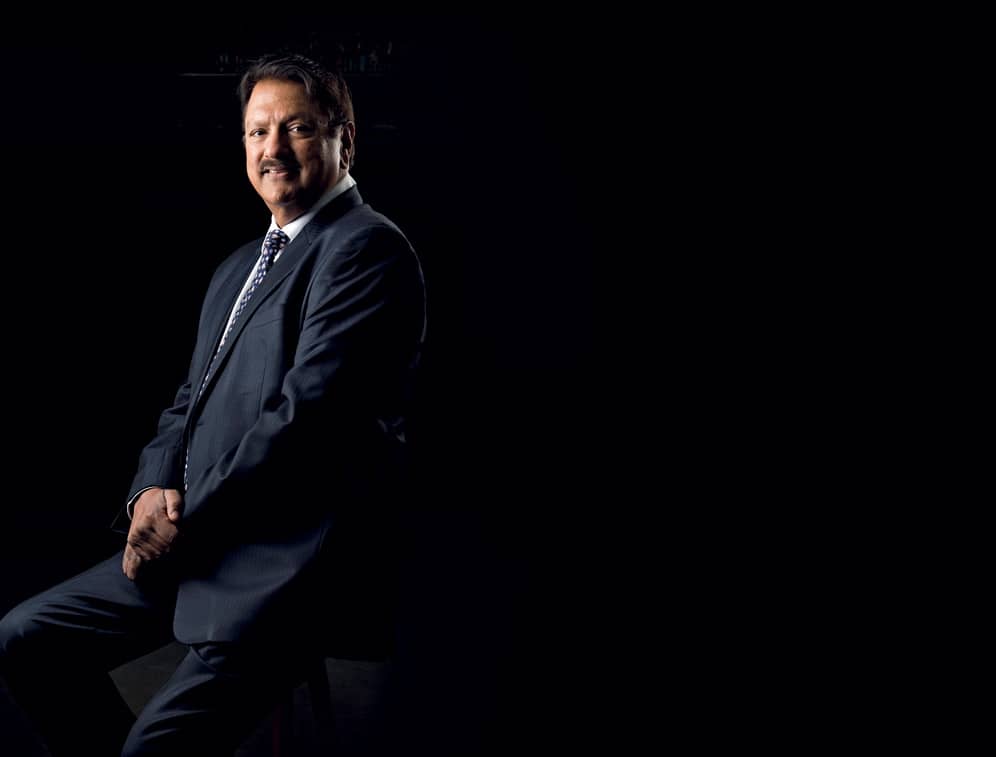 11 AJAY PIRAMAL 63, Chairman, Piramal Group
DEEP POCKETS11
Because he has used the $3.8 billion (Rs 15,000 crore) from the sale of his domestic drug formulations business to Abbott Labora­ tories (in 2010) to foray into financial services, real estate, healthcare information manage­ment, apart from bolstering the business that comprised generics, over­the­counter products and contract manufacturing
Because Piramal Enterprises saw its revenues grow 24 per cent y­on­y to Rs 13,215 crore in 2018­-19, while registering a 25 per cent growth in profits
GRAND UNION
When son Anand Piramal married Isha Ambani, Mukesh Ambani's daughter, on Dec. 12, 2018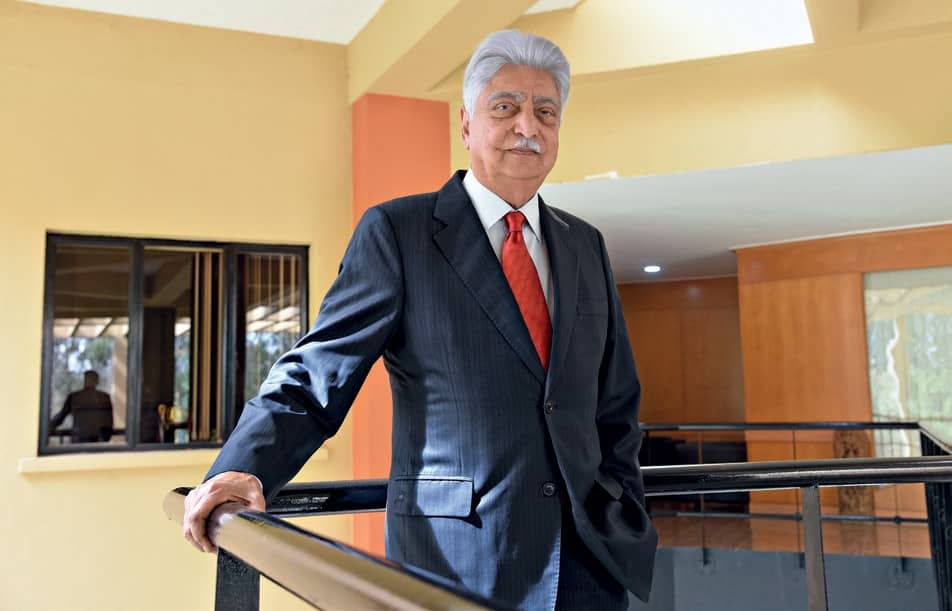 12 AZIM H. PREMJI 73, Chairman, Wipro Ltd
THE LARGE HEART
Because he is one of the world's most large-hearted billionaires, announcing in March that he has donated $21 billion (Rs 1.4 lakh crore) to charitable arm, the Azim Premji Foundation Because he will continue as chairman of Azim Premji Foundation, after announcing that son Rishad Premji will take over as executive chairman of Wipro Ltd on July 31
Because PremjiInvest, an investment group he founded, has invested in several start-ups and manages assets of over $3 billion (Rs 20,700 crore). It has helped create the country's latest tech unicorn, Icertis, which competes with SAP SE and Oracle Corp to help businesses manage contracts on the cloud
FUTURE VISION
Cherishes his interactions with school students at the annual 'Earthian' events on sustainability held at the Wipro premises in Bengaluru, where students can ask Premji any question
HANDSON
Makes frequent visits to areas where his foundation is active, to get a personal feel of how things are implemented
You can read up to 3 premium stories before you subscribe to Magzter GOLD
Log in, if you are already a subscriber
Get unlimited access to thousands of curated premium stories, newspapers and 5,000+ magazines
READ THE ENTIRE ISSUE
August 05, 2019