The Migrant Mess
India Today|June 08, 2020
It took a pandemic to thrust this seemingly invisible workforce into the national consciousness and expose how India has failed migrant labourers, the beating heart of its economy
100 MILLION
No. of migrants in the workforce in 2016, according to a March 23 parliamentary reply by Santosh Gangwar, Union MoS (independent charge) for labour and employment
You will find them everywhere in our cities—hanging from the scaffoldings of buildings, carting heavy loads in factories, guarding our homes, fixing our plumbing, doing our domestic chores or selling fruits and vegetables. Yet they remain invisible, a workforce peopled mostly by migrants from rural India, and contributing an estimated 10 per cent to India's GDP.
It took a pandemic and a subsequent lockdown to thrust them into the national consciousness and shake our collective conscience. As national television played out images of desperate migrants on a loop—an exhausted child asleep on his mother's suitcase as she drags it along, a young man cradling his friend who died of exhaustion as they set out from Surat to their home in Uttar Pradesh, and a 15-year-old old girl cycling her disabled father 1,200 km back home unfolded—India came face to face with a tragedy of an unimaginable scale. It was enough for the Supreme Court to ask on May 26 that the central and state governments submit a report in two days on their actions to help migrant workers. On May 28, the Union government said it has sent 9.1 million migrant workers home between May 1 and May 27—5 million by train and 4.1 million by road. The apex court has now issued detailed guidelines for the Centre and states to follow to transport migrant labourers.
Narendra Modi's critics blame the prime minister for announcing a national lockdown on March 24 at four hours' notice, leaving daily wage-earning migrants no time to prepare for days without work. The focus at the time, say government officials in the know, was saving lives more than livelihoods. Health experts, too, had sternly advised the government that any movement of migrants back to their home states could see COVID-19 entering rural India, where the health infrastructure was ill-equipped to handle it. Yet, some government officials admit they lacked clear data on migrant numbers and did not think the initial three-week lockdown would result in an exodus of a scale that India has not witnessed since the tragedies of Partition—a gross miscalculation.
But many experts do not buy the argument that the government did not have migrant numbers to aid their trauma-free return. According to Professor Amitabh Kundu, distinguished fellow at Research and Information System for Developing Countries, a think-tank in New Delhi, India currently has 65 million interstate migrants, of whom 33 per cent are workers. Add to them the street vendors the data does not capture, and you have another 12 to 18 million people.
According to the Economic Survey of India, 2017, nine million people move between states every year. In fact, their vulnerability was discussed threadbare in the Survey as well as in the report of the working group on migration by the Union ministry of housing and urban poverty alleviation the same year. Little heed was paid to their recommendations.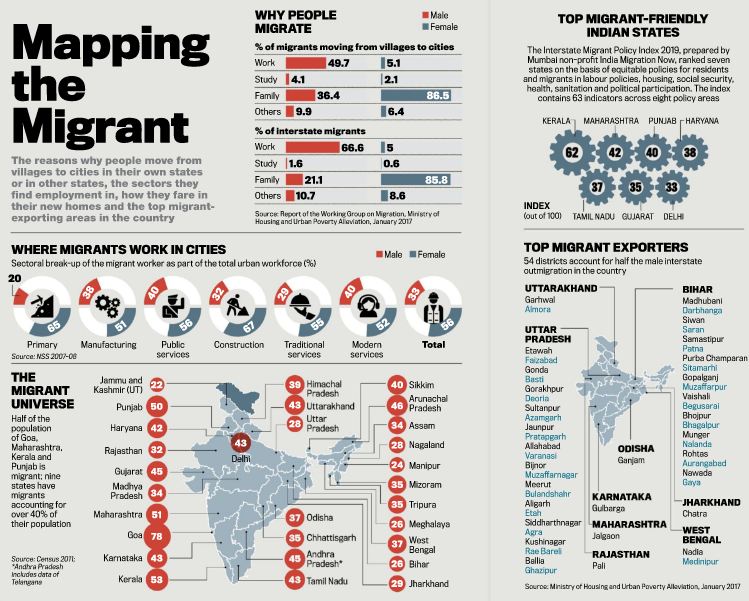 As the central government kept extending the lockdown, migrant workers, mainly daily wagers, became desperate to return home. With jobs and income drying up and no social security net to help them tide over the crisis, they no longer had money to buy food or pay rent. Living in cities became untenable. As Kundu points out, "Forty-five per cent of them share one room among five. Nearly 40 per cent use community water. The lockdown confined them to their congested living spaces, as moving out meant facing police atrocities." In their villages, they had family, no rent to pay and food to eat. Little wonder they set out for home—with 80 per cent of them heading back to Bihar and UP.
Many of these workers are 'circular migrants'—who come to the cities seeking work in the non-agricultural season—and would have returned to their native places after the monsoon. "They go back in June-July. Railway data shows that around 4 million people move around that time. The lockdown advanced their return by a month or two. It's surprising that the government did not anticipate this movement," says Kundu. Priya Deshingkar, professor of migration and development at the University of Sussex, Brighton, UK, says their invisibility is the reason why the urban poor and migrant workers in the informal sector fall below the radar of central and state government officials. "Several studies show that 80 per cent of the circular migrants lack identity and domicile documents. They also remain invisible because they are recruited by labour market intermediaries such as contractors and brokers," she says.
By the time the prime minister extended the lockdown on April 14, the situation had turned even more complex. More than the Centre, states like Bihar were unwilling to take back people fearing an exponential rise in Covid cases. Nor did they have adequate testing and quarantine facilities to give them the confidence to handle the inflow. Villages, too, were reluctant to accommodate the returnees, fearing infection. Meanwhile, the bureaucracy, on whom both the Centre and states rely to execute policy, became even more obdurate after Delhi chief secretary Renu Sharma was suspended for trying to facilitate the movement of migrants back to UP. "The ad hoc and haphazard way policies are designed and implemented was the real problem," says Varun Aggarwal, founder of India Migration Now (IMN), an advocacy group in Mumbai.
"We thought the lockdown would end after the first three weeks," says a top Madhya Pradesh government official. "When the second phase came, we thought it would be the last. The extension of lockdowns, with the authorities each time not clarifying whether it was the last one or there were more to follow, made people impatient." When the first wave of migrants returned, he reveals, the state government was completely unprepared, yet managed to handle them and contain Covid's spread. "But when the second wave began," he says, "with vehicles clogging the borders and those travelling on foot or on trains arriving simultaneously, the resources to manage them were stretched."
You can read up to 3 premium stories before you subscribe to Magzter GOLD
Log in, if you are already a subscriber
Get unlimited access to thousands of curated premium stories and 5,000+ magazines
READ THE ENTIRE ISSUE
June 08, 2020