THE LONG ROAD TO SELF-RELIANCE
India Today|July 13, 2020
India cannot end its reliance on China for automotive components overnight. An import ban would only choke supplies, raising costs for manufacturers and consumers. Needed: a long-term strategy to build domestic capacities
Long before geopolitical tensions led to calls to ban Chinese goods, Indian automotive component makers had already decided to reduce their dependence on Chinese suppliers. Called 'China Plus One', their strategy aims at creating alternative supply lines—from Japan, Korea, Taiwan, Thailand and Germany, among others— for a range of auto parts imported by India. This had followed disruptions in component supplies from China in January and February, as COVID-19 devastated Wuhan, a major auto hub in that country and the global epicentre of the disease.
COVID-19 has imperiled the movement of some $4.5 billion (Rs 33,750 crore) worth of auto components that India annually imports from China, comprising about 26 per cent of India's $17 billion (Rs 1.28 lakh crore) worth of auto parts imports from around the globe. Even so, the Indian market is only a small part of China's exports in this sector. China exports $70 billion worth of auto parts globally, as per a May 2019 Bloomberg report. Exports to India, at $4.5 billion, are just 6 per cent of that total.
However, leading suppliers to the auto industry note that replacing Chinese firms in the component supply chain is easier said than done. "In COVID-19 times, we have seen how easy it is to switch offa supply chain," says Deepak Jain, president of the Automotive Components Manufacturers Association, which represents 830 auto parts makers in India, and chairman of Pune-based Lumax Industries, a major supplier of lighting systems to automotive companies. "But to get it started again (with a new supplier) is not easy," he says. "It is a long process." For instance, China is the world leader in the manufacture of LED (light-emitting diode) systems, popular for their brightness and capacity to save electricity. Though LED systems are assembled in India as well, the components themselves are imported from China. It is in the manufacturing of such basic and crucial electronic components that China has stolen a march over several other countries, including India.
To add to the Indian automotive sector's problems, before the Covid crisis arrived, Indian regulators had already announced a fast transition from Bharat Stage IV (BS-IV) to BS-VI pollution norms, skipping a stage in between. This had caught several component makers off-guard. "Several systems could not be localised since we were not given time to expand," explains Jain. "Therefore, imports increased." This had led to increased reliance on China at a time supply lines were about to go into seizure.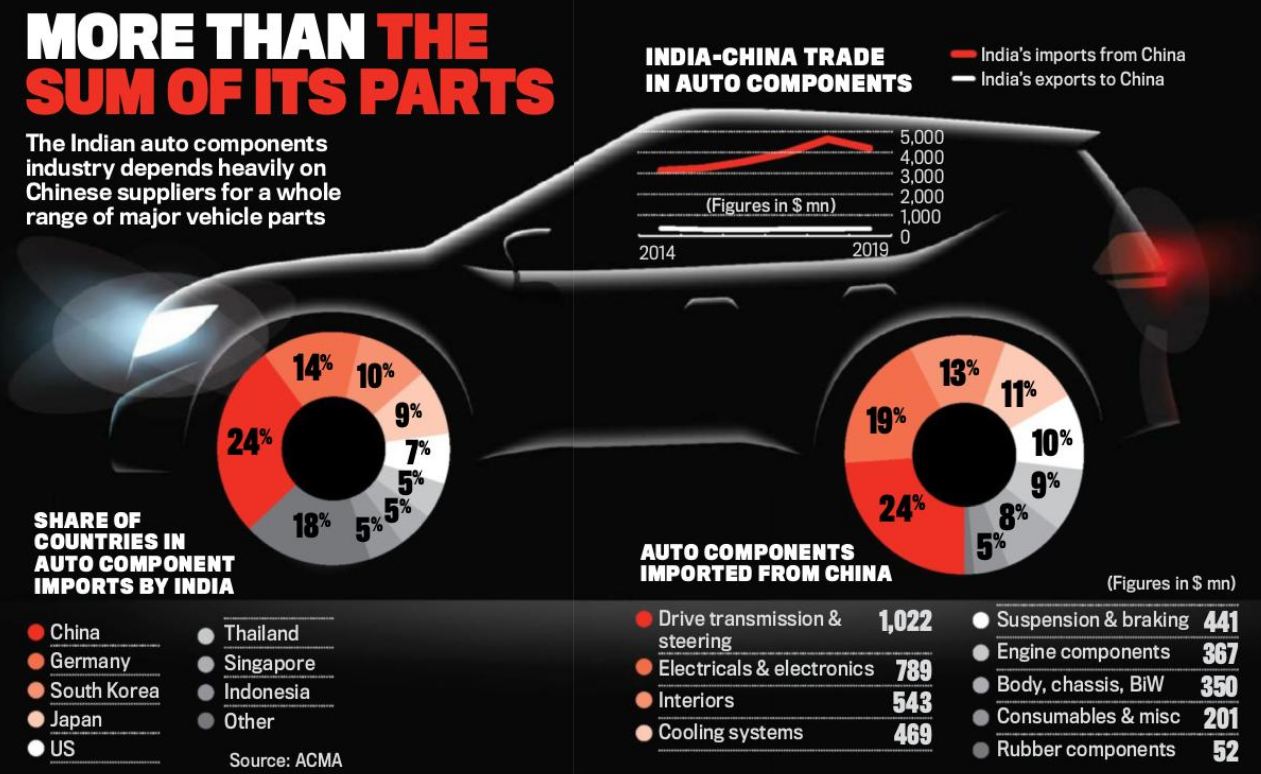 THE DRAGON'S REIGN
You can read up to 3 premium stories before you subscribe to Magzter GOLD
Log in, if you are already a subscriber
Get unlimited access to thousands of curated premium stories and 5,000+ magazines
READ THE ENTIRE ISSUE
July 13, 2020