TACKLING THE GROWING DESPAIR
The nationwide lockdown has left the urban poor jobless and on the verge of economic obliteration. How can their lives be brought back on track?
Alpa Rani, a 40-year-old domestic help living in a 10x10 ft room in a south Delhi slum, looks baffled when asked if she, her husband and their two fully-grown sons are practising social distancing and hand hygiene in the face of the Novel Coronavirus outbreak. "We consider it a blessing if there's enough water available to wash utensils. Washing hands with soap frequently is out of the question," says Rani, whose dwelling abuts an open sewer running the length of the slum. It's a cheek-by-jowl existence with neighbours, mostly migrants from Katihar in Bihar. Late afternoon, men and women escape their cramped spaces to take a nap on the roof, separated by a distance of not even 3 ft. Families share utensils, buckets and towels. They say neither municipal workers nor voluntary organisations have come to provide soap, sanitisers and masks or to disinfect the area.
"I know about the disease, but I have no idea what to do if I get it," says Rani. Hygiene is her least concern right now. Since the nationwide lockdown kicked in on March 25, most men in the slum, including Rani's husband, have lost their jobs as daily wagers, auto-rickshaw drivers and delivery boys at local shops. Some women continue to find work as cooks and house helps in nearby colonies, but they aren't sure how long they can rely on even this meagre income if things don't go back to 'normal' soon.
Across Indian cities and metropolises, thousands of poor families like Rani's find themselves bearing the economic brunt of the three-week COVID-19 lockdown that has resulted in widespread job losses in the unorganised sector, wiped out the paltry savings of the poor, leaving them facing a future of hunger and uncertainty. The 2011 Census estimated the country's urban population at 377.1 million, with about 14 per cent, or 52 million, below the poverty line. It is this segment that needs the government's helping hand the most to see past the prevailing restrictions—primarily in the form of cash in hand and supplies of food and other essentials.
The Narendra Modi government responded to these concerns on March 26, the second day of the lockdown, with an exhaustive Rs 1.7 lakh crore relief package for the urban and rural poor under the Pradhan Mantri Garib Kalyan Yojana. Some experts, though, found the measures limited in scope and said more funds were needed to meet the stated objectives (see What Needs to Be Done). Much also depends on the time-bound delivery of the benefits, they said. Doubts have also been raised about whether the money will reach the beneficiaries without being pilfered. Nobel-winning economists Abhijit Banerjee and Esther Duflo have said the government should make good use of the 'JAM' (Jan Dhan accounts, Aadhaar, Mobile connectivity) infrastructure it has been promoting, to transfer benefits directly to the bank accounts of the poor, with an accompanying electronic receipt.
Let's examine if, and how far, the urban poor stand to benefit from the Centre's relief package. While over 200 million women account-holders under the Pradhan Mantri Jan Dhan Yojana have been assured a monthly ex gratia benefit of Rs 500 for the next three months, there are fears that such transfers will cover only a section of the urban poor. "What about the roadside pakoda vendor and his four or five employees who do not have Jan Dhan accounts?" asks Gurcharan Das, author and former CEO of Procter & Gamble India. Or the likes of 29-year-old Asaram, a gardener in Delhi's Rajokri Pahari, whose monthly earnings have taken a hit due to the lockdown and forced him to dig into his savings (see 'We have left it to God'). Nobody in Asaram's six-member family owns a Jan Dhan account and he has never been a beneficiary of any government welfare programme.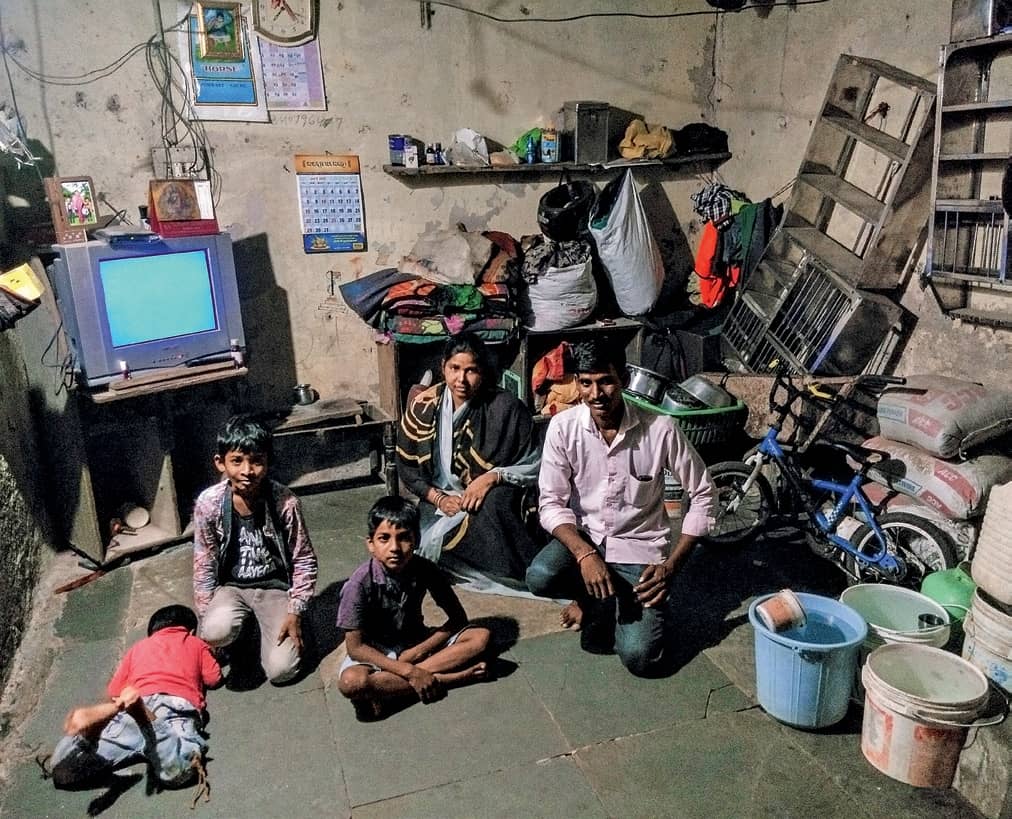 Others find the support of Rs 500 too little. Former Union finance minister P. Chidambaram has said the government should transfer Rs 6,000 at one go into the Jan Dhan accounts. He also suggested that bank accounts be opened for the homeless and Rs 3,000 transferred into each of them. In their action plan laid out for the Indian government, Banerjee and Duflo have called for "much bolder" social transfers schemes. "Without that, the demand crisis will snowball into an economic avalanche, and people will have no choice but to defy orders," they wrote, terming the government's offering "small potatoes".
You can read upto 3 premium stories before you subscribe to Magzter GOLD
Log-in, if you are already a subscriber
Get unlimited access to thousands of curated premium stories and 5,000+ magazines
READ THE ENTIRE ISSUE
April 13, 2020