ONLINE TRANSITION
COVID-19 may have fast-tracked India's transition to online learning, but for it to be a real success, we'll need to bridge a yawning digital divide besides creating a more robust infrastructure, new learning modules and more
Every day, from Monday to Friday, Malhar Mazumdar, 13, a Class 9 student at the Mother's International School in New Delhi, is ready to go to school at 9 am sharp. Except that he doesn't step out of his room. He gets dressed in his school uniform, puts on his headphones, switches on the webcam and logs in to a digital classroom. It's a restless, animated grid of faces—his classmates and a teacher. The classes are 40 minutes each and the school day ends at 1.50 pm, after which he spends a few more hours online to complete assignments. Malhar could make himself invisible in class by switching off the mic and camera, a privilege he never had in a physical classroom. Yet, he longs to return to regular classes. He misses his friends, the activities between classes and the focus a physical classroom provides. "At home, I get distracted often," he says.
Welcome, Malhar Mazumdar, to the brave new world of online education in India, where necessity has become the mother of innovation. Education experts in India have long recommended replacing the blackboard and chalk with the screen and keyboard, but with little progress. COVID-19, however, has fast-tracked digital education in India. With social distancing becoming the new norm, physical proximity in a brick-and-mortar classroom suddenly poses a mortal danger. School managements and teachers, therefore, are scrambling to board the online bandwagon, and computers and connectivity are fast replacing desks, chairs and pencils in the education lexicon.
The coronavirus pandemic has created an unprecedented situation for education not just in India but across the world. Unesco estimates that more than 1.2 billion children in 186 countries find themselves outside the classroom, compromising learning outcomes and the academic calendar. In India, as elsewhere, it has precipitated the shift to online education. To avoid a complete breakdown of the learning process, schools, colleges, technical institutes, universities and even coaching centres have launched online classes to ensure continuity in curriculum and seamless resumption at the end of the lockdown.
And it isn't just well-to-do private schools in urban centres that have moved online during the lockdown. The central government-run Jawahar Navodaya Vidyalayas (JNV), for instance, are exploring the possibility of providing one pre-loaded tablet to all students. "We are building an application that can not only deliver content but also make interactive assessment," says Bishwajit Kumar Singh, commissioner, JNV. The central government and many states are seeing the pandemic as an opportunity to expand the scope of online education exponentially. 'The country, which is struggling with schools, teachers and lack of good education, should take advantage of this opportunity and rise from the physical classroom and promote the digital classroom instantaneously,' reads a March 26 CBSE notification to schools.
THE BIG DRIVE
Colleges and universities, too, are following suit. The Delhi University has decided to switch to open-book online examinations from July 1 for final-year students. Pune's Symbiosis International University (SIU) not only completed semester courses but also conducted exams online. The entire teaching model for coaching institutes in Kota, Rajasthan, too, saw a shift within a week.
Meanwhile, edutech companies have seen a massive jump in enrolment in the past two months. When BYJU'S, the Bengaluru-based unicorn, announced free live classes during the lockdown, it saw a 200 per cent increase in the number of new students. "There has been a big behavioural shift in the parents' mindset toward online learning as they have seen their kids benefit from it and find EdTech to be an enabler in their growth," says Divya Gokulnath, co-founder of BYJU'S.
As it extended the lockdown for a third time, the central government trained its focus on promoting online education extensively. While giving out the details of Prime Minister Narendra Modi's Atmanirbhar Bharat Abhiyan, finance minister Nirmala Sitharaman on May 17 announced the launch of PMeVidya, a multimode digital online learning education platform, including the already existing DIKSHA (Digital Infrastructure for Knowledge Sharing) initiative. Each class will have one channel earmarked on TV. PMeVidya will include extensive use of community radio and podcasts. This would be in addition to Manodarpan, a programme for emotional and mental support to children and families. The government will allow top 100 universities to start online courses from May 30.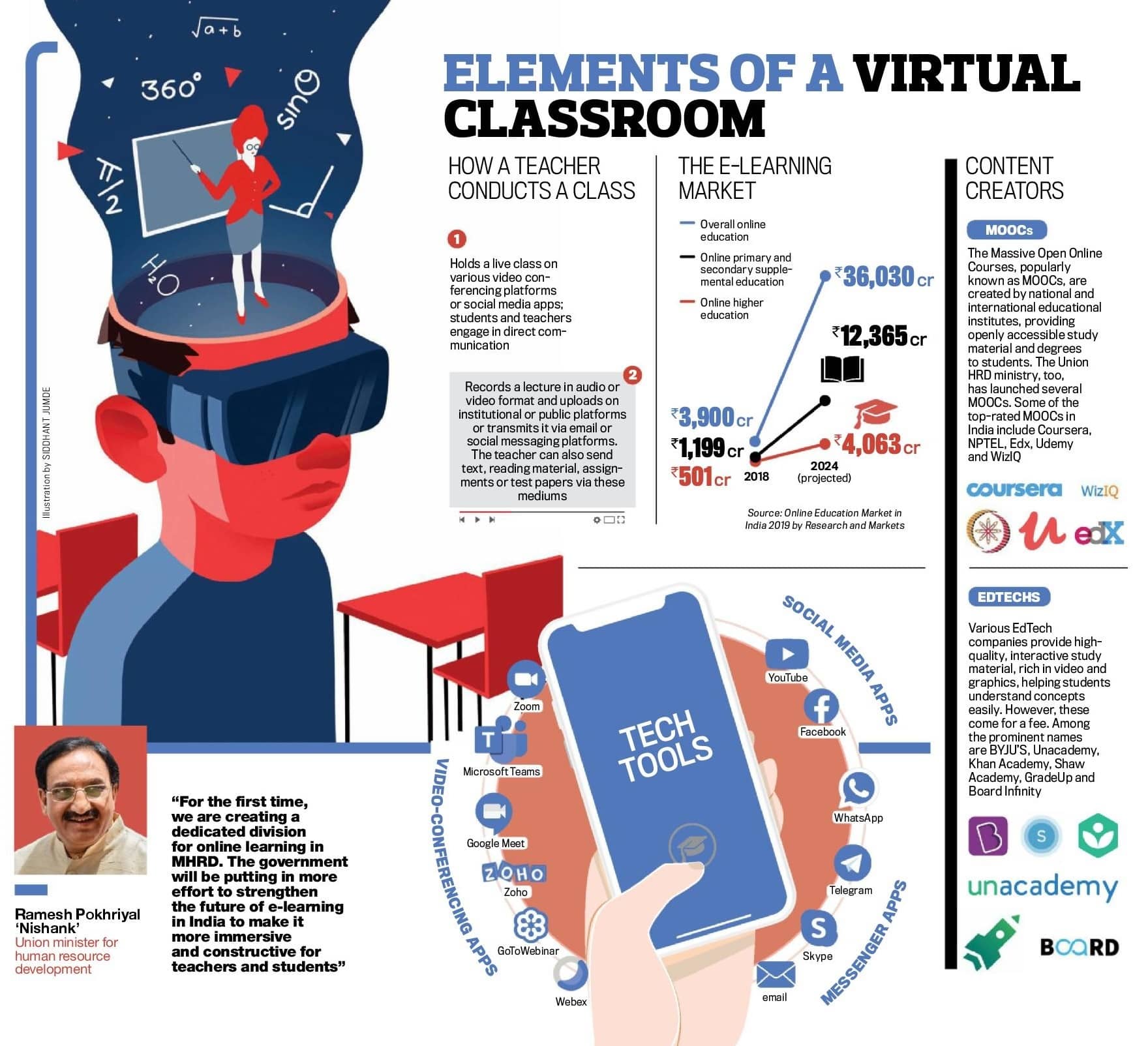 Blended Learning
Considerable planning and recalibration will be necessary in the post-Covid time when students will be able to return to the physical school campus. We will need to re-evaluate every school activity and make changes where necessary. We will perhaps emerge with a whole new set of systems, which will then be the 'new normal'.
The human mind is remarkably inventive, and the online quizzes, debates, symposiums and joint projects children have been doing from their homes are becoming very popular. Our student body has shown the way in many of these initiatives. In the previous year, the highlight of the last day of school before we closed for summer was an inter-house music competition. We did the same this year, except that this time the competition was online. It was a remarkable learning experience.
Going forward, blended learning will become the norm for a few months. Till things settle down and everyone feels confident and safe about returning to school, we will need to keep the online platform available.
We have had a few challenges for primary school children, but most students and teachers have adapted quite well to the shift to online learning. However, it's not comparable to classroom learning where we have the robust energy of physical and social interaction. School for students is not just about learning concepts but also about interacting with fellow students and teachers, something that has significantly reduced in this situation. Online learning has its share of problems—for example, there are students who do not have access to either smart devices or the internet at home. Sometimes, the wi-fi stops working and students miss out on something being taught in class. While online classes are a great temporary solution to ensure students don't miss out on classes, actual school is irreplaceable.
In India, schools and children are not fully equipped for online education and examinations. One area of concern is that digital learning can divide the student body along the lines of those who have access to digital devices and the internet at home and those who can access them only on the school premises. If these resources are not equally distributed, it will be a challenge to reach out to all students. If blended learning is going to be the 'new normal', schools will have to build this capacity on a priority basis. Online education and examination cannot be an alternative, it must complement and supplement the traditional systems of education and learning.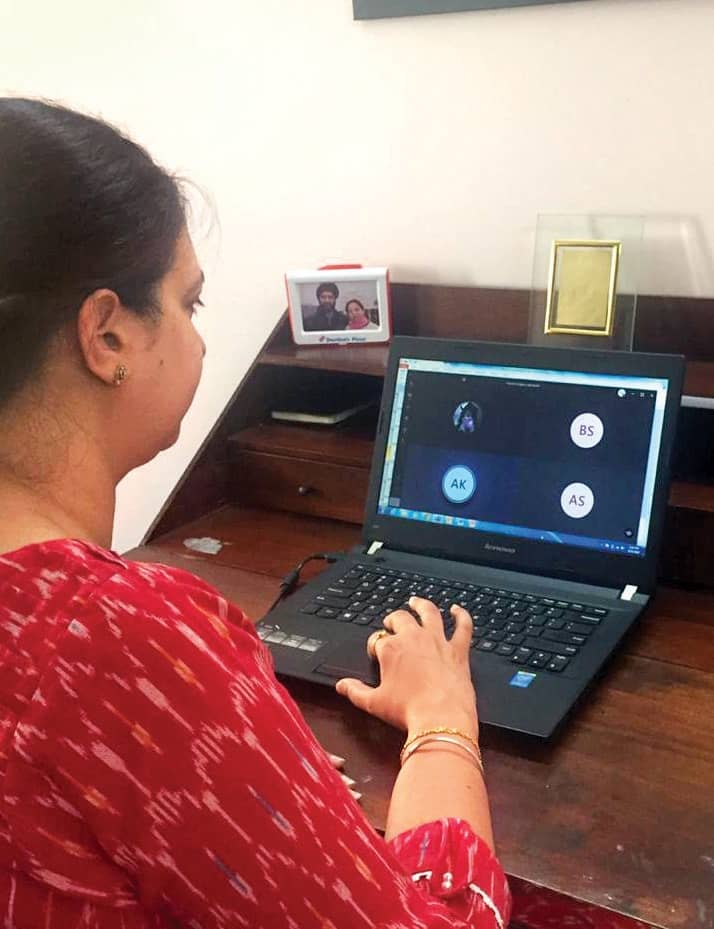 HOW ONLINE CLASSES HELP
Allow innovative methods of teaching with the help of technology

Enable students to learn at their own pace; allow them to access the best content prepared by the best teachers

Extend reach to a large no. of students at the same time

Relieve peer pressure because of the anonymity of virtual world, resulting in a stress-free learning environment

Much more cost-effective than a regular on-campus degree
...AND WHERE THEY FAIL
Virtual learning and teaching require time and practice

In the absence of physical connect, free-flowing conversations and debates are precluded

Depends on availability of internet, electricity and digital device; students from economically weak backgrounds and in remote areas often have none of the three

The home environment can cause distractions to both students and teachers

Over-exposure to a mobile or computer screen can result in physical and mental trauma

You can read upto 3 premium stories before you subscribe to Magzter GOLD

Log-in, if you are already a subscriber

Get unlimited access to thousands of curated premium stories and 5,000+ magazines
READ THE ENTIRE ISSUE
June 01, 2020