Life In The Time Of Corona
India Today|March 30, 2020
We're offering this story for free to read so that you can stay updated on the COVID-19 outbreak
As COVID-19 claims its first victims here, India is fighting back to arrest the spread of the deadly virus with public awareness campaigns, social distancing measures, hygiene protocols and more. For now, the battered economy is on the back-burner
Sonali Acharjee And M.G. Arun
If I keep washing my hands, China virus can be kept away." Seven-year-old Ankit Sehgal, who studies in a Delhi school, has learned this through public service announcements on television. He is not complaining that his school is shut; his parents have given him a smartphone to keep him occupied at home. The phone even has a 'hand wash reminder' app which sends hourly notifications—'Time to wash your hands'. Ankit does so diligently, singing Happy Birthday twice to ensure he has washed his skin clean of the Novel Coronavirus. On weekends, his parents take him for a treat to a Starbucks where he loves having his temperature checked by the thermal scanner. For Ankit, life in the time of coronavirus is "normal, but you have to keep your hands clean". For the rest of the world, it is not that simple.
Lives are being lost, and lives are being turned upside down. From a few stray cases in February, India has seen a sharp spike in the number of confirmed cases of COVID-19—151 as on March 18—while three people among them have succumbed to complications arising out of the disease. To prevent community transmission of the virus, India has gone into a shutdown, the likes of which the country has not seen in living memory. The arrival of international travellers from 33 European countries, including Turkey, has been banned, non-essential domestic travel stands drastically curtailed, businesses have come to a standstill, companies have asked employees to work from home, schools are shut, mall and multiplexes deserted and events and marriages are being rescheduled.
Ask Ashish Bohra, a 27-year-old wedding planner, who had to cancel his own wedding in Bahrain last week. He had invited 350 guests and 100 performing artists, including Kailash Kher. "All our plans were crushed in a single day," he says.
Financial distress looms before Mayank Sagar, 25, a student at Jamia University in Delhi, who freelances with a movie editing firm in the capital to be able to pay his tuition fee. The production shutdown in Bollywood, he fears, will put him out of work.
The relative of a 68-year-old woman from West Delhi who died on March 14 is inconsolable because he did not get a chance to speak to her as she was in quarantine. "We could not see her, or put tulsi or gangajal on her directly," he says. As with HIV or septicemia patients, the bodies of those who die of COVID-19 have to be cleaned with bleach, placed in body bags and cremated in an electric crematorium within two hours.
With the pandemic has come panic, and pandemonium. The demand for personal protective gear like masks and hazmat suits, as well as for sanitisers, soap and groceries, has shot up. BigBasket has seen demand double, with order values going up by 20 per cent on average. A spokesperson for Grofers reports a 400 per cent and 120 per cent increase in sales of hand sanitisers and hand wash, respectively. The Food and Drug Administration recently busted a fake hand sanitiser manufacturing unit in Haryana. Roughly 5,000 bottles were seized while some 2,500 bottles had already been sold. N99 masks have sold out in the country, while N95 masks are being sold at double the price in some shops. To cope with a shortage of masks, the government in Kerala has deployed convicted prisoners in the state to make washable and reusable cotton masks. Nearly 6,000 masks have been delivered to the government so far. Chief Minister Pinarayi Vijayan recently tweeted pictures of the first batch of face masks manufactured by prisoners at Thiruvananthapuram Jail. They are priced at Rs 15-20 apiece.
Social stigma, too, has reared its ugly head in some places. In Kochi, Pune and Delhi, expats who have been living in India for over a year have reportedly been asked to vacate rental homes or to not enter shops. Sarang Patil (name changed), 38, was almost thrown out of his home in Kalyan, Mumbai, after his neighbours came to know that he had returned from COVID19-affected Dubai, where he works for a private company. Patil tried to tell them that he had been tested at the Chhatrapati Shivaji International Airport on arrival and had tested negative, but to no avail. It was only when he went to the local civic hospital the next day and tested negative yet again that he was allowed to return. Peter Tseng, who owns a chain of Pan Asian restaurants in the country, notes that bookings have fallen by 50 per cent at his outlets in Kochi and Gurugram. His customers now also want to be reassured that their chef is not a China-returnee.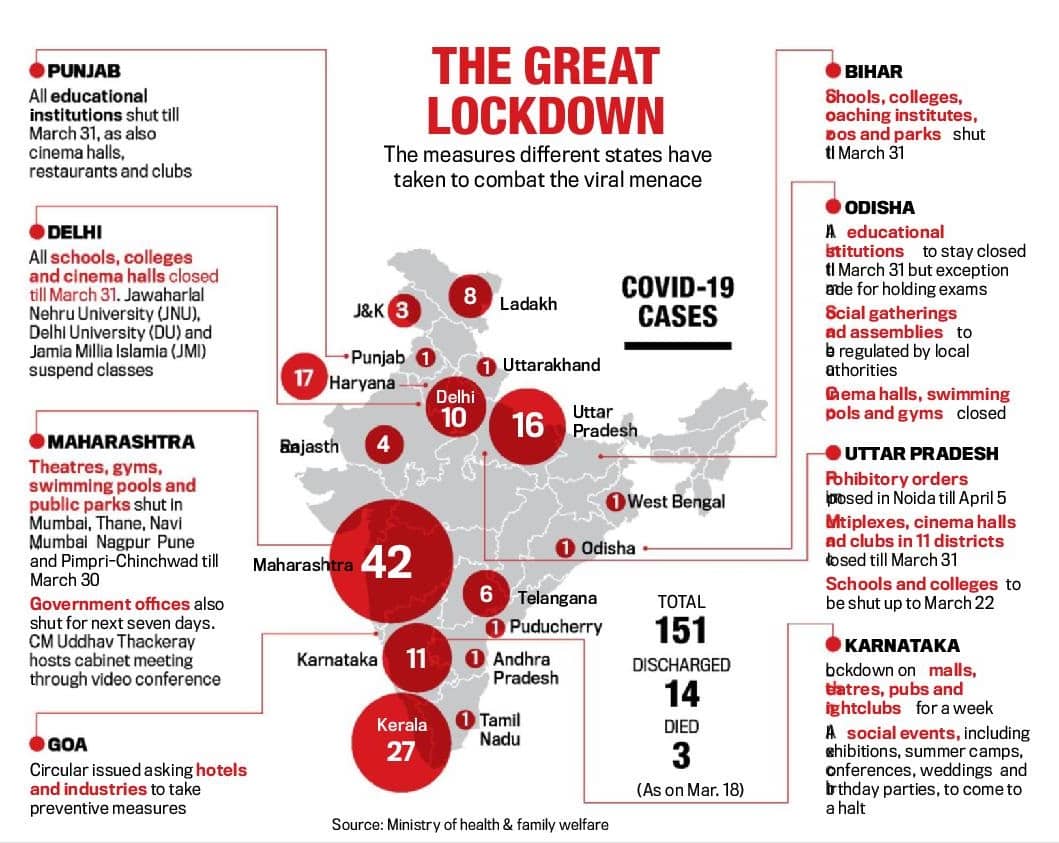 You can read upto 3 premium stories before you subscribe to Magzter GOLD
Log-in, if you are already a subscriber
Get unlimited access to thousands of curated premium stories and 5,000+ magazines
READ THE ENTIRE ISSUE
March 30, 2020