FRACTURED LEGACY
India Today
|
October 05, 2020
THE RULING AIADMK AND JAYALALITHAA'S ESTRANGED HEIRS BATTLE FOR CONTROL OF THE LATE CM'S ICONIC RESIDENCE, VEDA NILAYAM
The puratchi thalaivi (revo­lutionary leader), J. Jayalalithaa, passed away in December 2016, barely seven months after her party, the All India Anna Dravida Munnetra Kazhagam (AIADMK), won the assembly election for the second time in a row in Tamil Nadu.
The party and the state went through much turmoil after her death, including Jaya's friend and confidante V.K. Sasikala's emergence as a successor, her (some say convenient) incarceration in a decade-s­old dispropor­tionate assets case, the coming together of the break­ away faction led by O. Panneerselvam and the official Edappadi K. Palaniswami group (some say BJP­engi­neered), and the latter's ascent to the chief minister's chair. But through it all, one thing was clear—'Amma', as Jayalalithaa was fondly called, still cast a long shadow even after her death. As another assembly election (April 2021) draws near, the AIADMK is again invoking her name. Seeking a third consecutive term in power, the party, now led by Chief Minister Palaniswami, is banking on its governance record, the slew of Amma welfare schemes and "her legacy" to carry them through.
And what better shrine to showcase her legacy than her office­cum­home of almost half a century, Veda Nilayam, at Poes Garden in Chennai. The state government has now enacted a law to take over Veda Nilayam, an address almost synonymous with Jayala­lithaa for the people of Tamil Nadu, and convert it into a memorial for the AIADMK icon.
Through a series of deft moves, in the past five months, the government, claiming due process, passed an ordinance to seize control of the house, took stock of its contents, assumed its ownership invoking land and revenue laws, and completed the steamrolling exercise by adopting appropriate legislation in the state assembly on September 16. All through this, the state ignored the claims of Jayalalithaa's heirs J. Deepa and J. Deepak, the children of her brother J. Jayakumar.
The duo has been locked in a legal battle with the state since their estranged aunt's death. For over a dec­ ade when she was alive, they had no contact, unable to breach the Sasikala­led cabal that ringed the AIADMK matriarch. Both have bounced back, though—Deepak performed her last rites and has positioned himself as the legal heir to the legendary riches while Deepa has declared herself Amma's political legatee.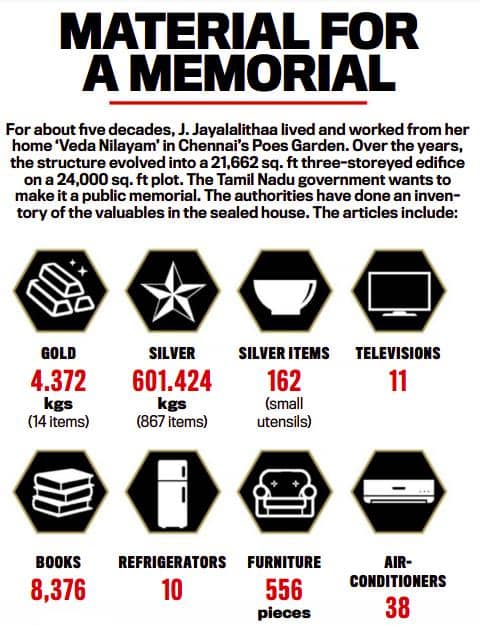 You can read up to 3 premium stories before you subscribe to Magzter GOLD
Log in, if you are already a subscriber
Get unlimited access to thousands of curated premium stories, newspapers and 5,000+ magazines
READ THE ENTIRE ISSUE
October 05, 2020