DOWN, BUT NOT OUT
India Today|August 10, 2020
The economic fallout of Covid-19 has left many in the 30-50 age group out of a job or with reduced income—but also a chance to reskill
AARTI BAGDI, 41
Film maker & Educator, Mumbai
SAILING HER OWN BOAT
Aarti Bagdi made Mumbai her home about 20 years ago. Since then, she has won a Filmfare Award for a short film, Khamakha, striking a balance between pursuing her passion in filmmaking and other content development projects with companies like Mukta Arts. She was in talks to take over as creative head for a show on HotStar, a popular streaming platform when the lockdown was announced.
The talks continued on WhatsApp, but the conversation then went dead, says Bagdi. In pre-COVID times, she would take on about three projects a year. But 2020 had different plans.
She says that regular gigs are difficult, if not impossible, to come by right now. Bagdi has turned her disappointment in coping with the isolation of COVID and poured it into art. "It's only at 41 that I realised that I could sketch," she laughs. The sketches were a huge hit and Bagdi's home is now filled with cartons for deliveries. It began with friends and family but now the word is out and orders are coming in from social media. "It began as a 100-day project and has emerged as an alternative career," she says.
She has also managed to finish a script for a feature film that had been pending for a year. With some actors who live in her housing society in Mumbai, Bagdi is also busy prepping for her film on the lines of a lockdown story. She already has a producer for the project onboard. "I am sailing my own boat now. And I am enjoying it."
— Shwweta Punj
Jagdish Surve, 49, a former deputy general manager in the IT department of a multinational logistics company in Mumbai, received his pink slip this April. Losing his job was a shock, he says, because he had been working with the firm for 19 years, and the layoff came in the midst of the national lockdown. Though there had been an anticipation of job cuts at his company for some time—it had been acquired by another global logistics firm last year—no one expected the new owners to fire around 100 staff members while they were already grappling with the Covid-19 pandemic. "For me, it was a culture shock. Many of us were asked to leave because the new management saw our salaries as exorbitant," says Surve, who is his family's sole bread-earner. He is now managing his home expenses and those for his son's education from his savings, which he says can see him through perhaps three more months. New jobs are difficult to come by—the employment market is presently going through a squeeze, with logistics firms either freezing all new hiring or downsizing their own staff numbers. Surve says his hopes are now pinned on hiring beginning in the next calendar year.
There are thousands like him, aged 30-50, who have suffered the jolt of a lifetime as a result of the COVID-induced lockdown and its economic consequences. They are what their former employers might have called the 'cream of the staff'—loyal, long-serving workers who knew their jobs like the back of their hands. Several companies have been forced to let go of such senior workers, leaving them faced with an uncertain future, grappling with questions about how they will pay for their children's education, or to fulfill long-held dreams like home purchases.
The Centre for Monitoring Indian Economy (CMIE), a private research organization, has estimated that 120 million Indians lost their jobs in the month following the lockdown. A report by manpower firm Global Consultants states that India is set to lose around 130 million jobs due to the Covid-19 pandemic, with 40 per cent of those being blue-collar employees. The damage is likely to be widespread, with the aviation, automobile, travel and tourism, food, entertainment, and manufacturing sectors all affected. A survey of 200 CEOs, conducted by industry body CII (Confederation of Indian Industries) in April this year, showed 52 per cent foreseeing job losses in their respective sectors.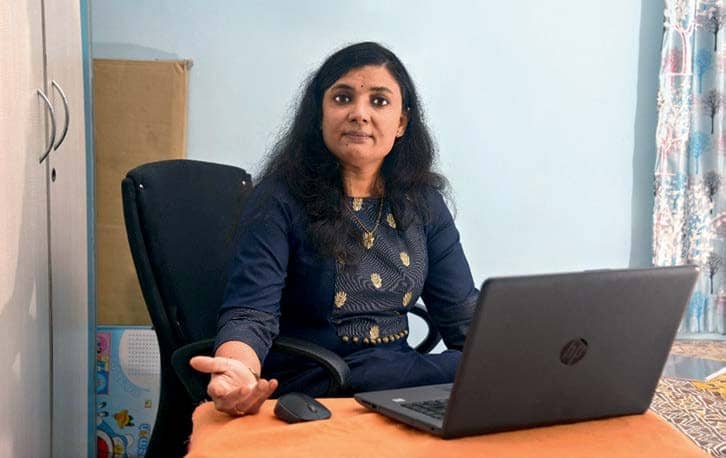 SARASWATHI BHAMIDI,37
Learning and development professional, Hyderabad
LEARNING DISABILITY
Saraswathi was an assistant general manager with a Hyderabad-based company that offered end-to-end solutions for around 500 educational institutions. Having joined the firm in June last year, she had hoped to put her skills in organisation development to optimal use at the start-up.
You can read up to 3 premium stories before you subscribe to Magzter GOLD
Log in, if you are already a subscriber
Get unlimited access to thousands of curated premium stories and 5,000+ magazines
READ THE ENTIRE ISSUE
August 10, 2020