Covid-19: The New Battlefields
India Today
|
September 21, 2020
We're offering this story for free to read so that you can stay updated on the COVID-19 outbreak
In its villages, where cases are on a sharp upswing, India's battle against the pandemic is on a wing and a prayer, given the desperately inadequate public health infrastructure in the hinterland
The arrival of the postman is a much-anticipated event in Chinnambavi village in Telangana. Senior citizens and widows wait for him to bring them their pension, and news from the outside world. On August 16, however, he seems to have brought along the coronavirus too. Ten days after the postman's visit to this village of 25,000 people, 110 inhabitants—many of them elderly—tested positive for COVID. Many had to be treated at the district headquarters of Wanaparthy. The district, which has 21 containment zones, has just one COVID hospital with 100 beds, and they are filling up fast.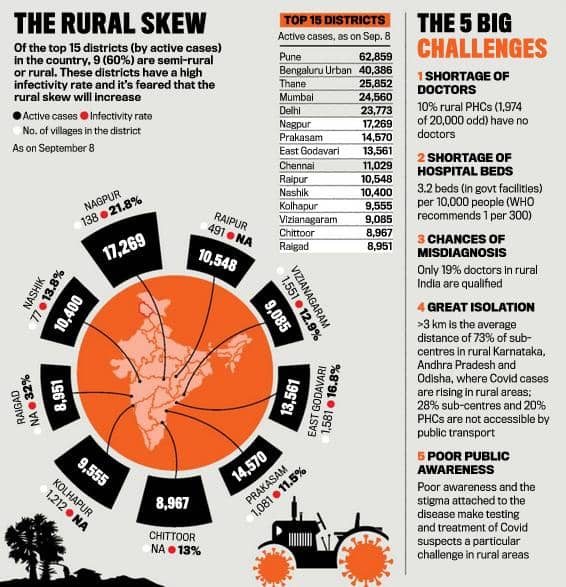 The situation in Pune district in Maharashtra is as grim. Till three weeks ago, all the 360 residents of the Rajewadi village in the district were free of COVID. Then, on August 17, an elderly resident died of the disease, which he is thought to have contracted while visiting a temple in a neighboring village. Today, the village has 91 cases and a worryingly high infection rate of 25 percent compared to the national average of 8.6 percent. The nearest COVID hospital is in Pune city, 50 km away. But COVID hospitals there are packed with patients. Given the present doubling rate, the district will likely see another 27,000 cases over the next week, which will leave it short of about 2,000 oxygen beds, 150 ICU beds, and some 350 ventilators.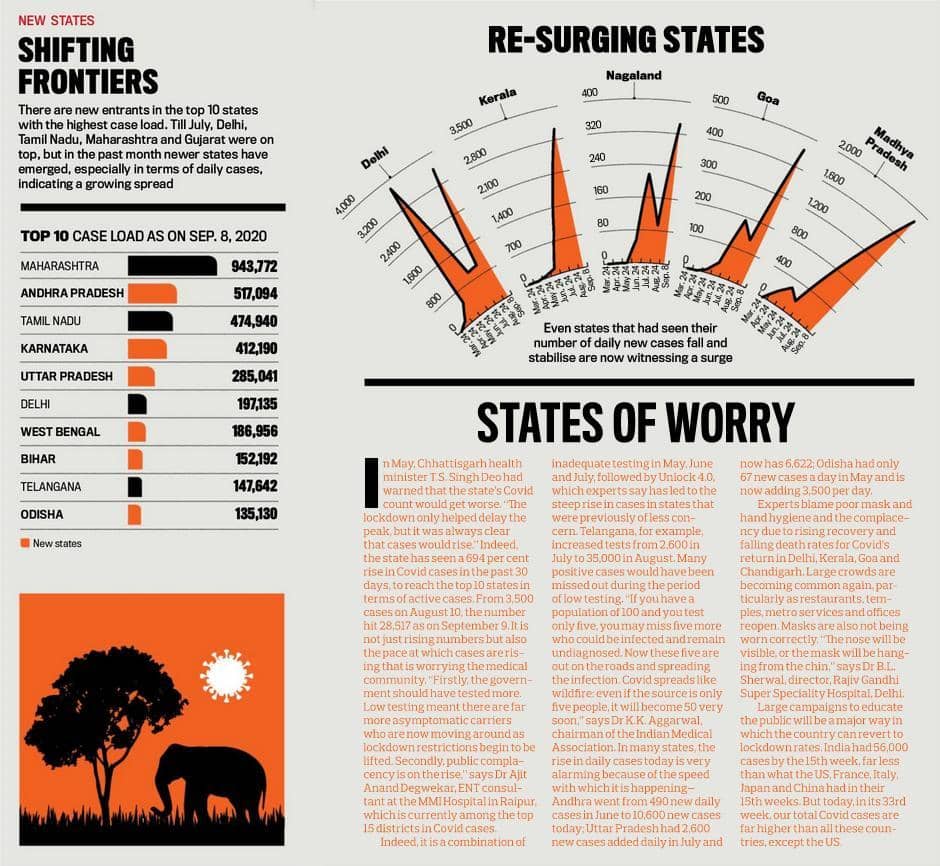 "COVID is spreading to smaller towns and villages, and this is truly worrying," says Dr. K. Srinath Reddy, president of the Public Health Foundation of India (PHFI). If between March 1 and July 17, 15 percent of total cases were from rural districts and 25 percent from semi-rural ones, the share has now gone up to 24 percent and 43 percent, respectively. In several states, the proportion of rural cases has gone up in just the past month. So, Odisha, for example, has 59 percent rural cases, Jharkhand 41 percent, Chhattisgarh 37 percent, and Bihar 40 percent. In Maharashtra, state health department statistics show that the number of cases in rural areas went up from 20.9 percent on August 1 to almost 30 percent by month-end and deaths from 16.4 percent to 23.6 percent. Five districts— Nagpur, Osmanabad, Beed, Sangli, and Kolhapur—recorded a rise of 400 percent in August, compared to 28 percent in Mumbai.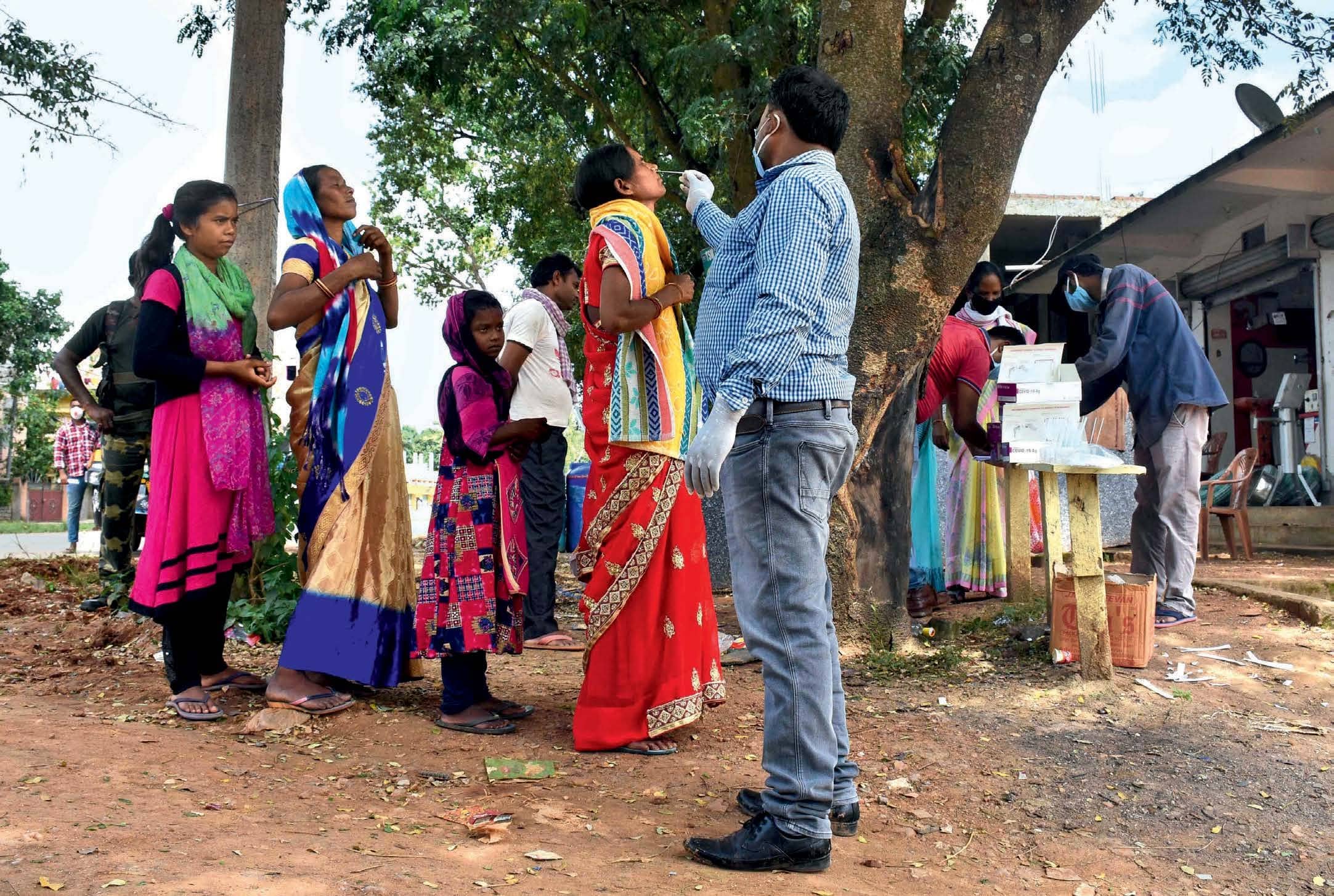 COVID'S CHANGING TRAJECTORY
As the number of COVID cases in India races towards the 5 million marks, three big shifts in COVID battlegrounds in the past month have alarmed policymakers and health officials. The rural threat is the biggest among them all, with an increase in the number of semi-rural and rural districts among the top 30 districts in terms of active COVID cases (see The Rural Skew). Twenty-two districts with a high number of rural villages and small towns— mostly in Maharashtra and Andhra Pradesh—have seen Covid numbers rise dramatically since the end of July. In Andhra's Guntur district, for example, the number of cases has gone up by 36,378 between July 12 and August 31, compared to an increase of just 3,000 cases in the preceding four months.
THE SECOND BATTLEGROUND is just as worrying for policymakers. Several new states have made their way into the top 10 this August—Karnataka, Uttar Pradesh, Bihar and Assam in terms of total cases; and Karnataka, UP, Odisha, Assam, and Kerala in terms of active cases. Some experts attribute these changes to a significant increase in testing. In UP, for example, testing went up from a total of 500,000 in mid-June to 5.3 million by August (see States of Worry). The third big challenge comes from states that had flattened the curve or had very few infections a month ago but is now showing an upward spiral. Kerala, for example, had 20,000 total cases on July 31 but has added 75,000 more since then. Delhi, which had brought down its COVID numbers from 25,000 active cases in July to 10,000 in August, may suffer a resurgence, with 23,773 cases as on September 8 (see Re-surging States).
WHY COVID HAS SPREAD IN RURAL INDIA
You can read up to 3 premium stories before you subscribe to Magzter GOLD
Log in, if you are already a subscriber
Get unlimited access to thousands of curated premium stories, newspapers and 5,000+ magazines
READ THE ENTIRE ISSUE
September 21, 2020