A TEMPLE COMES TO LIFE
India Today|August 10, 2020
THE RAM TEMPLE IN AYODHYA IS SET TO BECOME A REALITY. BUT EVEN AS IT SETTLES A 30-YEAR STRUGGLE, UNSETTLING QUESTIONS REMAIN
UDAY MAHURKAR and ASHISH MISRA
For 28 years, the workshop of the Ram Janmabhoomi Nyas at Ramghat, some two kilometers from the Lucknow-Gorakhpur highway, hummed with the sound of chisels resolutely chipping away at stones being carved for the Ram temple in Ayodhya. The shilas, as they were called, gathered dirt and moss over the years, even as the workshop itself currently functions as a makeshift police camp. However, after the Supreme Court verdict of November 2019 cleared the way for the construction of the Ram temple in Ayodhya, the place is humming again. The stones, now polished anew, are lined at the entrance of the workshop, ready to be transported to the site of the new Ram temple. The remainder of the stones will be carved at the site itself.
The Centre, on February 5 this year, constituted the 15-member Shri Ram Janmabhoomi Tirthakshetra Trust as directed by the Supreme Court verdict, thus setting the wheels in motion for the temple's construction. On July 18 this year, the trust sent a proposal to the prime minister's office (PMO) for the bhoomi pujan of the Ram temple. It suggested two dates—August 3 and 5 for the ceremony. The PMO chose the latter, a date that seems to have particular political significance for Prime Minister Narendra Modi. It was on this date last year that the Centre revoked Article 370, thereby withdrawing the special status of Jammu and Kashmir.
This will be the first time after the demolition of the Babri Masjid in 1992 and the building of a makeshift Ram temple in Ayodhya that a prime minister will be having a darshan of Ramlalla Virajman, the infant deity at the site.
Despite the coronavirus pandemic prohibiting any grand show, the Yogi Adityanath-led Uttar Pradesh government is determined to make the shilanyas a success. But even as the country stands poised at this 'historic' moment, a few questions continue to occupy the minds of observers.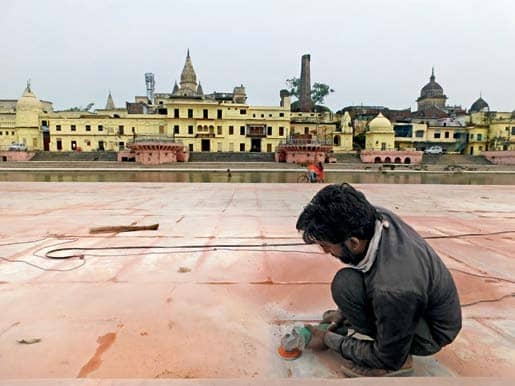 MODI AND MANDIR
For someone who was the chief charioteer of his mentor L.K. Advani's rath yatra, the prime minister has kept a safe distance from the Ram temple issue in the past six years. Even during his two visits to the temple town, he carefully avoided a visit to the 'disputed' area. Towards the closing months of his first term, he even turned down the demand by his partymen to take the constitutional route to facilitate the construction of the Ram temple. This was around December 2018 when poll surveys showed the BJP getting less than 230 seats in the general election the following year. There was tremendous pressure on the prime minister by the party for legislation on the Ram temple. But the prime minister dug in his heels, saying any communal confrontation on the issue would be a deal-breaker so close to the elections.
You can read up to 3 premium stories before you subscribe to Magzter GOLD
Log in, if you are already a subscriber
Get unlimited access to thousands of curated premium stories and 5,000+ magazines
READ THE ENTIRE ISSUE
August 10, 2020