How A Princess Is Opening Doors For Women In Saudi Arabia
Fast Company
|
September 2015
In a country where women can't legally take the wheel of a car, one dynamic leader is moving quickly (yet gently) to offer them other tools toward engagement. It doesn't hurt that she's a princess.
Karen Valby, photographs by Rene & Radka
"She comes from a country where women can't drive, can't go outside, can't go to restaurants, can't socialize, can't, can't, can't . . ."
This is how Her Royal Highness Princess Reema bint Bandar Al Saud—entrepreneur, social activist, former CEO, single mother, and a member of the Saudi royal family—recalls being introduced by the moderator at a recent business conference in Los Angeles, where she was speaking about her efforts to better integrate women into her country's workforce.
"And she turns to me," remembers Princess Reema, "and goes, 'How does that feel?' And I said, 'Well, first of all, I need to correct you. Everything you said about life in Saudi Arabia was wrong except for one thing: We can't drive. We hang out, I go to work, I have employees. We are a very dynamic community. Would our lives be more enriched if we were mobile? One hundred percent, but so would our economy.' That's not what she wanted to hear." So the princess took it upon herself to begin the conversation anew, gracefully but firmly sidelining the moderator and turning her attention to the room. "Let me tell you about us . . ." she began.
Princess Reema, 40, lives in Riyadh, the conservative capital of Saudi Arabia. By Western standards, the limitations placed on women there are indeed severe. Aside from having to dress modestly in public (in full-length abayas and head scarves), adult Saudi women need permission from their fathers or male guardians to marry, study, and travel. Women comprise 60% of college students, but make up just 13% of the workforce (the majority are employed by female-only schools or hospitals). In 2013, the World Economic Forum ranked Saudi Arabia 127th out of 136 countries in its Global Gender Gap Report.
And yet during my four-day visit to the country, I witnessed the richness of experience that Princess Reema had tried to share in California. I was struck not by the vulnerability of the women I met but by their shrewdness, hers in particular. The princess, who hosted me at the crew quarters on her family's sprawling property, had encouraged me to visit during Saudi Design Week, so that in the evenings I could attend events with her and meet her circle of female artist, designer, gallery owner, and magazine editor friends. During the days, I sat in on her feverish planning sessions with female doctors, lawyers, marketing entrepreneurs, and university students, who were all rallying around 10KSA, Princess Reema's potentially groundbreaking breast cancer awareness campaign that aims to bring 10,000 women together at a Saudi women's college on December 12.
Ten thousand women have never gathered in one place in the country, let alone to champion their worth as valued and valuable citizens. 10KSA, a female-only initiative generated, organized, and hosted by women, is a profoundly feminist undertaking, particularly in a country where breast is still considered a taboo word. But, just as when she pioneered the hiring of women at Riyadh's Harvey Nichols department store in 2011 (as CEO of her family's luxury retail company, which owned the store), much of Princess Reema's job involves gracefully downplaying the political righteousness of the event. Because it's not just the religious police she's up against. A structural engineering student I met during a 10KSA planning meeting, a smart and persuasive young woman from a wealthy family, firmly believes that women should not be allowed to drive. "There are rules in life," she said. "[The rules] are not about being inhumane. They're for our own good. Women here can think they're being mistreated, but they're not. They just want to be pitied."
"That's what I'm dealing with," Princess Reema— who'd listened diplomatically to the young woman and offered a pragmatic counter argument from an employer's point of view—told me after the girl left the room. "Here, the words feminist, radical, activist, liberal, empowerment are not useful to my goals. I'll lose half my audience." To effect any enduring change in a culture that largely prides itself on resisting it, Princess Reema says she must simultaneously invigorate and soothe, while being careful not to alienate conservative thinkers by wielding her ambition too aggressively. In some ways, she's walking the same line as female professionals everywhere.
But here the stakes are higher. Many educated women she meets, for example, don't even know how to work. "They don't know how to get themselves to an airport and through an airport," she says, "or book a hotel room. It's only in the past few years that women could open bank accounts without their fathers," she continues. "But not every woman knows she can." Princess Reema believes that achieving these small milestones is vital. She believes that having women engaged in society leads to a better society. And she's determined to give them a hand.
The fact that Saudi women cannot drive, she says, "is not the only story here! What about the women who go so far outside the box of their limitations to make those issues irrelevant to their success?"
Reema bint Bandar Al Saud is one of those women.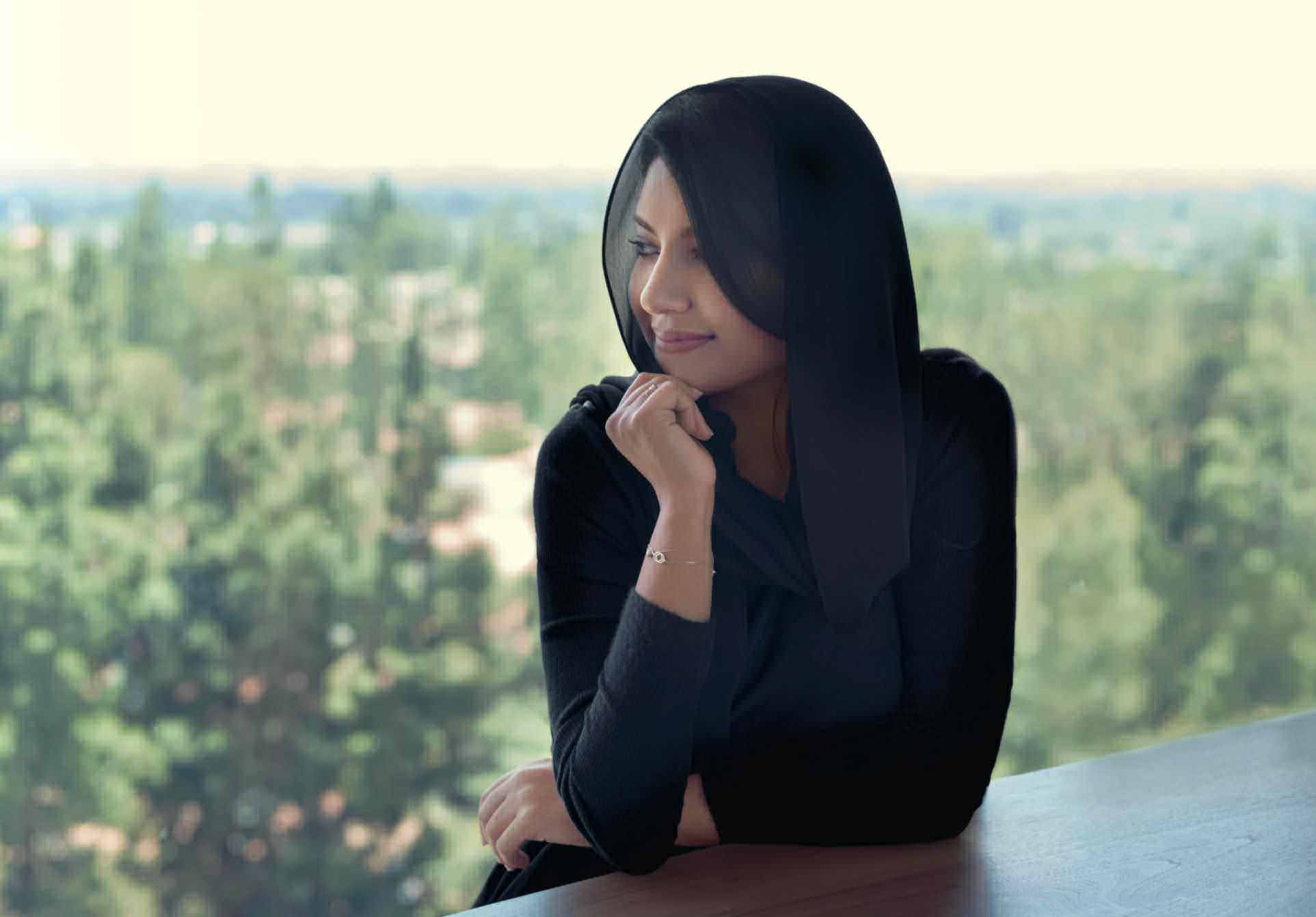 Princess Reema lives in a vast gated compound, her small but elegantly decorated apartment tucked neatly into a two-story cream-colored stone building. Golf carts and bicycles (driven by men and women) periodically whiz by, stopping near a fountain in the roofed courtyard. Princess Reema's parents—her father, Bandar bin Sultan, was Saudi Arabia's ambassador to the United States from 1983 to 2005—live on the property, as do her seven brothers and sisters. The princess says it comforted her to huddle up close with her now teenage children after her divorce four years ago. One of her sisters lives in the apartment above her. Two hundred feet away from her kitchen windows, a construction crew is busy building her new five-bedroom house.
We meet one morning in the compound's recreation room, a nook for gathering that's kitty-corner to Princess Reema's apartment. The room is crowded with comfortable sofas, a Ms.Pac Man arcade game, and a large television in a soccer-ball-patterned frame. There are two whiteboards, one scrawled with the planning agenda for 10KSA and the other with her children's tutoring and extracurricular schedules.
The princess, wearing a comfortable T-shirt dress and flip-flops, her formal abaya tucked away in a closet until it's time to go out in public, is sipping rose tea at the table when her 16-year-old daughter, Princess Sarah, emerges from their apartment on her way to a dentist's appointment with her nanny. Their driver awaits them out front. "Can I look at your shoes?" Princess Reema calls after her daughter. "Are those mine?"
"No, I got them in L.A. on Robertson Boulevard," Sarah says with the miffy tone of teenagers worldwide. (The family regularly visits Los Angeles, where Sarah will learn to drive this summer.)
"You can't go out tonight like that," says Princess Reema, looking at her daughter's shredded overalls beneath her unfastened abaya. "Your father would kill me. Put on leggings underneath."
"I'm not wearing leggings under this. That's too '80s."
"Channel Debbie Gibson!" Princess Reema calls to her daughter's retreating back. "All my references are '80s, by the way," she says. At various points during my visit she will reference Footloose, 9 to 5, The Princess Bride, and Top Gun (e.g., "I don't want to be seen as a maverick; Maverick gets Goose killed"). She keeps the entire oeuvre of George Michael in her chauffeured Mercedes.
You can read up to 3 premium stories before you subscribe to Magzter GOLD
Log in, if you are already a subscriber
Get unlimited access to thousands of curated premium stories, newspapers and 5,000+ magazines
READ THE ENTIRE ISSUE
September 2015