Understanding migration
FRONTLINE|June 5, 2020
When governments and their plans are found to be blatantly wanting in addressing reverse migration, exercises such as the Ekta Parishad's survey of migrant workers throughout India can be useful to work out creative long-lasting solutions.
DIVYA TRIVEDI AND VENKITESH RAMAKRISHNAN
"For me, India begins and ends in its villages."
—Mahatma Gandhi.
"... the old Indian social structure which has so powerfully influenced our people... was based on three concepts: the autonomous village community, caste and the joint family system."
—Jawaharlal Nehru.
"The Hindu village is the working plant of the Hindu social order. One can see there the Hindu social order in operation in full swing."
—Bhimrao Ambedkar.
THE THREE TOWERING LEADERS OF THE freedom movement differed in their ideas of the village and, by extension, about what constituted progress. "While for Gandhi the village was a site of authenticity, for Nehru it was a site of backwardness and for Ambedkar the village was the site of oppression," wrote Surinder S. Jodhka in his 2002 article "Nation and Village" in Economic and Political Weekly. Of the three, only Ambedkar had some first-hand experience of village life during his childhood. But all of them essentially belonged to towns, had been to foreign lands for study or work and had families that were mobile. They also agreed that the status quo of the village needed to change for India to have any semblance of progress.
Right from the beginning of the 20th century, rural-to-urban migration started growing because of varied factors including fragmentation and subdivision of land and greater job opportunities in urban areas. It gathered momentum after Independence and has risen to torrential levels since the implementation of economic liberalisation policies began in the 1990s. The crippling and long-standing rural distress caused by these policies fuelled this trend over the past three decades.
The current exodus of migrant workers desperately trying to get back to their native places during the lockdown has, however, added an altogether new dimension to the phenomenon of internal migration in India. It has become, at the same time, an abject illustration of the inhuman impact of the policies of globalisation and economic liberalisation on the marginalised sections faced with a life-threatening pandemic. The reverse migration reflects their utter helplessness as they try to go back to their impoverished village homes in the hope that this will save them from death by starvation.
In this unfolding tragedy, what stands out starkly is the casual indifference with which the Union government and many State governments have addressed this extraordinary situation. As migrants continue to make long journeys home largely on their own, the official machinery does not seem to have even a count of the people on the move. Nor is there any concerted effort to get this ascertained. Informal estimates, based on inadequate data, have rated this reverse migration as a bigger exodus in the subcontinent than even the mass migration of approximately 17 million people caused by Partition. According to the World Bank, the lockdown has impacted livelihoods of nearly 40 million internal migrants. Around 50,000-60,000 people moved from urban centres to rural areas of origin in the span of a few days, according to the report "COVID-19 Crisis Through a Migration Lens". "Lockdowns, loss of employment, and social distancing prompted a chaotic and painful process of mass return for internal migrants in India and many countries in Latin America. Thus, the COVID-19 containment measures might have contributed to spreading the epidemic," said the World Bank.
The Census of 2011 counted 450 million internal migrants, of whom 78 million, or 15.6 per cent, were rural-to-urban migrants. More than half, 55 per cent, of those who moved from rural to urban areas were women. Inter- and intra-State migrant workers were mostly from Uttar Pradesh, Bihar, Madhya Pradesh, Punjab, Rajasthan, Uttarakhand and West Bengal and constituted about 130 million. If the lockdown displaced even a fraction of this 130 million, it is still a huge number. The issue should have been high on the list of priorities of the Union and State governments. However, the incompetence of governments and local administrations exacerbated the already difficult situation of migrant workers.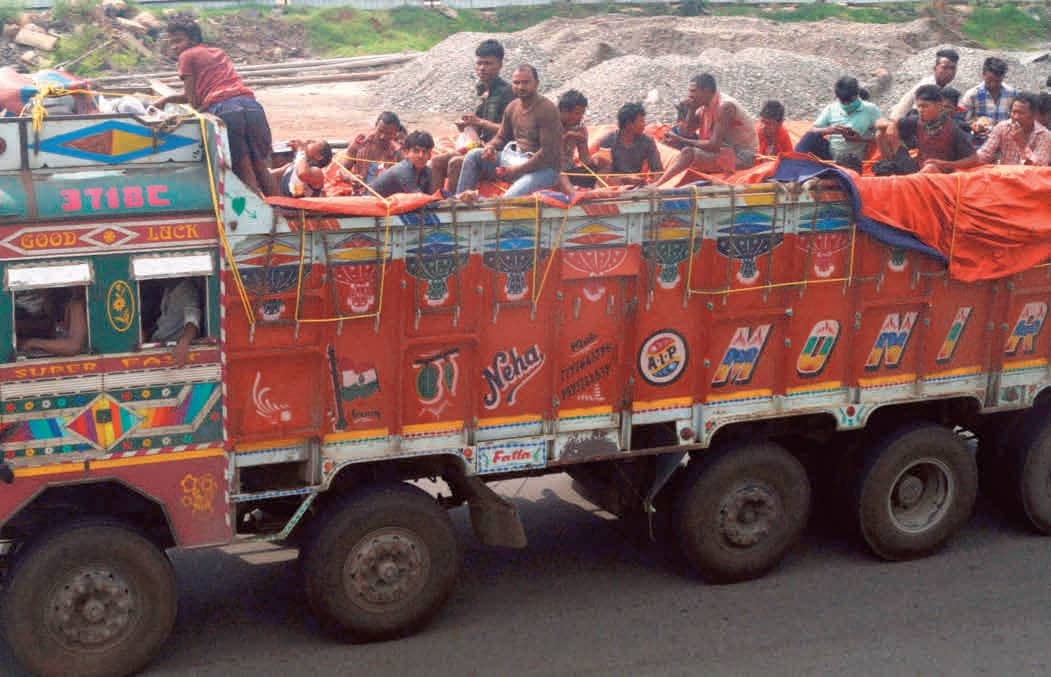 You can read up to 3 premium stories before you subscribe to Magzter GOLD
Log in, if you are already a subscriber
Get unlimited access to thousands of curated premium stories and 5,000+ magazines
READ THE ENTIRE ISSUE
June 5, 2020