RISING TREND
FRONTLINE|May 22, 2020
There are no signs of any let-up in the COVID case numbers well into the third phase of the lockdown even as issues of violation of physical distancing norms, mistreatment of front-line health workers, inadequate public health infrastructure and increasing distress among the poor come to the fore in most States, besides of course the low testing numbers and haphazard screening and isolation of suspect cases.
UTTAR PRADESH
Anxiety over arrivals
VENKITESH RAMAKRISHNAN
"Even though Uttar Pradesh is the most populous State in the country, the number of COVID-19 cases are comparatively lower than in other States, especially when we look at the population to positive cases ratio." This is the refrain of senior officials of the State government, including the Health Department's Principal Secretary, Amit Mohan Prasad, in their briefings on the COVID-19 relief activities in Uttar Pradesh. Officials have also stressed that an important reason for this situation is widespread screening and surveillance. Talking to the media on May 5, Prasad said: "So far 50,193 teams have been involved in the surveillance work and have covered more than 43.56 lakh houses and screened at least 2.16 crore people."
However, the Union Health Ministry's tabulation on the evening of May 5 showed that deaths due to COVID-19 in Uttar Pradesh had shot up by 71 percentage points over the preceding seven days. A similar tabulation for active COVID-19 cases for the same period showed that the rate of increase in Uttar Pradesh was just 16 percentage points, much lower than the national average of 45 percentage points. Talking about these figures, a senior Union Health Ministry official pointed out, off the record, that the message for the Uttar Pradesh government, and indeed for all governments, was that screening and surveillance needed to be followed up with good clinical care. He was also of the view that the manner in which the public health care system in Kerala had rallied around to provide adequate clinical care to those identified as "active" was the definitive model for the other States to follow.
Many officials at various levels of the Uttar Pradesh government machinery acknowledge that the deficiencies in "good clinical care" will be more glaring in the days to come, especially in the context of the return to the State of migrants from different parts of India and foreign countries. In fact, Uttar Pradesh is one of the States that has led the effort to bring people belonging to the State back from other parts of the country and the world. Special trains have been launched nationwide from the first week of May to bring migrants back to their home States, and it is clear Uttar Pradesh will be receiving a high number of these trains.
On May 3, 3,000 migrant workers arrived in Lucknow and Gorakhpur, Chief Minister Yogi Adityanath's political bastion, primarily from Maharashtra. With close to 20 trains being put into service, the daily arrivals are expected to be in the range of 10,000 migrant workers. Additional Chief Secretary (Home) Awanish Kumar Awasthi told the media after the first arrivals: "The State government is preparing to receive about 18 to 20 trains each day, on an average of one train in one division. These will include about six trains coming from Maharashtra and six from Gujarat. The government has also coordinated with the Punjab government, and trains are likely to arrive from Ludhiana, Amritsar, and Chandigarh soon. Another set of trains is expected to bring back migrants from Karnataka and Kerala." He also said that over 50,000 people, including workers and students, had already returned to the State in the last week of April and the first week of May. These apparently included approximately 11,000 people from Haryana, 6,000 from Madhya Pradesh, 11,000 from Rajasthan and 1,500 from Uttarakhand, and 12,000 students from Kota in Rajasthan, who were brought back on the special instructions of the Chief Minister. Through the month, the State Home Department estimates that approximately 10 lakh workers will return from different parts of the country.
A senior official in the State Health Department, who is also a specialist doctor, told Frontline on condition of anonymity that this new influx would thoroughly expose the veritable absence of a functional community quarantine system in Uttar Pradesh. "The long-standing deficiencies of the State's public health systems, especially at the level of primary public health centres, are also bound to get woefully laid bare as these migrants come back to their homes. The effect of this, coupled with the lack of preparedness in placing these people into effective quarantine facilities, poses a daunting challenge. As of now, our… do not even seem to have a clue as to how this will pan out and to what proportions this will exacerbate the pandemic. I am of the view that the after-effects of this new influx will conclusively prove that lockdown by itself cannot flatten the COVID curve, which unfortunately seems to be the only strategy that the Uttar Pradesh and Union governments seem to have at this point."
On its part, the government has deployed approximately 10,000 buses to ferry the returning migrant labourers to their home districts. About 50,000 medical teams have also been deployed to screen them for the coronavirus before sending them to a 14-day home quarantine. "All those being sent to home quarantine will be monitored through committees formed under the gram pradhan in rural areas and under corporators in the municipal areas of the State," Awasthi told the media. He also mentioned that Yogi Adityanath had directed officials to prepare a "labour reforms" work plan in the next few days to provide jobs to migrants once they completed the quarantine.
The fact that the returning migrant workers were made to pay their rail fares has generated considerable public rancour and has led to a social and political controversy. Social and human rights organisations and political forces such as the Samajwadi Party (S.P.) and the Congress have termed the "rail ticket fare collection callous and inhuman". S.P. president Akhilesh Yadav told Frontline that this once again proved that the poor and the suffering were not the priority of the Bharatiya Janata Party (BJP) and its governments. "They will waive the loans of the rich and the mighty but still charge the marginalised." Yogi Adityanath's response was predictable—that the opposition was trying to politicise the issue as it was rattled by the giant strides that the State and Union governments had taken in combating COVID-19. "We are becoming an international model and that is what the opposition cannot stand," he said in a statement.
Even as this political controversy captured some media and public attention, the rapid increase in the number of cases in many districts of western Uttar Pradesh, which constitute the backbone of the State's economy, is a cause for concern. Districts in the region such as Agra, Gautam Budh Nagar, Meerut, and Ghaziabad recorded a significant rise in cases and deaths in the seven days ending on May 5. The two principal cities of the State, Lucknow, and Kanpur, have also registered a significant spike in cases. Social and health sector observers are of the view that the trends from places like Agra and Meerut indicate community spread. However, authorities continue to deny this. Amidst all this, even these hotspot districts and the green zones wait in trepidation for the new problems that the arrival of expatriates could cause across the State.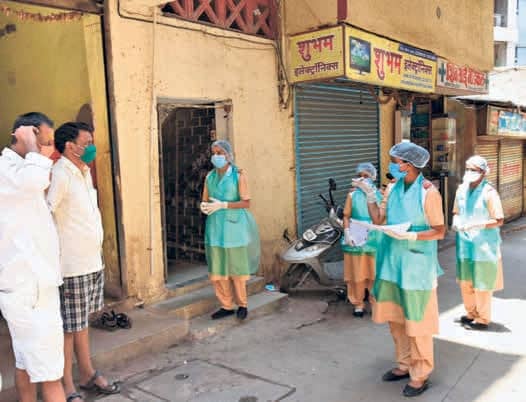 MAHARASHTRA
Fighting on two fronts
LYLA BAVADAM
Chief Minister Uddhav Thackeray has been fighting a war on two fronts. One, obviously against the COVID-19 pandemic, and the other against the Shiv Sena's erstwhile political partner, the BJP. He is marginally ahead on both fronts. As far as the handling of the pandemic is concerned, Uddhav has earned for himself some surprising praise.
Said a now-retired senior bureaucrat who used to be in Mantralaya during Bal Thackeray's remote-control era: "Many people thought Uddhav would be like his father and in many ways he is like [him] in his determination to build a temple at Ayodhya. But in one very vital way Uddhav differs from Bal Thackeray. He is willing to learn. He acknowledges he has a lot to learn and he is willing to be guided by those he thinks know better. In that sense he is trusting too. I don't want to name names, but he has learnt to trust one senior politician, and now he is greatly under that gentleman's able guidance. His tackling of the novel coronavirus in Maharashtra has been good. He has held true to a good balance of toughness and reassurance and there has been an element of transparency that the public seems to have recognised. That is why the lockdown in Maharashtra has been without incident."
The praise is largely well-deserved, especially since Uddhav Thackeray has had to constantly watch his and his government's back. In the five months he has been in office, he has had to fend off the BJP which, at every possible opportunity, has lunged to discredit and destabilise the Maha Vikas Aghadi (MVA) coalition government. Condemning this, the retired bureaucrat said, "A responsible opposition is not opportunistic. During a crisis both sides should work together and forget party lines in the larger interest."
This desirable larger interest was not on display on April 14 when more than 2,000 migrant workers gathered at Bandra station in the hope of returning to their home States. The chaos, even while Section 144 of the Code of Criminal Procedure (prohibiting the assembly of more than four people) was in force, gave rise to a brief but fierce political blame game. The MVA said it was an outcome of mischief-making (read BJP-engineered) while the BJP said the government had failed to maintain law and order. Home Minister Amit Shah gave Uddhav Thackeray a patronising rap on the knuckles, but he chose not to retaliate. A TV reporter was arrested and then released—a convenient scapegoat for all, it is believed.
Then came the lynching of two religious leaders and their driver in Gadchinchle village in Palghar district. In a web address, Uddhav Thackeray explained what had happened: "The two sadhus were travelling to Gujarat through back roads as there were curbs on travelling by the main roads. They were stopped at the border and asked to turn back. On their way back, they were stopped because of the rumours in this remote area that there were thieves around, and unfortunately, they were killed.''
The BJP was quick to make use of the opportunity. Praveen Darekar, Leader of the Opposition in the Legislative Council, termed it a failure of the law and order machinery and called for the Home Minister's resignation, but Uddhav Thackeray was firm and told his critics not to politicise or communalise the lynching. "Do not try to create misunderstandings. I spoke to Union Home Minister Amit Shah," he said. "He knows there is no communal angle here. I told him we must search for all those fanning anger on social media. Those trying to inflame passions must desist from doing so. There is no Hindu-Muslim angle or communalism in this attack."
Maharashtra Congress general secretary Sachin Sawant pointed out that the village panchayat where the lynching took place was a BJP stronghold with a BJP person heading the panchayat. Furthermore, there is not a single Muslim household in the village. Sawant also said that the BJP should not forget that four lynchings had taken place during its term but no Minister had resigned.
ELECTION ISSUE
One issue that has weighed on Uddhav Thackeray from November 28 when he became the Chief Minister is that he is not an elected member of either House in the Maharashtra legislature. The constitutional framework gives him six months from that day to win a seat electorally. In March, the government wrote to the Governor asking him to use his powers of nomination to get Uddhav Thackeray a seat in the Legislative Council. A request not so unusual but one that received no reply.
As the May 27 deadline drew nearer, Uddhav Thackeray spoke to the Prime Minister. He apparently did not mince words and said that it was nothing short of an attempt to destabilise Maharashtra politically. The outcome was an announcement of elections on May 21. "Considering that there is a crisis in the State it would have been a reassuring and, I may add, very simple thing for the Honourable Governor to have assented to the nomination," said a source in Mantralaya.
It has been a tightrope walk between the State and the Centre, with the latter invariably letting party affiliations dictate its decisions. Three examples highlight this. Since early April, Maharashtra has been asking for rail services to help migrant labourers return to their home States, but the Centre has denied this, resulting in terrible human suffering and huge pressures on the State. With the highest number of virus cases in the country, the State clearly requires more funds.
Nationalist Congress Party leader Sharad Pawar wrote to the Prime Minister and the Finance Minister saying Maharashtra required an additional grant of Rs.1 lakh crore in 2020-21 to help revive the economy. Earlier Deputy Chief Minister Ajit Pawar had asked for a Rs.25,000 crore package and early disbursement of GST (goods and services tax) dues of over Rs.16,000 crore.
IFSC IN GANDHINAGAR
Instead of facilitating an inflow of funds, the Centre chose to take away a big economic opportunity. On May 3, Sharad Pawar slammed the Centre for its decision to set up an International Financial Service Centre (IFSC) in Gandhinagar, Gujarat. His anger stemmed from the fact that although Maharashtra gives the highest contribution to government securities, the IFSC was given to Gujarat. In a letter to the Prime Minister, Pawar said out of the Rs.26,000,00 crore funds that the Centre receives from States, Maharashtra contributes Rs.5,95,000 crore compared with Gujarat's Rs.1,40,000 crore.
Pawar's letter states: "It will not only cause financial damage to the country but also bring international discredit to it by undermining the importance of Mumbai, which has been recognised as world's top ten centres of commerce in terms of global financial flow generating 6.16 per cent of India's GDP and accounting for 25 per cent of industrial output and 70 per cent of capital transactions to country's economy."
The letter further states: "I request the Centre to reconsider the decision to shift IFSC in Gujarat and relocate it in Mumbai on merit basis and I expect the Prime Minister will take a rational, judicious decision keeping aside the State politics and consider it as an issue of utmost national importance."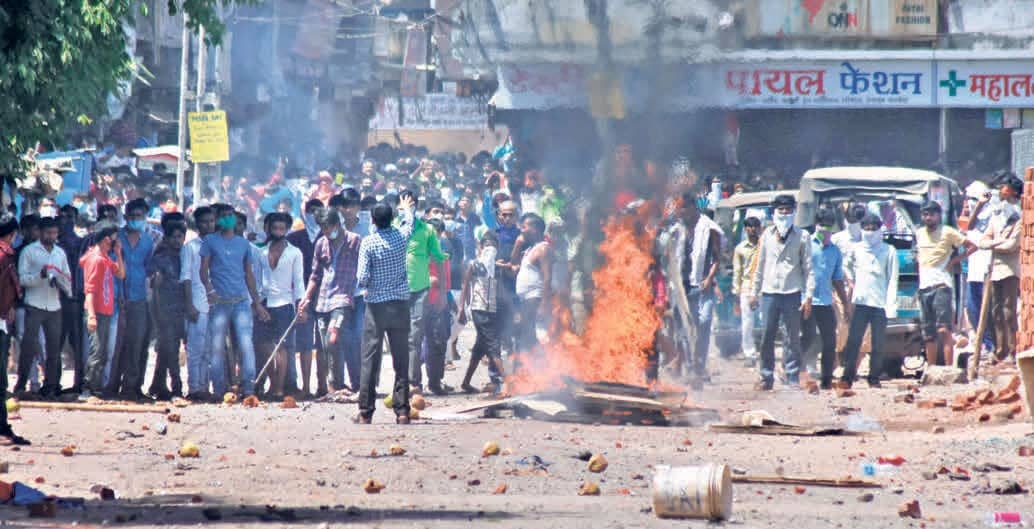 GUJARAT
Sudden spike
ANUPAMA KATAKAM
As of May 5, Gujarat's tally stood at 5,804 COVIDpositive patients and 319 deaths. On May 2, the State recorded a sharp spike with 374 new cases in 24 hours. On May 3, there were 28 deaths in a single day. The State's largest city, Ahmedabad, is a "hotspot as" and the worst affected urban centre in the State with 4,076 cases and 234 deaths as of May 5, according to Gujarat's Health and Family Welfare Department. Far from flattening, the curve seems to be rising at a rate far above the national average.
Gujarat's failure in containing the virus exposes some harsh realities on Prime Minister Narendra Modi's home turf. Why is this supposedly prosperous State hit so hard? Among the factors identified by experts, the most pertinent perhaps is an increased economic and health vulnerability of the population, notwithstanding Gujarat's claims of a high growth rate. Indira Hirway, director and professor of economics at the Centre for Development Alternatives in Ahmedabad, said: "There is a difference in growth and development. The State places negligible emphasis on social development. The pandemic has proved how unprotected people here are."
Data published by the Union Health and Family Welfare Ministry in early May calculates Gujarat's death rate at a frightening 22.6 per cent against the national average of 10.8 per cent. Italy had seen a 26 per cent death rate at the peak of the curve. Gujarat's fatality rate is at 5.4 per cent against Maharashtra's 4.2 per cent and Delhi's 1.6 per cent and the national average (as of early May) of 3.3 per cent.
Ahmedabad Municipal Commissioner Vijay Nehra told media persons that cases were doubling every four days on an average through most of April, a rate at which the State might have ended up with 50,000 cases by May 15. The rate of doubling of cases had been brought down to nine days, but it was still too early to feel relief, he said.
Nehra said the Ahmedabad Municipal Corporation (AMC) was using a "proactive approach" called EPIC, involving "Enhanced Testing, Intensive Surveillance, Proactive Detection and Corona Checkposts". The city has eight designated COVID hospitals and six quarantine centres. The State has a total of 19 COVID hospitals which have a total capacity of 2,200 beds. The AMC says 31 private hospitals across districts have been recruited for COVID treatment.
Dakxin Chhara, a documentary film-maker based in Ahmedabad, said: "Given the circumstances they are doing what they can, but it is not at all adequate and there is a lot of chaos." Chhara said his uncle was put in a COVID isolation ward in a hospital even though he tested negative. "It was absolute hell for the family. We did not even know how to contact our uncle as he was being shunted around wards within the civil hospital."
Gujarat with its several big, medium and small industries is highly globalised and Ahmedabad sees a considerable amount of international travel. In addition to people travelling for business, there is considerable traffic of the Gujarati diaspora visiting the home State; many Gujaratis also take foreign holidays. There is a theory that the L strain of the virus, which is considered very strong, entered the State directly through business travellers from China. The theory has been debunked by a few scientists but is still debated. There is a possibility that travel between Mumbai and Gujarat could have added to the problem.
Hirway, who has written extensively on Gujarat's development, said there were three main factors for the spread: Ahmedabad's insufficient and casual attitude towards testing at the start; the city's congested ghettos; and the high vulnerability of the poorer sections such as the daily-wage migrants. "Gujarat is very different from other States. There is a huge informal workforce that is highly vulnerable with no access to health care. Gujarat is going the wrong way. It may show economic growth but at the cost of other things," she said.
The red zone in Ahmedabad is within the walled city where the minority Muslim population lives. There are large families packed in small homes, which does not work in favour of distancing norms and lockdown compliance. Statistics show that the largest number of cases are in the central zones of Ahmedabad, where poor people, Muslims and Dalits live.
You can read up to 3 premium stories before you subscribe to Magzter GOLD
Log in, if you are already a subscriber
Get unlimited access to thousands of curated premium stories and 5,000+ magazines
READ THE ENTIRE ISSUE
May 22, 2020