G20 Summit: Terror Trumps Economy
FRONTLINE
|
December 11, 2015
It was hoped that the leaders at the G20 summit in Turkey would find a way out of the global slowdown in growth, but the events in Paris left them little time for that.
C.P.CHANDRASEKHAR
Meeting over November 15-16 at Antalya, Turkey, just 500 kilometres from the Syrian border, the leaders of the G20 summit found their agenda derailed by the horrendous events in Paris on November 13. The tasks of combating terror, of identifying and blocking terrorist financing and of preventing the flow of terrorists (including those moving as refugees) replaced the challenge of ensuring a global recovery from a seven-year long recession as their principal concern. This despite the fact that the summit chaired by host Turkey's President, Recep Tayyip Erdogan, was expected to "focus on the current state of the global economy, sustainable growth, development and climate change, investment, trade and energy."
From its inception the G20 was a formation that was motivated by and focused on economic issues. It was established in 1999, in the aftermath of the Asian financial crisis, as a meeting of Finance Ministers and graduated to being a Summit of Leaders in 2008 after the global financial crisis.According to the factsheet on the G20 website: "G20 leaders have met nine times since 2008, continuing to focus on achieving strong, sustainable and balanced growth, promoting job creation and financial regulations that reduce risks and prevent future financial crises and modernising international financial architecture."
However, on occasion in recent years, political issues have widened the agenda of G20 summits. As Ibrahim Kalin, the spokesperson for the Turkish presidency of the G20, put it before the event, "At the 2013 summit in St. Petersburg, Russia, the leaders discussed the Syrian crisis and the measures to be taken to prevent the use of chemical weapons.Last year's summit in Brisbane, Australia, focused on the Ukrainian crisis and the Crimean issue. This year, the Syrian conflict and the accompanying refugee crisis will be addressed in a separate session as part of the Antalya summit. In a world where economic and political problems are intertwined, it is certainly not possible to think of war, terror, refugees, justice and economic depression separately."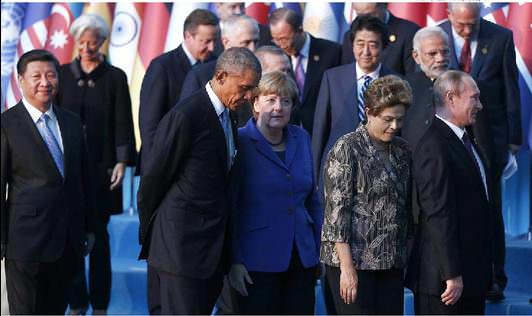 But still, until November 13, the expectation was that economics would dominate the discussions, especially since the world economy is yet to register a convincing recovery, seven years after the global recession began. As preparations for the 2015 summit were under way, it was announced that the same set of issues that have in one form or other dominated G20 discussions since 2008 would remain the main areas of concern: global economic growth and income generation; and sustainable development and climate change. An unusual item on the agenda was a call for discussing a coordinated response to the "refugee crisis".
You can read up to 3 premium stories before you subscribe to Magzter GOLD
Log in, if you are already a subscriber
Get unlimited access to thousands of curated premium stories, newspapers and 5,000+ magazines
READ THE ENTIRE ISSUE
December 11, 2015