An empty package
FRONTLINE|June 5, 2020
The Modi regime, which has been unable to control the COVID-19 infection, restore economic activity and provide relief to millions exposed to starvation, trains its sights on Indian democracy, making use of the panic generated by fear and a lockdown that forecloses paths of resistance.
THE NARENDRA MODI GOVERNMENT HAS managed to turn a health emergency into independent India's biggest humanitarian disaster. What started as a threat from COVID-19 has become a multidimensional crisis. Economic activity has collapsed, resulting in waves of job and income losses. The ongoing phase of the lockdown—chaotic in every possible way because of the bureaucratic definition of zones, restrictions, regular revisions of guidelines arising from the Home Ministry's tight grip on when and how even a screw will turn in the country—is unlikely to end well. Ironically, the lockdown is likely to be lifted at a time when the caseload is rising, and the economy's prospects look dim.
The Modi regime's penchant for the theatrical flourish was on display when the Prime Minister announced that a Rs.20 lakh crore "economic package" was on its way. Like many of his speeches, this one too had a buzzword: he said his vision was to make India Aatmanirbhar—translated officially into English rather inaccurately as "self-reliant" but more accurately and ominously as taking charge of one's own destiny. True to form, Finance Minister Nirmala Sitharaman, whose gruelling marathon Budget speech of February is still fresh in memory, started unveiling the package on May 13 and continued to do so in a series of press conferences over five days. What the Minister delivered turned out to be not just a damp squib but a gigantic exercise in subterfuge. She managed to conjure up a package that beat even what the Prime Minister had promised—a total package amounting to Rs.20.97 lakh crore. But the large package turned out to be empty.
The elaborate ruse had several key elements. First, the trickery consisted of adding up all that the Reserve Bank of India (RBI) had already announced as liquidity enhancing measures, which, incidentally, had failed miserably. Second, the Finance Minister included elements of expenditure that had already been announced, much before the emergence of the COVID threat. Third, she added expenditures that were to be spread over several years by making them appear as if they were to be spent on a here-and-now basis. Fourth, she made several policy announcements aimed at attracting private investment as if they would spur economic activity during the ongoing crisis. Fifth, she made new forays into territory unchartered in the history of Indian federalism by tightening the fiscal noose at a time of severe and unprecedented stress. Sixth, by leaving some things unsaid and by leaving some of the fine print to the Union Cabinet to spell out a full week later, she effectively misled the large home-bound audience glued to the TV into thinking that the package was bigger and more consequential than what was actually on offer.
The common consensus among not just professional economists but among investment banks and brokerages is that the effective impact of the "expenditures" amount to not more than 1 per cent of India's GDP, a far cry from Modi's promise of 10 per cent. Economists across the world, of widely differing persuasions, mostly agree that a fiscal expansion, led by state-driven expenditure, is singularly important in the context of the pandemic-driven simultaneous collapse of both supply and demand. However, the response in many countries, in the United Kingdom, the United States and in the Eurozone area for instance, has been to adopt the liquidity infusion route to recovery, while giving significant scope for fiscal policy support. While these countries have recognised that a sudden collapse of markets has imposed a short-term crisis of liquidity across firms and households, that is not by itself enough to spark a recovery from the recession. Thus, the choice between a liquidity-driven solution and the fiscal route is not only artificial but irresponsible at a time of a grave crisis. The point is that in both routes, because the markets have collapsed, the state has to take the lead and intervene effectively by putting its money where its mouth is.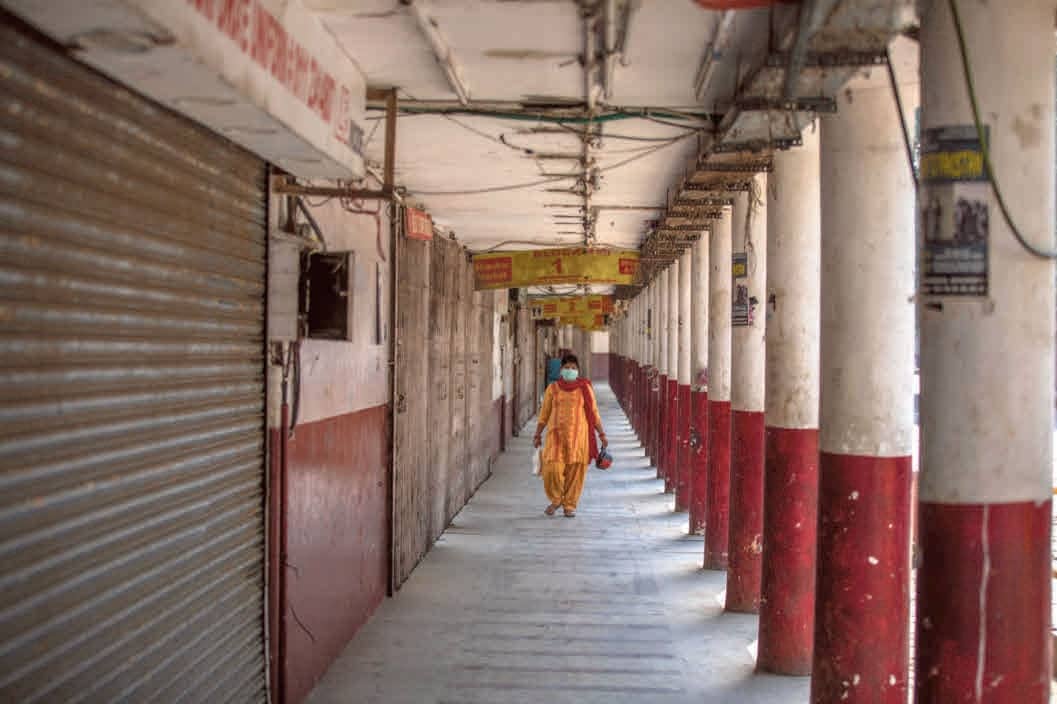 On May 22, RBI Governor Shaktikanta Das made the first official announcement of an expected decline in the national gross domestic product (GDP) during the current year, although he refrained from mentioning any magnitudes. He also announced a further reduction in the repo rate—the floor rate in the lending rate in the economy—to 4 per cent, a move that is unlikely to motivate investment. Moratoriums on loans have been extended for a further three months, although that may receive the same tepid response from borrowers that the earlier one elicited. This is because the moratorium only postpones rather than resolves their repayment problems, imposing a higher burden at a later point in time.
Nirmala Sitharaman's failure to establish the task force that Modi promised in his first speech in March means that she could proceed on whatever path she chose in the absence of an assessment. It is now amply clear that supply chains and productive capacity have been severely broken. The arbitrary and illogical division of colour-coded zones, without attention to the nuances of either geography or demography or the niceties of political conduct in a federal system, has only aggravated matters. The move clearly bears the imprint of Home Minister Amit Shah.
Soon after Nirmala Sitharaman's announcements, the managing director of a small company in Bengaluru specialising in the manufacture of machine tools told Frontline that the three main "axes" of demand for his company's products—Chennai and manufacturing units around the city, Pune-Kolhapur and the Gurgaon-Manesar belt—account for 75 per cent of the demand for his products and services. "The three axes are operating only at about 7-10 per cent of their capacity," he said. His company, he said, could scale up operations from the current level of about 25 per cent. "But what is the point in my operating at full tilt when my clients are shut?" He also pointed out that the relatively larger units within what counts as "small scale" in India— units employing between 50 and 100 workers—"are now in mortal fear".
The proprietor of a small industrial establishment in Peenya industrial estate in Bengaluru employing about 30 workers told Frontline that MSMEs (micro, small and medium enterprises) are so precariously placed that they have to borrow even to pay their goods and services tax (GST). Invoices for supplies made to larger companies are not paid within a reasonable time, while the MSME is responsible for paying the tax that it is supposed to have collected from its clients. The bigger companies delay not only payment for supplies received but also payment of tax, so the MSME suffers a double blow. Narrating his own experience, the proprietor said: "I have borrowed Rs.25 lakh from a public sector bank to pay GST. The bank knows this is strictly not allowed, but it also realises my predicament."
You can read up to 3 premium stories before you subscribe to Magzter GOLD
Log in, if you are already a subscriber
Get unlimited access to thousands of curated premium stories and 5,000+ magazines
READ THE ENTIRE ISSUE
June 5, 2020