A Grave Humanitarian Crisis Unfolding In Yemen
FRONTLINE
|
September 18, 2015
A grave humanitarian tragedy unfolds in Yemen as the Saudi Arabia-led alliance backed by the U.S. continues its relentless bombing.
The bombing of Yemen, one of the world's poorest countries, by the military alliance led by Saudi Arabia and armed by the United States—has resulted in its infrastructure being reduced to rubble. According to international organisations, more damage has been done to Yemen in four months of war than to Syria, where intense fighting has been going on for more than four years.
According to the United Nations, more than 400 children have been killed in Yemen since Saudi Arabia and its regional allies launched their intensive aerial blitz and ground attacks. The official estimate of the death toll by the U.N. is 2,000 but many observers of the region estimate that the actual number is much higher. More than 1.3 million people have been forced to flee their homes. The United Nations Children's Fund (UNICEF) has issued an alert on Yemen stating that the "fighting shows no signs of a resolution". The agency reported in late August that millions of people were on the brink of starvation and that "basic services that children depend on have been decimated".
Saudi Arabia has specifically targeted the ports. The Yemeni population depends on imports for 90 percent of its food supplies. With the ports either destroyed or blockaded by the Saudi-led coalition, even U.N.-brokered humanitarian aid has not been able to get through. The World Food Programme (WFP) stated in the third week of August that the number of "food insecure" in Yemen came close to 13 million. The U.N. agency said that one in five Yemeni was suffering from severe food insecurity. "Even before the crisis began, Yemen had one of the highest malnutrition rates in the entire world. What we are seeing now is the increase in severe malnutrition cases because of the lack of access to our programme operators to provide the assistance that is necessary," said Etharin Cousin, the WFP's executive director, after a visit to the devastated country in the third week of August.
The U.N.'s envoy to Yemen, Ould Cheikh Ahmed, issued a warning in late July that Yemen "was only one step away from a famine". The latest UNICEF report said that 10 million children, constituting half of the country's population, were in urgent need of humanitarian assistance. The report also stated that half a million pregnant women in the areas most affected by the war were at a great risk as they had no access to hospitals or even basic medical facilities. After a visit to Yemen in August, Peter Maurer, the president of the International Committee of the Red Cross (ICRC), said that "the humanitarian situation is nothing short of catastrophic".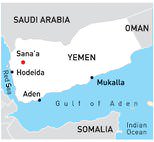 You can read up to 3 premium stories before you subscribe to Magzter GOLD
Log in, if you are already a subscriber
Get unlimited access to thousands of curated premium stories, newspapers and 5,000+ magazines
READ THE ENTIRE ISSUE
September 18, 2015