China Mobilizes Resources To Fight Coronavirus
We're offering this story for free to read so that you can stay updated on the COVID-19 outbreak
China rallies its human and material resources to fight the novel coronavirus
When the second medical expert group sent by the National Health Commission (NHC) to Wuhan, capital city of central China's Hubei Province, confirmed the novel coronavirus' ability of human-to-human transmission on January 18, the Chinese Lunar New Year, or the Spring Festival, traffic rush had already been eight days. Authorities had previously estimated a total number of 3 billion trips during the one-month holiday season. Before the decision was made to seal of Wuhan on January 25 to prevent the spread of the virus, many people had already left the city, most of whom were from other cities of the province working in Wuhan.
During the early days of the outbreak of the novel coronavirus pneumonia, later named by the World Health Organization (WHO) as COVID-19, the number of confirmed infections increased rapidly, especially in Wuhan, with many suspected cases yet to be confirmed due to a lack of diagnostic capacity. Flooded by patients, hospitals were badly in need of medical materials. Their stock of protective equipment ran out in days and their hospital staff were in chronic need of rest.
Warned by experts about the danger of infection, people already in Spring Festival mood rushed to stores for masks, only to find they were sold out. Worse still, factories of medical supplies across the country were not able to operate at full capacity because of staff being off for the holidays.
On January 25, the day of the Spring Festival, Chinese President Xi Jinping chaired a meeting of the Standing Committee of the Political Bureau of the Communist Party of China Central Committee, where decisions were made to establish a leading group to manage containment of the epidemic and send overseeing teams to Hubei and other severely affected areas. Xi later called the battle against the virus a major test of China's governance system and capacity.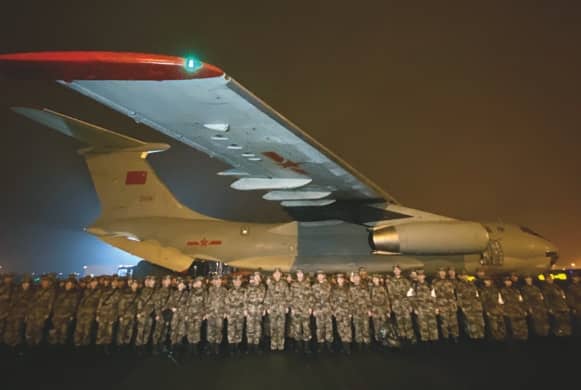 Rapid response
At dawn of January 25, the first team providing medical assistance arrived in Wuhan from Shanghai. They were there to help Jinyintan Hospital, where the most critical patients at the time were hospitalized.
Other teams followed. By February 13, over 20,000 medical practitioners in 180 teams were sent to Hubei, over 7,000 of whom were intensive care professionals. These are China's elite medical teams, with many members having experience in fighting SARS and Ebola.
On February 13, 11 large and medium military transport aircraft landed at Wuhan's Tianhe Airport, bringing part of another 2,600 medical practitioners and supplies from the military. For the first time, China's self-developed Yun-20 large transport aircraft were deployed for non-military purpose.
During these days, Chinese people confined to their homes were touched by social media pictures and videos of doctors sweating under protective clothing and nurses with shaved heads, for easier personal hygiene, with deep lines etched in their faces from wearing masks all day long.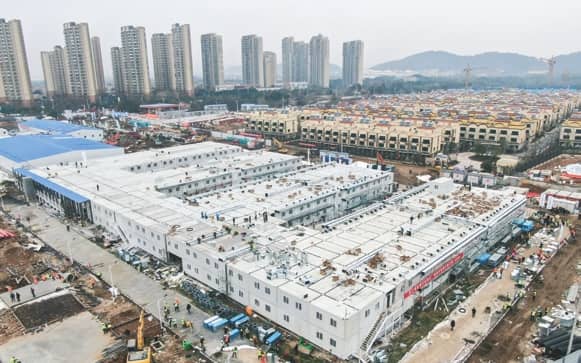 You can read upto 3 premium stories before you subscribe to Magzter GOLD
Log-in, if you are already a subscriber
Get unlimited access to thousands of curated premium stories and 5,000+ magazines
READ THE ENTIRE ISSUE
March 2020