Empowering Bankers To Bridle Elusive Promoters
Businessworld
|
August 24 , 2015
RBI's new scheme to reign in errant promoters is solid on paper, but it may not work in the real world in its current avatar.
A few in India INC., have long lived by the unique worldview: it's against my principle to pay interest on the loan I took, and against my interest to repay the principal. It has worked really well as a way of life, but Mint Road decided to play the party-pooper; it took away the punch bowl on 8 June. Banks can now go in for Strategic Debt Restructuring (SDR). Simply put, if push comes to shove, they can band together, convert a funny firm's loans to equity and kick the promoter out.
The idea's a cracker — after all, what hurts more than a bad hangover is that you have to foot the bill for the party as well.
Banks' gross bad-loan mountain is about $100 billion. While you can pin a large part of the blame for the mess on policy paralysis and wobbly business cycles, just about every other senior banker in town will tell you (off the record) that some borrowers do play truant. And will readily agree with the 16th century French writer Francois Rabelais's pithy observation that "debts and lies are generally mixed together".
Rabelais was truly ahead of his times; is SDR 'alive' to ours? Says Muzammil Patel, senior director at Deloitte (India), "The proposition could work where there is a genuine interest from both the borrower and lender to regularise cash flows from the underlying asset. It's a positive step for lenders as it allows them to potentially have a say in the working of the business and control over its associated cash flows". When Patel refers to the "potential", it only tells you that a lot many lenders had little say in such matters; and that they have now got a vuvuzela.
The buzz over SDR is, therefore, understandable. It neatly ties in the business-link between non-performing assets (NPA), asset reconstruction companies (ARC), the aggressive posture adopted by Mint Road and North Block on errant corporate managements, a comprehensive Bankruptcy Act (on the anvil), and centralised pricing guidelines on foreign investments. Since 2007, deals worth nearly $62 billion — all above $300 million (see Cleaning Up The Act) — have taken place as a result of companies seeking to improve their balance sheets. So, common sense has it that SDR will only make this pile grow bigger.
FROM BAD TO WORSE
Stressed assets as a percentage of total advances have been steadily rising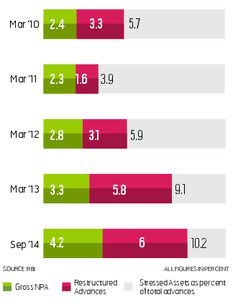 You can read up to 3 premium stories before you subscribe to Magzter GOLD
Log in, if you are already a subscriber
Get unlimited access to thousands of curated premium stories, newspapers and 5,000+ magazines
READ THE ENTIRE ISSUE
August 24 , 2015