​​​​​​​Thoughts On AES X223 And X241 Speaker Measurement Projects
audioXpress
|
September 2018
I have just returned from the recent Audio Engineering Society (AES) 144th International Convention in Milan, Italy, where I was among many colleagues who are trying to solve one of the outstanding problems of loudspeaker drive units today. Namely, being able to trust the measurements that are being presented to us.
I know that is putting it bluntly, however I believe in speaking of things as they are and not as we would like them to be. That is the root of the problem now and in the past—it's crazy when you think about it that loudspeakers are between 90 and 100 years old now (depending on whether you count Jensen or Rice & Kellogg as the first), and we still cannot trust our measurements!
Dealing with Anechoic Chambers
I have been involved with loudspeakers and transducers for the reproduction of sound for most of my career, in the early days, we didn't have access to much equipment and things were initially set up by ear. Later at Bowers & Wilkins and Goodmans, I was introduced to anechoic chambers and proper test equipment. Even then, I thought it seemed odd that soundproofed rooms, usually the size and often the cost of a house, was considered the way of measuring loudspeakers—oddly enough there is not even a lot of theory to back it up! Do we listen to loudspeakers in an anechoic room?
Anyway, I used anechoic chambers to measure loudspeaker systems. These were usually located in the middle of the anechoic space equally-spaced between the wedges of the chambers. Usually this meant mounting big heavy loudspeakers and light delicate microphones on floppy mesh floors situated around one-third of the way up the vertical height of the chamber. The results of this, of course, was that every measurement was different from every other one. Because of the inherent imprecision, I remember being trained to line up the microphone and the loudspeaker using a 1 m rule. And because everything uncontrollably bobbed up and down on the mesh floor, and because of the variable location within the chamber, every result was different from every other chamber, and this would show any and every time I needed to compare results produced by a contractor or sub supplier. Various other unknown factors could interfere (e.g., the one chamber I worked that had an enormous metal plate supported on a steel beam just below the door entrance, in which the loudspeaker drivers were mounted!). Crazily enough, this situation has remained fundamentally the same throughout my career to date.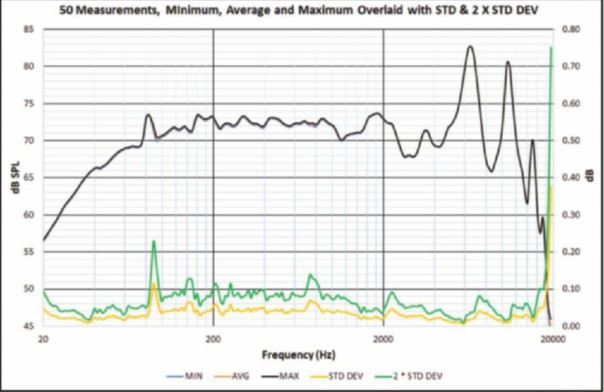 The AES Documents
Many of us in the Audio Engineering Society (AES) have been aware of and working toward a unified solution to this problem for a while. The AES subcommittee on Acoustics assigned the problem to SC-04-03 in 2013, which kicked offproject X223 at the 134th convention in New York in October 2013. And, at the 135th convention in Berlin, Germany, in May 2014, it was decided to issue this as an Information Document.
An Information Document is probably best described as an informal standard that has gone through the same full review process that a standard has, but it is more advisory in nature than a full standard, however, it represents our best collective thoughts on a subject.
The problem with Loudspeaker Testing in production is one many of you might have come across at one time or other. In essence it always boils down to the following:
• Production and Sales want to ship as much acceptable product as possible.
• Quality and the Customer only want a perfect product. Neither want any product with any faults as these will cause trouble and usually expensive trouble later.
• As a customer or user, you need to know that you are getting a loudspeaker as close to specification as possible, in an ideal world you might want to accept loudspeaker drive units purely upon measurement data. But can you?
• How do you make a judgment between perfect and acceptable? The standards IEC 60268-5, JIS etc., recommend using an anechoic or free-field environment. This is fine for a one-offor very limited quantities but for production quantities that regularly range from tens to hundreds of thousands if not millions, it is not a practical option.
• Anyway, do you have a chamber? Unlikely, unless you are in the Military, Academia, or in a Research and Development department. Even many loudspeaker companies don't, but they still need to measure the many characteristics of a loudspeaker but in a typically noisy factory environment.
You can read up to 3 premium stories before you subscribe to Magzter GOLD
Log in, if you are already a subscriber
Get unlimited access to thousands of curated premium stories, newspapers and 5,000+ magazines
READ THE ENTIRE ISSUE
September 2018