HDMI Specification 2.1 Improves Home Theater Audio With eARC
audioXpress
|
September 2018
The new HDMI standard adds a unique feature to preserve AVR compatibility. In this article, Marshall Goldberg explains how Enhanced Audio Return Channel (eARC) works.
HDMI Specification 2.1 is the standard's most substantial upgrade to date. It quadruples the video resolution from 8 megapixels of 4K to 32-megapixel resolution of 8K. HDMI Specification 2.1 adds a host of additional features, including Dynamic HDR, Variable Refresh Rate (VRR), and Quick Media Switching.
One problem with all of these new upgraded features is that audio devices such as AV Receivers (AVRs) will become incompatible. For example, if a gamer purchases a new TV and game console with VRR, the AVR that goes in between the game console and the TV will need to be upgraded—even though the audio features of the AVR don't change. If the AVR isn't placed in the HDMI path between the game console and the TV, it won't be able to play advanced audio formats such as Dolby Atmos and DTS:X.
To preserve AVR compatibility long into the future, HDMI Specification 2.1 includes the new Enhanced Audio Return Channel (eARC) feature. eARC technology introduces forward compatibility between the AVR and the TV, along with uncompromising quality and greater ease of use.
eARC provides a number of improvements over existing home theater audio connectivity methods:
• Forward-compatible, so the AVR will continue to work with newer televisions
• Delivers uncompromised audio quality nearly 30 times the bandwidth of optical
• Far better inter-brand interoperability • Easier to use • Simpler connectivity
Challenges of Forward Compatibility
In the past eight years, we've seen the upgrade from 1080p to 4K video. To use 4K video content, new HDCP 2.2 copy protection technology was required. This rollout was released in products in steps, over several years:
• 4K30 Video with HDCP 1.4 Copy Protection
• 4K30 Video with HDCP 2.2
• 4K60 Video with HDCP 2.2
• 4K60 Video with HDCP 2.2 and High Dynamic Range support
As a result, most 4K AVRs could not fully support 4K video found in Blu-ray and elsewhere. Only the most recently released AVRs offer full compatibility with today's 4K Blu-ray discs and other 4K film content (see Figure 1).
eARC is designed to safeguard AVR and soundbar purchasers against obsolescence, which would otherwise occur as the progressive roll-out of HDMI Specification 2.1-enabled products continues. eARC also substantially improves the overall quality, interoperability, usability, and connectivity of home theater systems.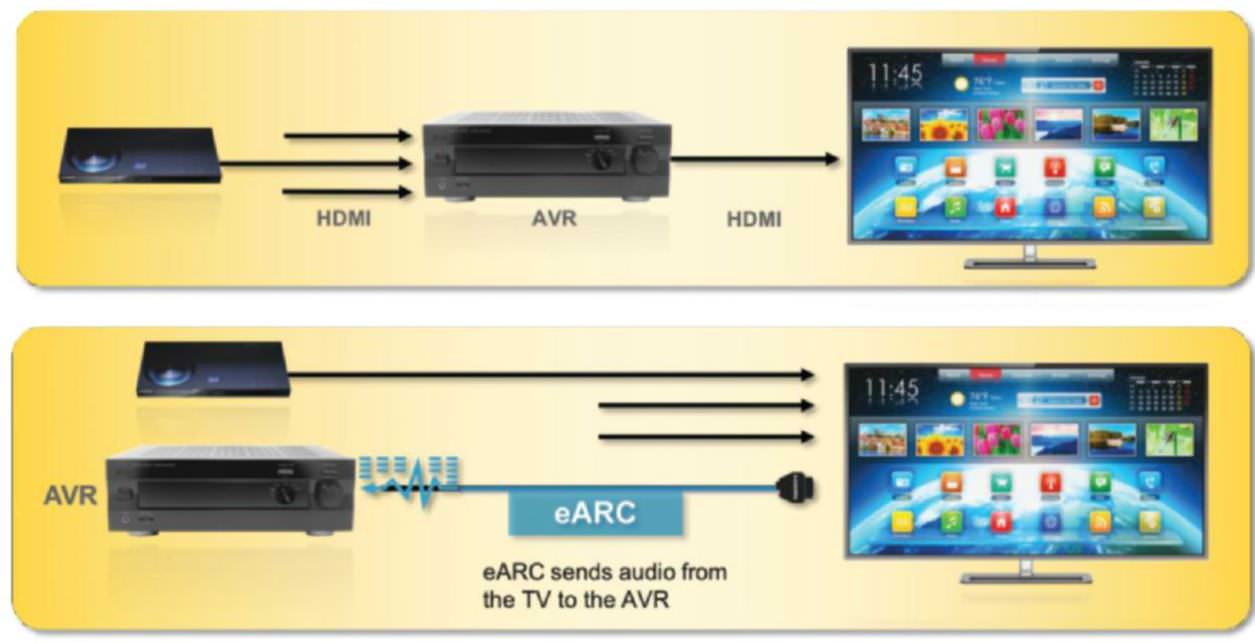 Delivering Forward Compatibility
You can read up to 3 premium stories before you subscribe to Magzter GOLD
Log in, if you are already a subscriber
Get unlimited access to thousands of curated premium stories, newspapers and 5,000+ magazines
READ THE ENTIRE ISSUE
September 2018