Night of the Living Dead
June 27, 2015: the reunited members of The Grateful Dead begin their last run of shows. In Northern California, Uncut goes native with the Deadheads to celebrate the bands 50-year adventure, and explores the seismic impact they have made on hundreds of thousands of lives. How will the Dead sound without Jerry Garcia? What happens next? And how do you score some really good LSD? Shall we go, you and I/While we can?..."
THREE HOURS BEFORE The Grateful Dead begin their brief and poignant farewell tour in Santa Clara, California, a couple called Jeremy and Karen are setting up their stall of bespoke tie-dyed articles in the parking lot. As they arrange the $70 silk shirts and $10 bandannas, they are talking of their times on the road following the band; journeys that began in the '70s for both of them, and which reached a sustained climax for Jeremy between 1987 and 1995, when he was present at every one of the Dead's last 300-odd shows.
"It wasn't just music," he says now, looking like a cross between Jerry Garcia and John Goodman. "The term Utopia is very maligned in society, especially in this age. What we had wasn't a working blueprint for Utopia, but it was an unfolding better way of living, away from the safety net of a society that acts as either a sieve or a meat grinder. It was a different way of doing things. It had all the regular trappings and problems of society, but it offered hope."
A few hundred metres away, Santa Clara's year-old Levi's Stadium, normally home to the San Francisco 49ers, awaits today's influx of 83,000 multifarious Deadheads. Lifers like Jeremy and Karen mingle with new young fans, and many middle-aged men and women whose love of the Dead has endured long after their own quests for Utopia have ended.Over the next two weekends, the four remaining core members of the Dead and their accomplices will play five Fare Thee Well shows, two here and three in Chicago, which will reportedly net $40m in ticket sales. Out in the parking lots, a more idiosyncratic brand of entrepreneurship is flourishing, even while cops patrol on golf buggies.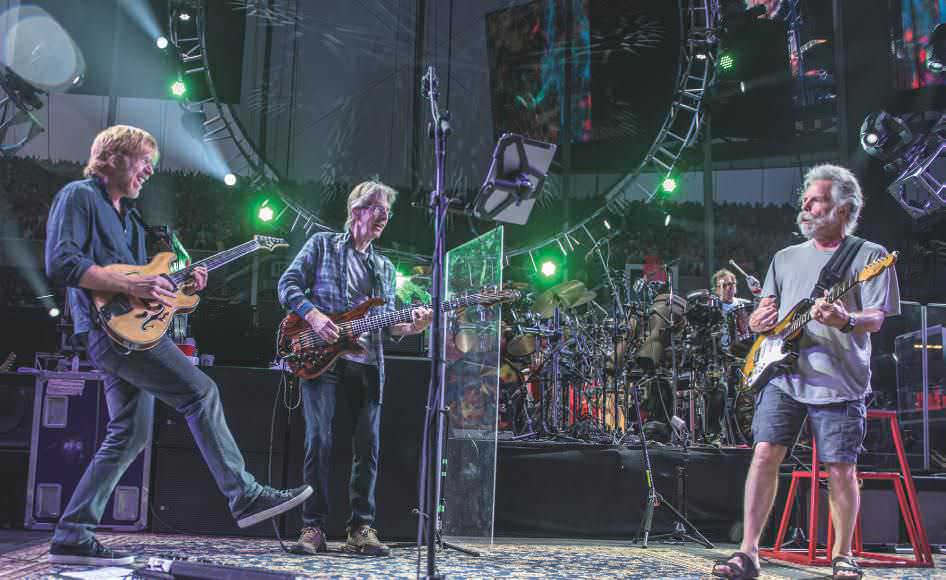 This is Shakedown Street, storied hub of the grey economy that has long clustered around the Dead, an ad hoc marketplace for all your quainter hippy needs. Hash pipes proliferate, as do conch shells and vegetarian burritos. There are drum circles, hackysack players, dogs in bandannas, and T-shirt memorials to Brent Mydland, one of the multiple keyboard players who died during the Grateful Dead's original lifespan between 1965 and 1995. A large man loudly advertises the hash brownies he is selling, neatly packaged in branded plastic containers. Another wanders through the crowds,carrying a mysterious box labelled "Take a gift". Jeremy, though, has a living to make. The day Jerry Garcia died, Wednesday August 9, 1995, he postponed thoughts of getting a job for a good 24 hours. The next day he found work at the University of Santa Cruz, but soon took to the road again, selling his tie-dyes at festivals through the summers, until it became harder and harder to survive the winters.Finally, he had an idea; America's only make-your own tie-dye store, A Brighter World. "Jeremy's one of the few who made it," says Karen. "Everybody had their little things – I crocheted crazy stuff – but he turned it into a business. People who can combine the hippy thing with a work ethic, they can find a really interesting way to live."
Jeremy claims he is mostly here to promote his business.After several hundred shows, though, a profound emotional attachment to the Dead remains, transcending his cynicism over the premise of Fare Thee Well, and his scepticism that the band can still be meaningful without Garcia. "I just hope they play like it's their last one, as opposed to going through the motions," he finally decides."It could be like going to someone's house for a home cooked meal but they got sick, so they ordered out. It's OK, but I hope it won't be like that…"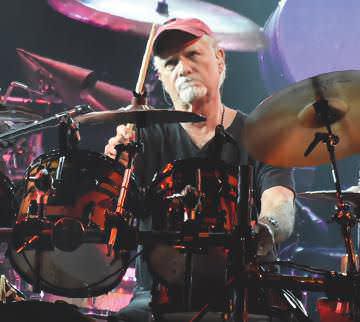 LAST MAY, BILL Kreutzmann published Deal, an autobiography of his time playing drums in the Grateful Dead. It's a pretty rough book, and one that doesn't add much to the accumulated weight of Dead scholarship, but it does encapsulate the band's mix of nebulous Aquarian idealism and frontier machismo: besides the drugs and the jams, the reckless use of firearms played a key role in the band's bonding rituals.
It is also a book that must have been submitted to the printers before Kreutzmann, Phil Lesh, Bob Weir and Mickey Hart decided to reactivate their band for this valedictory round of shows. At one point, Kreutzmann compares the Grateful Dead to an arch, that people would pass underneath en route to "a Utopian island where the gardens looked like amphitheatres, the mall looked like Shakedown Street and the houses were made out of tents".
"Jerry Garcia," Kreutzmann continues, "was the keystone of this magical arch. You take that out, and not only does the arch come tumbling down, crushing all who are stuck beneath, but also, it crushes the only road that leads to that Utopian dream."
Later he articulates, with a bluntness that is more typical of his prose, the suspicions of many Dead fans following the announcement of Fare Thee Well: "The Grateful Dead without Jerry Garcia would be like the Miles Davis Quintet without Miles Davis…It's a reenactment, nostalgia, mere bathos."
Kreutzmann's get-out clause, as the first Fare Thee Well show draws near, is made clear on the ticket: this is not technically a Grateful Dead concert. In the 20 years since Garcia died, the surviving members have intermittently reconfigured themselves in different permutations .The Other Ones, Furthur, The Dead – to keep the music alive, and, of course, to keep the bank accounts healthy. For these last five gigs, however, the band name is delicately obscured. "Remember, it's called 'Fare Thee Well, Celebrating 50 Years Of The Grateful Dead'," cautions the promoter Peter Shapiro, a couple of weeks before the show. "That's how we branded it.Jerry was the soul of the band – they all know that, we all know that – but we're gonna do it one more time."
The last time the "core four" came together was for a tour as The Dead, in 2009. "We've put the past behind us," Mickey Hart told Uncut then, referring to the tensions that had dogged inter-band relations since Garcia's death. "You can't play Grateful Dead music with someone you don't like." Kreutzmann, though, recalls in Deal that the 2009 tour turned out to be so fractious that it "spelled the end of the Dead". "The head trips," he remembers, "were so monstrous… You're doing it just to earn money and that's not good enough. It doesn't honour the music or the legacy."
Shapiro, a Deadhead with a long history of working with the band members individually, ruefully admits the business of reuniting the quartet involved "some good reverse ju-jitsu". Lesh, at 75 the oldest of the survivors, appears to have been pivotal to the process, reportedly refusing to countenance a full tour (rumours persist that Weir, Kreutzmann and Hart will head out, with John Mayer,for more dates later in the year). Since the shows were announced in January, every one of Shapiro's decisions has been critiqued by the fans, from his ticketing schemes to his choice of venues: Soldier Field in Chicago is where Garcia played his last concert, and Kreutzmann recalls waking the heroin-addicted guitarist from a doze in the middle of that decidedly non-vintage set.
You can read up to 3 premium stories before you subscribe to Magzter GOLD
Log in, if you are already a subscriber
Get unlimited access to thousands of curated premium stories, newspapers and 5,000+ magazines
READ THE ENTIRE ISSUE
September 2015