Kim Gordon: La Ghosts & Flowers
Uncut UK|November 2019
As KIM GORDON prepares to release No Home Record – her brilliant debut solo album – she takes stock of her consistently adventurous career so far. To discuss: her early days in New York's Downtown, cooking with Neil Young and the perils of gentrification. "Life is unexpected," she tells Tom Pinnock
I HAVE to show you this picture," says Kim Gordon, reaching for her phone. "Sorry! You'll probably regret bringing it up…"
Gordon finally finds the photo she's looking for on Instagram – a shot of her Cavalier King Charles spaniel, Syd Barrett, sitting nervously on a beanbag. "He's 11," she explains. "He's got an enlarged heart, which means he coughs a lot. Now I understand why people have support dogs."
Syd is back in Los Angeles, but his owner has flown to London, where she's meeting Uncut in the ornate, low-ceilinged library of an 18th-century Clerkenwell hotel to discuss the first solo album of her storied career. A brave mix of abstract guitar, grimy electronics and Gordon's impressionistic vocals, No Home Record playfully combines her long-standing interests in radical sound and art. While the music created by her former Sonic Youth cohorts in recent years has generally been reassuringly familiar, the nine songs on Gordon's LP are stunningly modern in their approach.
"It's funny, I can't really figure out where I fit into the contemporary landscape of music," says Gordon, sitting with excellent posture on the edge of a small grey settee. She's looking her usual stylish but slightly formal self, in a black leather jacket, light-coloured top and grey check trousers, with chunky silver sandals showing off pastel-yellow nail varnish. "I never professed to be a musician. I got into it being inspired by No Wave bands, so it's the only kind of record I could make. My friend, the poet Elaine Kahn, wrote my bio, and she said my music isn't something you listen to, as much as experience."
"When you make a solo album it's a different mindset," says Gordon's friend J Mascis. "The limitations of a band are not occurring. Kim was never technical or anything – she's a feel-oriented player."
"Kim has this incredible use of language and a playfulness to what she does," adds guitarist Steve Gunn, another friend and occasional collaborator. "I think she really utilised that with this record. She's developed her own syntax and style. And it's really her."
Fuelled by mineral water and biscuits, Gordon proves to be intelligent, warm and funny company, in direct contrast to her ice-cool image onstage and on camera. She speaks softly, and is often charmingly self-deprecating as she discusses cooking for Neil Young, the "voyeuristic" nature of Los Angeles, her early days in New York's Downtown and the creation of her new album. Her reserve makes sense, though: Gordon's main talents have always been for improvisation, channelling direct inspiration and following her instinct, in all realms of art, and the best way of developing those skills is by being able to listen and observe the world around you.
"I just intuitively felt my way through writing an recording," she explains of her new album. "In the back of my head I always wanted to make a weird jazz record, but I didn't really know how to go about that, and it didn't go that way! There was no blueprint – it was like, 'I'm just gonna do this, who cares?' It just happened."
AFTER decades on the East Coast, first in New York and then Massachusetts, in 2015 Kim Gordon moved back to Los Angeles, where she grew up. Sonic Youth were over, as was her marriage to bandmate Thurston Moore, but Gordon was working on new artwork, on music with her duo Body/Head and on a book, Girl In A Band. From that evocative memoir, one might get the impression that Gordon has a somewhat conflicted relationship with LA, and she agrees.
"It's a very sensuous environment in a certain way," she says. "I have these haunting memories from childhood of the scent of night-blooming jasmine, and of the ocean – to me, the Pacific Ocean is so beautiful, and I kind of carried that around with me when I was living on the East Coast. I like looking at the architecture in LA, too: there's the Tudor style, the ranch house with the wagon wheel on the fence, and then these giant stucco McMansions. It's a very voyeuristic city, very filmic. And it's a desert – everything you see green is pretty much fake. It's a strange environment. But I don't feel very healthy in LA. I don't think I eat as healthily as I used to – I'm surrounded by green juice places and yoga, and it makes me feel like that."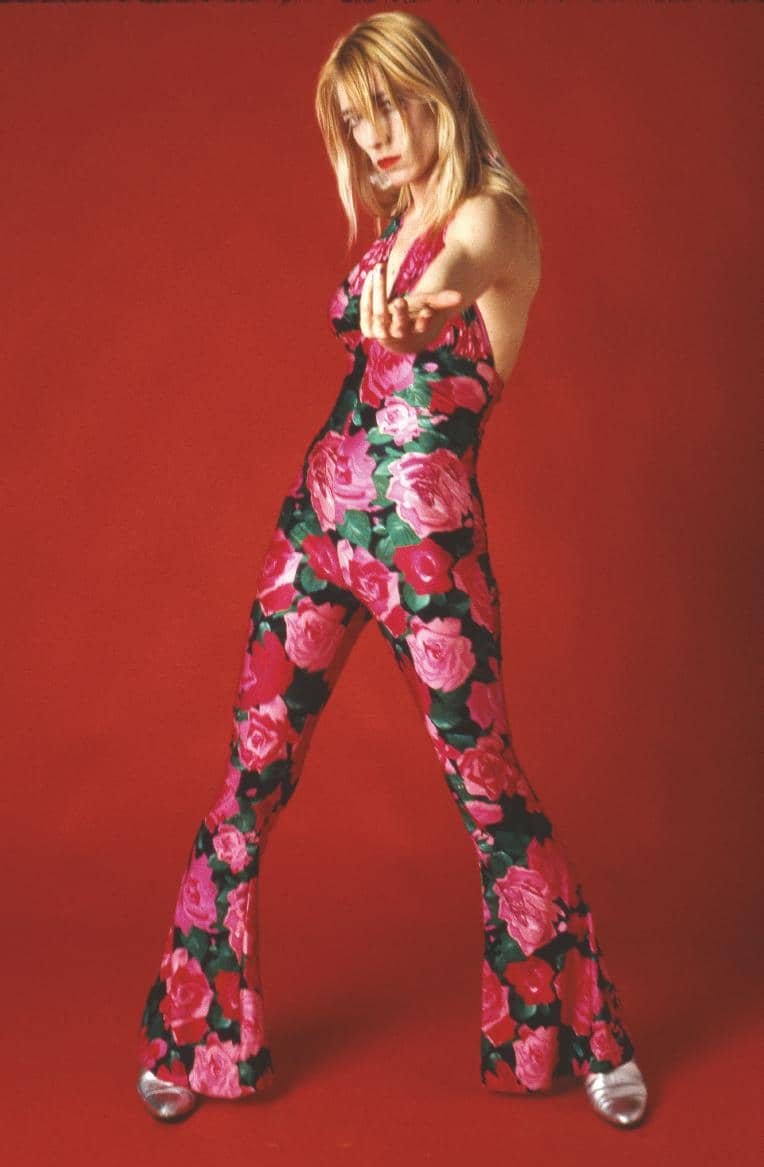 Gordon was brought up on the city's west side, where the mountains were seldom visible, but today she and Syd reside in a chic '30s house in the hillier Los Feliz area. "They used to call them the 'Red Hills' in the '50s, because architects like Rudolph Schindler built unconventional houses there. They were more bohemian, so they were called communists. But now it's all gentrified."
You can read upto 3 premium stories before you subscribe to Magzter GOLD
Log-in, if you are already a subscriber
Get unlimited access to thousands of curated premium stories and 5,000+ magazines
READ THE ENTIRE ISSUE
November 2019