Keith Richards: "I Ain't Retiring"
Further Rolling Stones obligations may loom, but for now the inimitable Keith Richards is focusing on his long-neglected solo career. Uncut has a chat with rocks most convivial wildman about Crosseyed Heart, fallen comrades, Dylan, retirement and, of course, the future of the Stones. "I love what I do, man," he says. "I'm a lucky son of a bitch!"
Reflecting on a career spanning 53 years, Keith Richards is trying to account for his extraordinary longevity. "We didn't just do it to get a few hit records and be famous and blah blah blah, 'cos sometimes that's a curse," he insists. "We're doing what we feel we're good at, and in order to be heard. I don't think there should be any time limit on that. I'm still growing up."
A conversation with Richards is peppered with similar such routines. a flash of insight undercut by a self deprecating punchline delivered with a throaty chuckle. although his sentences are liberally scattered with colloquialisms like "croak" – at one point, he describes himself as "a lucky son of a bitch" – nevertheless his warm,feline purr carries a faintly thespish quality. When talk turns to the home counties villages that incubated the British '60s blues boom, Richards' briefly adopts an unexpectedly genteel tone. "Epsom?" He says wistfully. "Oh, not far away. I know it very well. I used to drive through it on my way to Sussex."
Today, Richards is at home in Weston, Connecticut, in the house he and his wife Patti Hansen had built in 1990. At 71 he remains impressively busy. "I work like a dog," he tells Uncut. Most recently, the Stones finished their 15-date Zip Code Tour of North America to promote the reissue of Sticky Fingers. During our time together, Richards lets slip that the band will head out again in 2016. He even hopes that he can corral his bandmates back into the studio to begin work on new material "sometime early next year". In the meantime, he is getting ready for the Stones' EXHIBITIONISM retrospective which opens at the Saatchi gallery next April. "There's some incredibly interesting things that go along with The Rolling Stones, and it's not necessarily the members themselves," he explains.
Although it's been 10 years since the Stones released a new studio album, Richards has nevertheless found time to work on one of his own. His first solo record since Main Offender in 1992, Crosseyed Heart is a steady mix of blues, rock'n'roll and country, with Richards' co-conspirators led by Steve Jordan, his old friend from The X-pensive Winos, with walk-on parts for the late Bobby Keys, Aaron Neville, Spooner Oldham and Larry Campbell. The LP sessions figure in a new Netflix doc, Keith Richards: Under The Influence. Richards plays nine instruments on the record, including a Wurlitzer and an electric sitar. It is, perhaps, proof that, despite his formidable reputation, Richards remains the model of a disciplined working musician.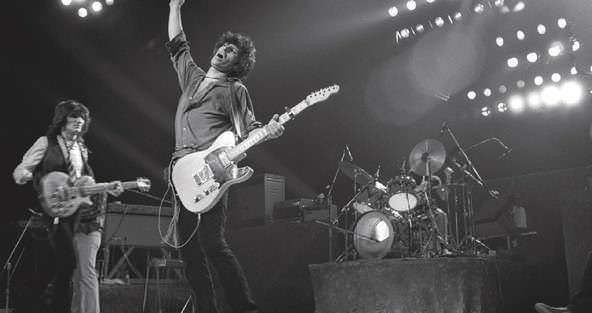 UNCUT: It's been 23 years since your last solo record. What took you so long?
KEITH RICHARDS: I don't know! I've only ever done solo stuff when the Stones go into one of their long hibernations. I suppose I started this one off a couple of years ago, because there was another long hibernation. I'd just finished the book, and done all that thing, and I realised I hadn't been in the studio for four or five years. I bumped into Steve Jordan, he said, "I've got a good room, a studio round the corner." He said to me, "How did you record 'Street-Fighting Man' and 'Jumping Jack Flash'?" I said, "I was in the studio with Charlie Watts. In other words, just the drummer." He said, "Well, there's nobody else around, why don't we try it on again?" So it kinda started like that.
There's 13 original songs on the album. What conditions improve your songwriting?
I don't know, I've never thought about improvement. It's weird, I've written some of my best songs when I was barely there. I was just scratching the surface. But writing is a strange thing. Once you start writing songs, it turns you into an observer of other people. You listen more to what is being said, phrases.You pick 'em up, so without even meaning to suddenly everything somebody says is a potential song.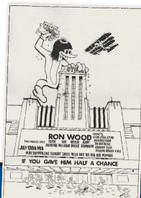 Do you carry notebooks with you?
No, I have bits of paper, man, that are all over the house. The wife keeps continually saying, "Do you want to keep this?" Usually, what I've found with meself, is that if I remember it, then it's worth keeping. There's a few things I jot down, but a lot of it is remembering one phrase somebody said over there and another phrase somebody said across the room. They're totally unconnected, except I can see a connection. I observe.
How often do you write?
You can read up to 3 premium stories before you subscribe to Magzter GOLD
Log in, if you are already a subscriber
Get unlimited access to thousands of curated premium stories, newspapers and 5,000+ magazines
READ THE ENTIRE ISSUE
October 2015