'How High's The Water, Bob?'
Fifty years ago, BOB DYLAN and JOHNNY CASH holed up for two days in Columbia's fabled Studio A in Nashville. The sessions, never officially released until now, caught these two titans of American music at pivotal moments in their respective careers. With the release of Travelin' Thru, 1967 – 1969: The Bootleg Series Vol 15, the full story of this legendary summit can finally be told. Graeme Thomson examines the latest revelations from the Dylan archives, hearing tales of velvet suits, trips to the circus and nocturnal shenanigans at the Black Poodle in Printer's Alley. "There was an incredible electricity," says one eyewitness.
IT is May 1, 1969, and Bob Dylan is launching his new album, Nashville Skyline, with a taped appearance on the inaugural episode of The Johnny Cash Show. He hasn't appeared on American television since The Steve Allen Show in February 1964. The five years that have since passed resemble a compressed lifetime in which Dylan has morphed from folk prince to generational spokesman; from Judas rocker to enigmatic recluse. Later this year, Rolling Stone will describe him as "the most secretive and elusive person in the entire rock and roll substructure".
On The Johnny Cash Show, he emerges from a period of hibernation as an amiable country crooner, singing simple songs of heart and homestead in a mellifluous voice a million miles from the accusatory snarl of old. The show is taped at the Ryman Auditorium, home of the Grand Ole Opry and epicenter of the country music establishment. Also appearing are Joni Mitchell and 'The Ragin' Cajun', fiddler Doug Kershaw, as well as Fanny Flagg, a comedienne telling risqué jokes in a flurry of pink chiffon. Cash is a friend and recent collaborator, yet when Dylan arrives for the taping in the afternoon he is riddled with anxiety.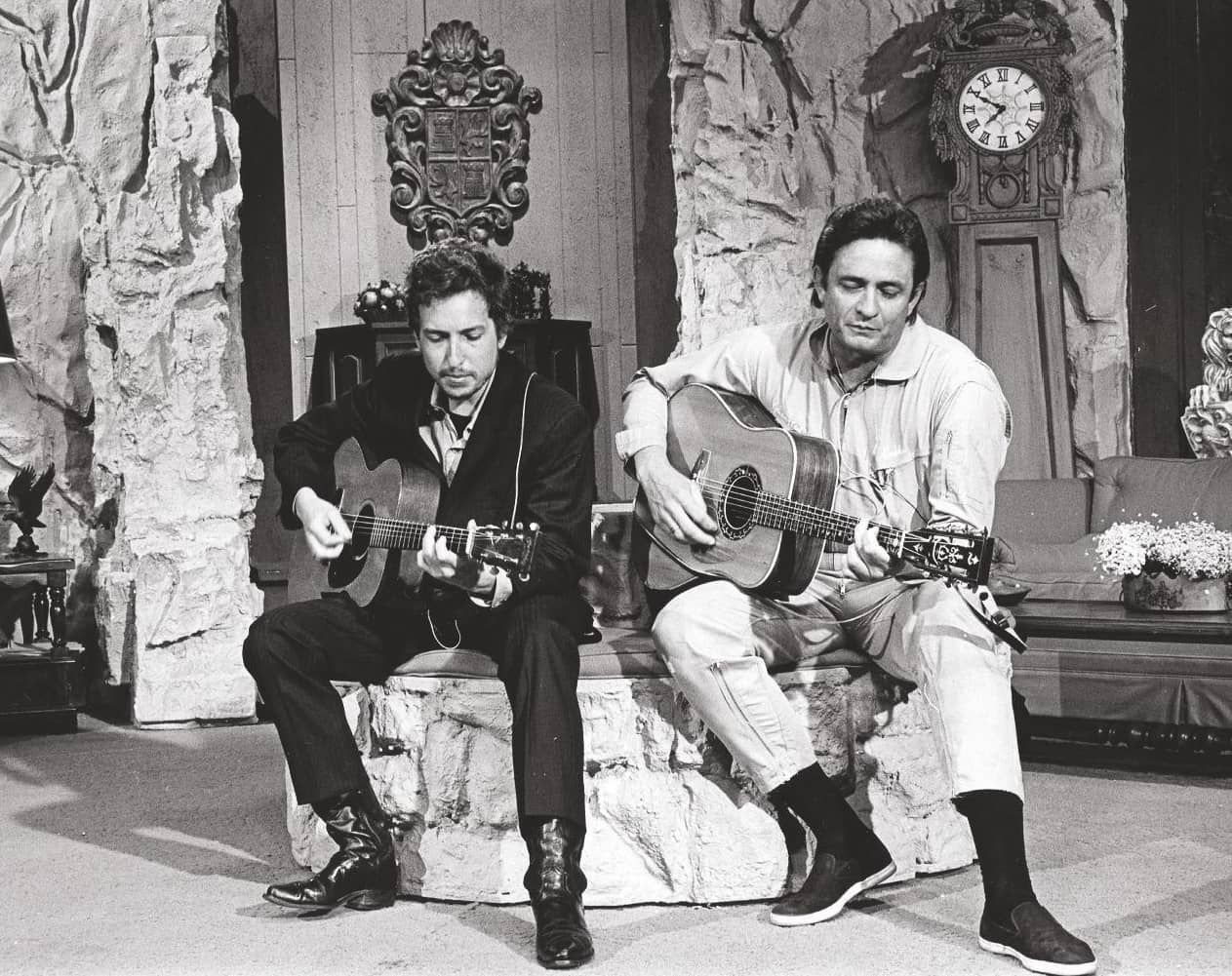 "He was very nervous," Doug Kershaw recalls. "I had on a velvet suit, and he asked if I had any more. I said yes. Actually, I had a whole wardrobe. He wanted to see them. He came to my hotel room before the show, and he was trying on every one of my velvet suits. He thought he was underdressed, he just didn't feel right. Eventually, I said, 'You know what? Why don't you be Bob Dylan and I'll be Doug Kershaw.' 'How come, Diggy?' He always called me Diggy. I said, 'You look great just how you are.' He's Bob Dylan! I was trying to make an impression; he really didn't have to. So that's how he went on – just like himself."
Dylan has presented many versions of himself to the public over the years, but the one we hear on Travelin' Thru, Volume 15 of his monumental Bootleg Series, can perhaps lay claim to being the least mannered. The three-disc boxset covers outtakes and rarities from the music Dylan recorded in Nashville between October 1967 and May 1969, encompassing two albums – John Wesley Harding and Nashville Skyline – as well as a two-day recording marathon with Johnny Cash. In both quantity and symbolic weight, the latter tracks form the heart of the set.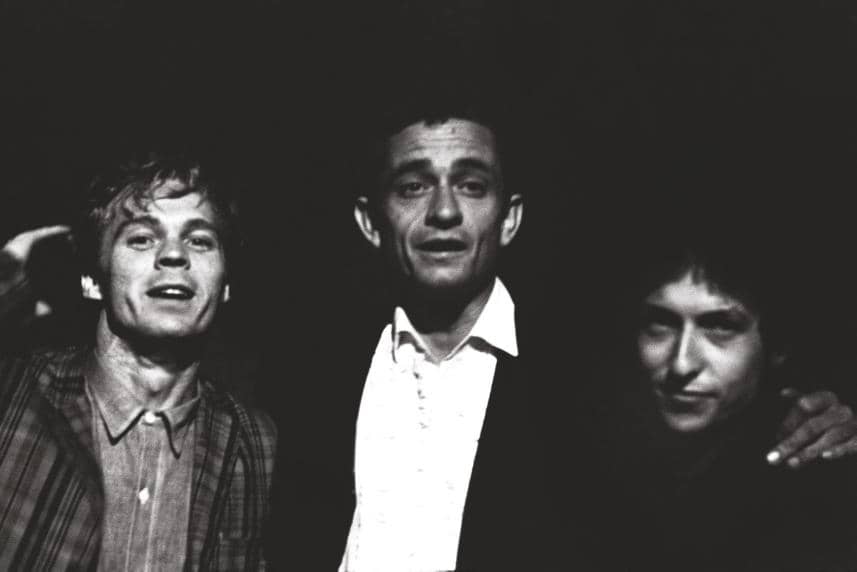 Received wisdom tends to cast Dylan in this period as a conservative artist, drawn to simplicity, playing well within himself. Travelin' Thru reveals a tale far more complex and colorful. It makes clear the extent to which Dylan's Nashville foray reframed him. It gave him a mainstream pop profile while freeing him from his past and distancing him from the tumult of the present. It offered another way to confound and confuse expectations without driving himself to dangerous extremes. It sealed a historically meaningful friendship with Cash and reconnected him to the passions and mysteries of his youth. It also shows more flights of fancy and eccentric twists and turns than the previously released material from this period might suggest.
Less familiar are the frequent moments of playfulness, the sheer uncomplicated joy on display. Included on Travelin' Thru are the three songs Dylan performed on The Johnny Cash Show. Looking young and handsome in a plain suit and open-necked shirt, he plays two songs by himself – the plaintive "I Threw It All Away" and easy rocking "Living The Blues" – before he and Cash sit down together for an acoustic duet on his 1963 ballad "Girl From The North Country". Smiling and crooning on a set cursorily decked out to resemble a ranch house, Dylan seems remarkably at home. Being himself appears to suit him.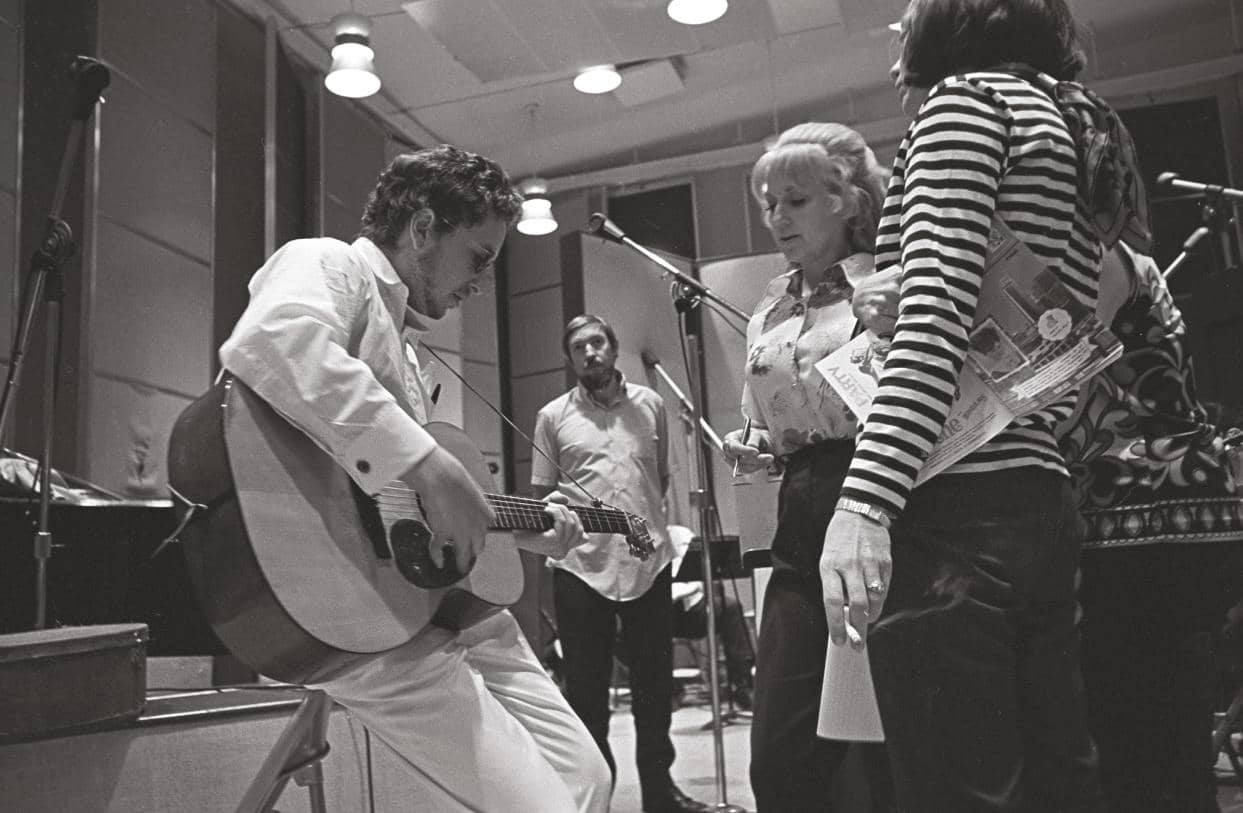 "You know, it wasn't anything that we thought was strange, Dylan being in Nashville," insists Cash's drummer, WS "Fluke" Holland. "We were happy for him to be there; it made a kind of sense. If you think about types of music – country, rockabilly, rock'n'roll, blues, whatever – I don't really know what you'd call the type of music that Bob was doing. It was always something different, but always him."
DYLAN'S decision to use Nashville as the center of his recording operation in the late '60s was primarily influenced by two people: his producer, Bob Johnston, and Johnny Cash. The former was a Texan songwriter, producer and label executive who also guided Cash and Leonard Cohen during that period. "Bob Johnston was an interesting cat," Dylan wrote in Chronicles. "He had fire in his eyes. He had that thing that some people call 'momentum'."
As for Cash, Dylan had adored him since he'd first heard "I Walk The Line" in 1957. "[It] sounded like a voice from the middle of the earth," he later wrote. "It was so powerful and moving. It was profound… deep and rich, awesome and mysterious all at once."
Cash, meanwhile, was an early adopter of Dylan. As soon as he'd heard The Freewheelin' Bob Dylan in 1963, he sent its creator a congratulatory note, sparking a correspondence that continued until Cash's death in 2003. In a typically audacious show of approval, he promptly appropriated the structure of Dylan's "Don't Think Twice, It's All Right" on his brilliant, swaggering, dubiously primal single, "Understand Your Man".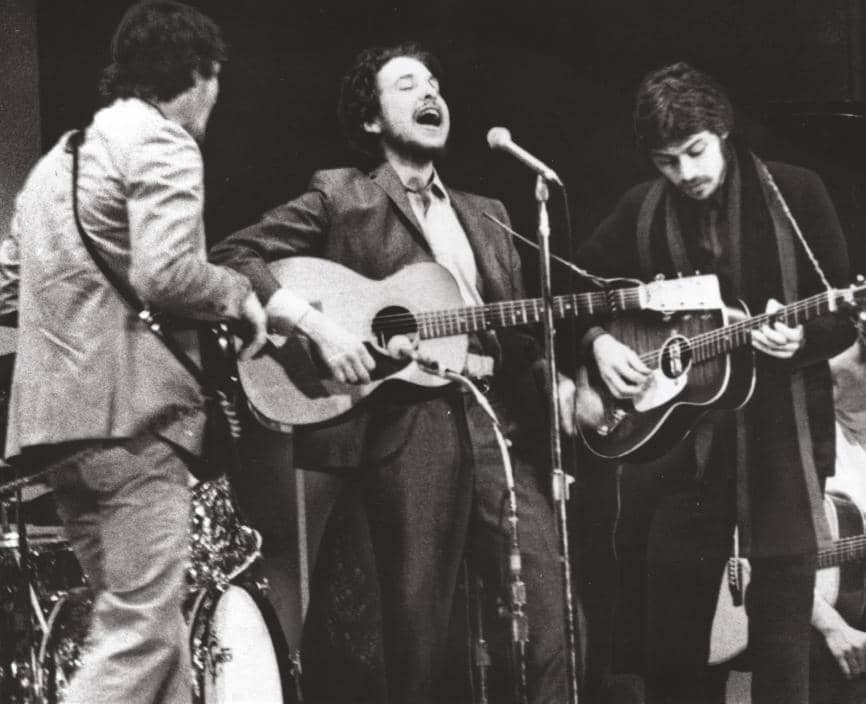 The pair first met shortly afterward, at the 1964 Newport Folk Festival. Cash played to the folk cognoscenti and Dylan gave him the recently written "Mama, You Been On My Mind" and also "It Ain't Me Babe", both of which Cash recorded on his 1965 album Orange Blossom Special. "Johnny and I would talk a lot about the fact that music is not a competition or a contest," says Doug Kershaw. "He was wide open. He didn't judge. If he liked something, he didn't mind admitting it, and he loved Bob Dylan. Both of them were storytellers – the best."
A year later, on May 11, 1966, filmmaker DA Pennebaker captured the two men – both seriously fried – playing Cash's "I Still Miss Someone" backstage at Cardiff's Capitol Theatre. A little over two months further down the line, Dylan had his motorcycle accident in Woodstock. He cleared his diary and laid low in the Catskills. The spring and summer of 1967 were spent making music with The Band in Woodstock. Among the torrent of covers and originals they recorded were three songs by Cash, including "Big River" and "Folsom Prison Blues", tracks he revisited during the Nashville sessions.
If Dylan had come a long way in a few years, then Cash's music had clearly traveled with him. Cash was adaptable, an emblem of old and new America, both rebel and traditionalist. His songs were plain-spoken yet tapped into poetry, allegory, and myth, ever-present aspects in Dylan's own writing, which he was now striving to present in a more concise way. "What I'm trying to do now is not use too many words," Dylan said. "There's no line you can stick your finger through. There's no blank filler."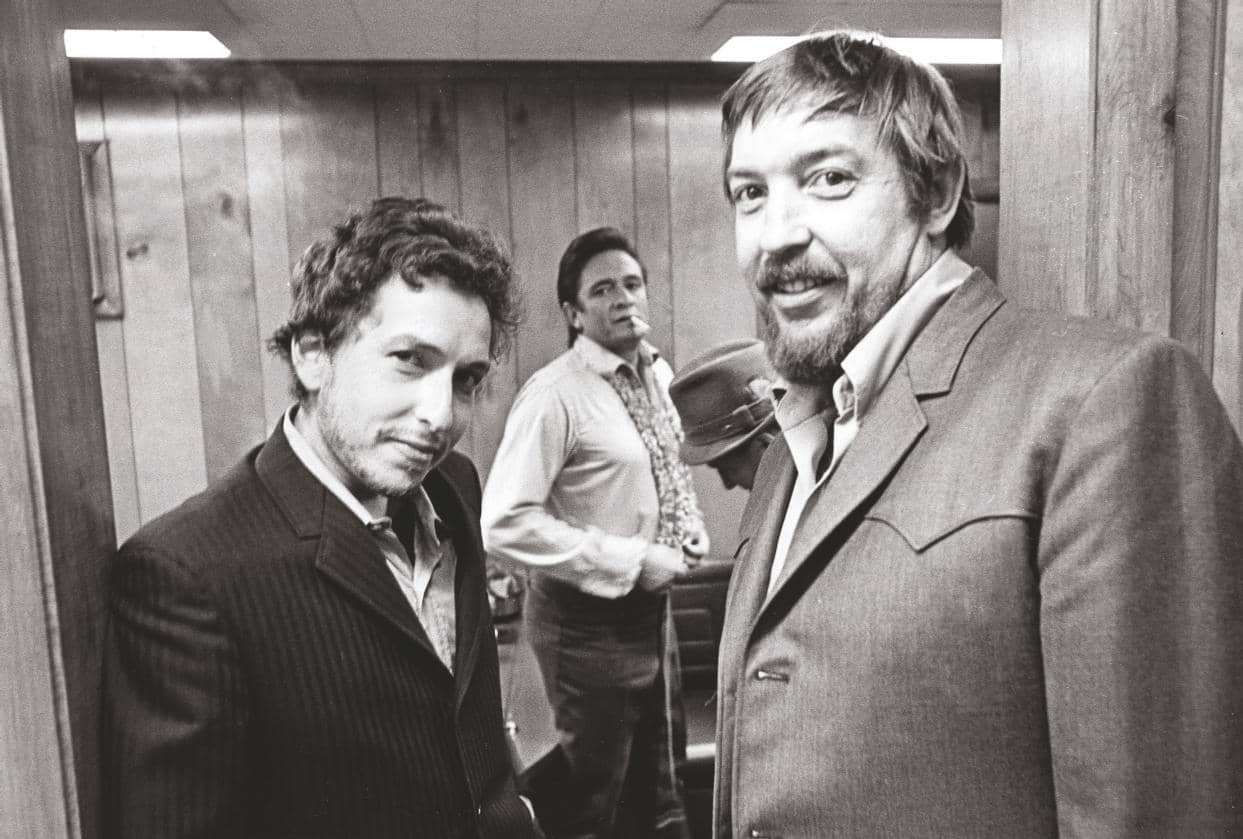 Cash lived just outside Nashville and had been recording there since he left Sun for Columbia in 1958. As their bond grew, he had invited Dylan and his family to stay with him at his house in Old Hickory Lake, Hendersonville. "John was trying to lure Dylan down to Nashville, to be part of that whole scene," says Bob Elfstrom, Cash's friend, and director of the exemplary 1969 documentary, Johnny Cash! The Man, World, His Music. "He even wanted Dylan to live near him out in Hendersonville. I remember him talking about that. They had extraordinary respect for one another, it was something I heard John and [his wife] June commenting on."
Dylan was no stranger to Music City. Although Highway 61 Revisited was a New York record, at the behest of Johnston he had recorded "Desolation Row" in Nashville, with multi-instrumentalist Charlie McCoy adding improvised acoustic guitar accompaniment. "I didn't even know I was playing!" says McCoy. "I thought I was going over to meet him, and he said, 'Oh, why don't you grab that guitar and play along?'"
Blonde On Blonde had been completed in Nashville, using a potent mixture of New York rock players and Nashville session men. "Blonde On Blonde was like a marathon," says McCoy. "I don't know how many hours we spent in the studio recording that album. In Nashville, we weren't used to that. The normal sessions here were very efficient and very short. He comes in with a 14-minute ballad at four in the morning, and everyone is trying to stay awake."
Crucially, the next time Dylan came to town to record, he was willing to bend to the Nashville method: fast, organized sessions, cutting songs that were already finished. His life and mood had also altered. "Bob's sounds and Bob's songs had changed," The Band's tour manager during that time, Jonathan Taplin, tells Uncut. "When they were on the road in '66, it was very brash. With John Wesley Harding and Nashville Skyline, it's very different. It's not angry or accusatory. He was in a loving marriage, there were kids running around. The idea of domesticity and having children was part of it, rather than being an asshole rock musician with your shirt open."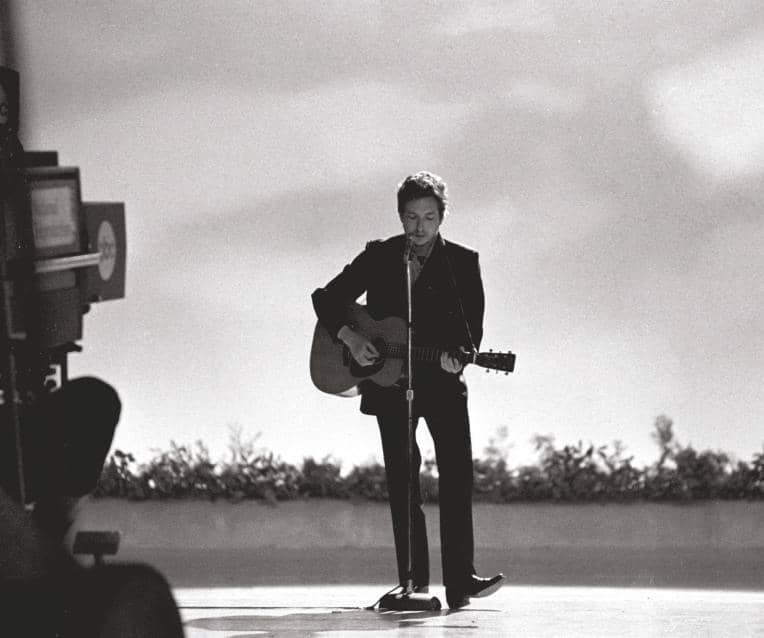 IN October 1967, Dylan took a train from New York to Nashville. He booked into the Ramada Inn and played Bob Johnston his new compositions. Comprising simple, dream-like fables, weird frontier songs, folk ballads and parables scored with religious imagery, they were seemingly disconnected from anything Dylan had done previously. He unveiled none of them during the Basement Tapes sessions.
You can read up to 3 premium stories before you subscribe to Magzter GOLD
Log in, if you are already a subscriber
Get unlimited access to thousands of curated premium stories, newspapers and 5,000+ magazines
READ THE ENTIRE ISSUE
December 2019