Black Sabbath Metal Trailblazers Look Back
RollingStone India|February 2016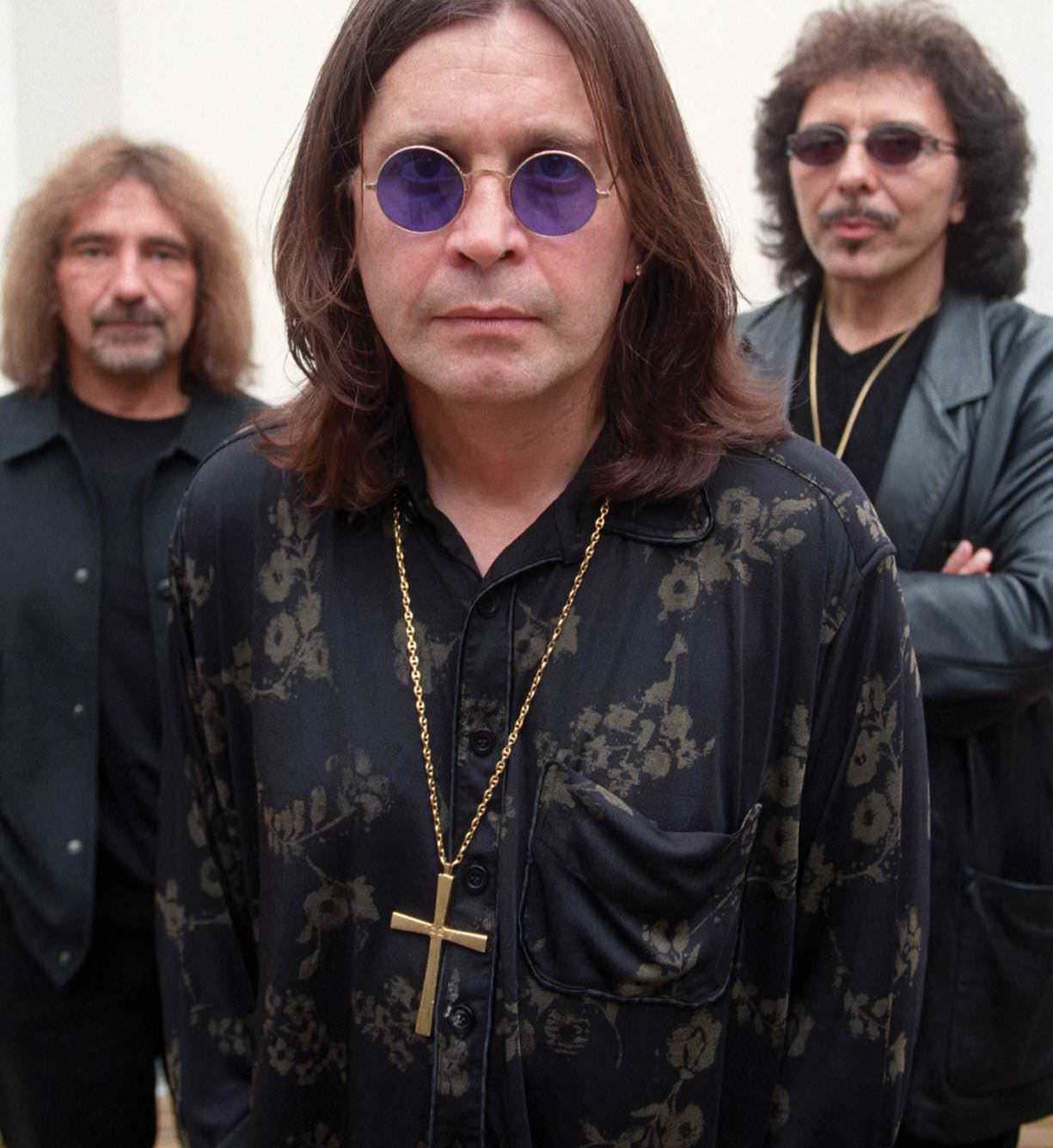 TONY IOMMI AND GEEZER BUTLER RECALL THE RISE AND FALL OF THE FIRST AND GREATEST INCARNATION OF HEAVY METAL'S ORIGINATORS, THEIR CULT FAVORITES, MEGAHITS AND ALL.
It's rare that a band emerges and, with one inspired release, simultaneously launches and perfects a genre of music. Such is the singular case of Black Sabbath. Their 1970 self-titled debut, which celebrated its 45th anniversary in 2015, took the heavy blues and hard rock idioms that came before and infused them with anthemic tritone riffs, doom-laden drum tempos, maniacal vocals and diabolical lyrics. Black Sabbath's pioneering sound would later be christened heavy metal, and in many people's minds that album still reigns supreme as the best representation of the genre. Many influential bands in their own right have come along and made contributions to heavy music, but all of them—from Judas Priest and Van Halen to Metallica and Soundgarden—hail the supremacy of Black Sabbath. However, when Black Sabbath was released, the band members—singer Ozzy Osbourne, guitarist Tony Iommi, bassist Geezer Butler and drummer Bill Ward—were just a bunch of working-class kids from England's industrial north with modest aspirations of playing original music and getting paid enough money to buy fuel to get to their next gig. "We were four kids from Aston in Birmingham that had a fairy-tale dream," Osbourne says over the phone from his home in Beverly Hills. "With all the rip-offs and everything that went on, we still climbed higher than any of us could have dreamed, and our lives were forever changed."Over the eight years the original lineup recorded together, the band released just as many records, each of which further elevated Black Sabbath's godhead status through songs like "Iron Man," "Sabbath Bloody Sabbath," "Paranoid" and "War Pigs." While Black Sabbath have survived in different permutations up until this day (with Tony Iommi being the only consistent member), the founding lineup disbanded after 1978's Never Say Die! Osbourne went on to enjoy an almost equally influential solo career, while Iommi and company continued to achieve great success in Sabbath with a string of singers that included Ronnie James Dio, Ian Gillan and Tony Martin.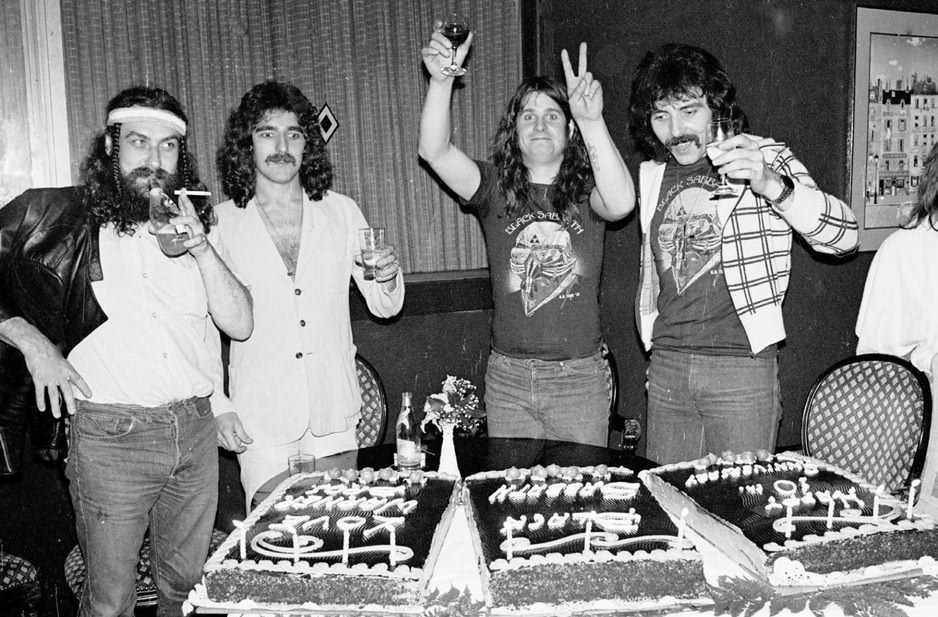 The band (along with former drummer Tim Ward; far left), drinking, with tenth anniversary cakes.
Osbourne eventually returned to the Sabbath lineup in the late Nineties for the Ozzfest package tour, but it took until 2013 for them to release a new studio album, 13. Upon its release, the record—which featured all of the original members except Ward, who was absent due to contractual disputes—shot to the top of both the U.S. and U.K. charts and went on to earn the band a Grammy for the lead single, "God Is Dead?" 13's success was amazing, considering that the last time Ozzy, Geezer and Tony collaborated, Jimmy Carter was president of the United States. But it's even more astonishing because Iommi was battling lymphoma throughout the process. (The guitarist's cancer is currently in remission.) Upon the album's release, Black Sabbath launched a successful world tour, which culminated on July 4th, 2014 with a special day-long festival in London's Hyde Park, featuring Soundgarden, Faith No More and Motörhead, among others.
"We had no roadies. I used to carry the lightest stuff. And Tony would carry the heaviest, because he was the strongest." - Butler
To celebrate the 45th anniversary of the group's debut album, Brad Angle looks back at Black Sabbath's storied career and celebrating 30 classic songs that helped to make the original line up the most influential heavy metal band of all time. We sat down with Tony and Geezer to discuss the tales behind some of Sabbath's megahits and cult favorites from those first eight records—from Black Sabbath to Never Say Die!
Black Sabbath recently finished a world tour where you headlined huge stadiums and festivals. That's a far cry from how you all started out back in Birmingham, hauling your own gear and playing small clubs.
GEEZER BUTLER: Yeah, Tony used to drive us, because he was the only one able to drive. We would drive around in his old Commer van, which didn't have the floor in the passenger side. [laughs] And there were no seats in the back, so you'd have to sit on the amps.
TONY IOMMI: It was terrible! [laughs] It was an old police van, and the suspension had gone on the front, and there was that big hole in the passenger side. We used to put a piece of carpet over it. We knew, but if anyone got in that didn't know, they'd go straight through the floor.
BUTLER: We had no roadies. I used to carry the lightest stuff. And Tony would carry the heaviest, because he was the strongest.
HIGH TIMES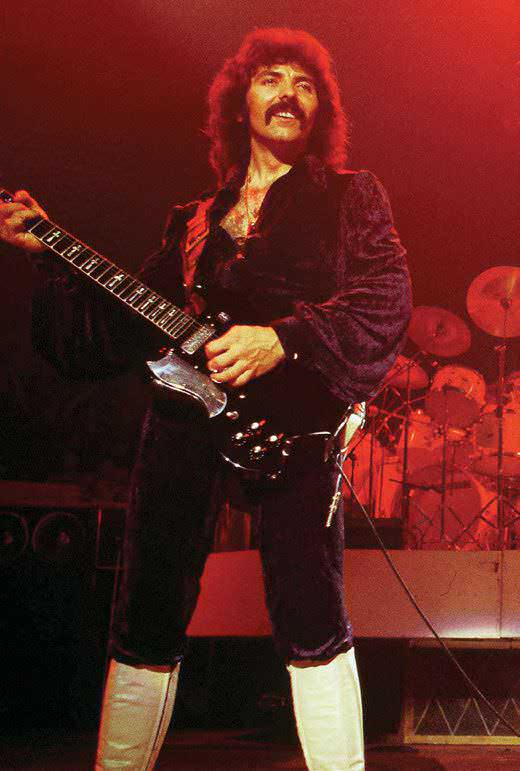 (1) Tony Iommi at a Black Sabbath concert in Madison Square Garden.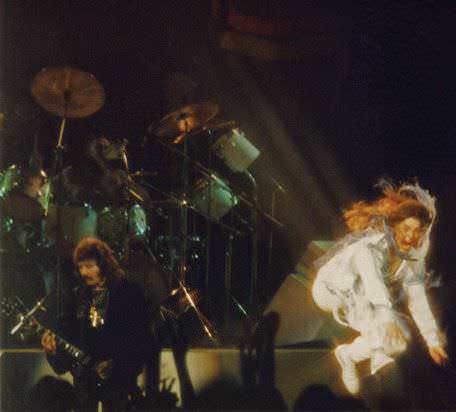 (2) Ozzy Osbourne (right) does his trademark 'leap' while performing on stage on the 'Never Say Die' tour in London, 1978.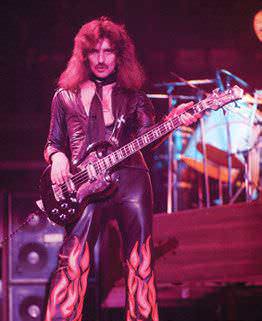 (3) Geezer Butler live on stage.
IOMMI: But it was great and it molded us together. We worked as a team to get through the situations we were in with that old van breaking down. We'd have to push it. It was a bloodynightmare, because we didn't have any money to get things done.
BUTLER: We would get paid only enough to buy the petrol.
IOMMI: And sometimes we'd have enough left over to buy some chips [fries] or something. That was about it. But we did it because we liked it, certainly not for the financials. Because we didn't have anything.
Back in those days, bands often had to cover the popular chart hits to get a gig. Was that your experience as well?
BUTLER: That's how we started out, doing lots of blues and even soul stuff like Sam & Dave and [Otis] Redding.
IOMMI: We had to play that stuff to get certain gigs. They would be like, "Well, you do play dance stuff, don't you?" And we're looking at each other like, "Suuure." [laughs]
BUTLER: So we were playing mostly blues and soul covers, and it wasn't until Tony came back from Jethro Tull that we realized we had to start looking at it like a professional thing and really dedicate ourselves to it rather than just turning up and playing. [In 1968, Iommi briefly left Black Sabbath, who were called Earth at the time, to play guitar in Jethro Tull.] We realized you had to write your own music, and that was the best thing that happened to us.
Were audiences shocked when you started working originals into your set?
BUTLER: I always remember the first time we played the song "Black Sabbath." It was in a place called Litchfields. We'd played there quite a few times and people just got used to us. People would be sitting at the bar and we'd just be the music in the background. We were like, "Should we do that song we wrote?" And everyone's like, "Yeah, why not." So we did it, and everyone in the bar stopped and turned like, "What the fuck is this?" It went down incredibly well. That's how we knew we were onto the right thing.
The term heavy metal has become synonymous with Black Sabbath, but at the time it wasn't really part of the vernacular. Do you remember the first time you heard the term applied to your band?
IOMMI: I remember somebody from [UK music publication] Melody Maker or something said, "Oh, you're playing that heavy metal." And I said, "Heavy metal? What's that?" That was the first time I heard it, because up until then we'd always just thought of ourselves as a heavy rock band.
How did you capture your ideas back in those early days? Did you have a recording device, or were you writing stuff out after each practice?
IOMMI: No, we didn't have any recorders.
BUTLER: We just had to remember everything that we did.
You can read up to 3 premium stories before you subscribe to Magzter GOLD
Log in, if you are already a subscriber
Get unlimited access to thousands of curated premium stories and 5,000+ magazines
READ THE ENTIRE ISSUE
February 2016