8 Fresh New Faces Of Hindi Cinema
RollingStone India
|
August 2019
From bit roles in movies to lead parts in web series, these actors are demanding our attention
A STAR IS BORN
Siddhant Chaturvedi
It's been years since an unknown face broke into the Hindi film industry and grabbed it by the collars like he has
GREEN TEA.
He prefers green tea. This is my third time interviewing​ Siddhant Chaturvedi and while he still remains sort of an enigma, there are some things about him that I know for certain—he likes green tea, he's a man with a mission and he's not here to play around.
"What do I even ask you? I interviewed you a month ago!" I say when I meet him at the KWAN office in Andheri. He's more relaxed this time around and his greeting is warmer. We hug as his manager requests me to wrap up the interview in 25 minutes (she's kind enough to give me 40) and we sit down on a sprawling beige couch.
"I don't have many questions. Is there something you want to tell me?" I say once we begin the interview.
"Something that's happened in the one month since you interviewed me last is that there's been a constant struggle to not be associated with my (Gully Boy) character (MC Sher). I'm done and I want to move on to my next character," he says immediately.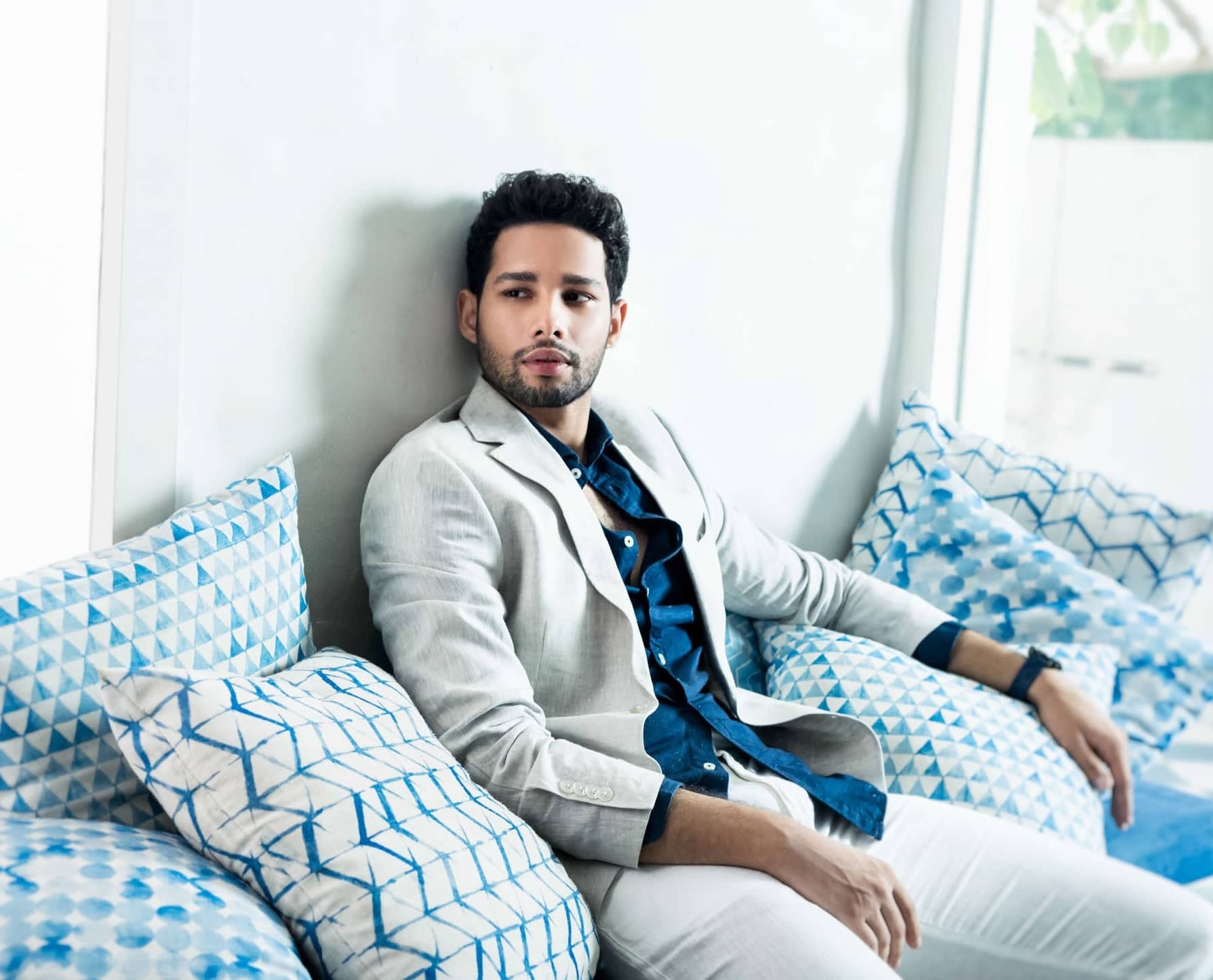 He's pretty excited about his next character but also very tight-lipped about it. The film is being produced by one of the biggest production houses in the country. "It's one of the top three production houses in the country and it's not Excel. There you go," he says when I push him to give me some more details. Is it Dharma or Yash Raj? He doesn't say but gives me an exclusive—it'll most likely release next May. It's also going to be a dramedy which means it could be either of the two production houses that have been listed above.
"I'll be playing various characters in the film—it won't be just one character. There'll be so much to do. Every character has a different voice and a different look. I'm very excited about it. I've heard over fifty scripts by now and I've finally closed down on this. Then, there's the action film that'll take a toll on my body. I'll have to push myself because the bar has been set by Tiger (Shroff), Vidyut (Jammwal) and Akshay Kumar. I have to bring in something new and cooler," he says.
He's also a little nervous about this action film, he admits. "I tore my ligament four months ago, yaar."
The first time I interviewed Chaturvedi, he was about 30 minutes late. During the course of that first interview, I remember asking him the one character trait he is most proud of. "Punctuality," he had said with a laugh. "I'm always punctual but today there was a lot of traffic."
This time around, he's there before I reach.
He's hopeful that he'll have two releases next year and has almost locked down on a third one which is a comedy. I remember him telling me earlier that he wasn't too pleased with the scripts he was being offered. They were either in the same vein as Gully Boy or had characters that he didn't want to essay at this point in his career.
"Now, I'm playing on my strengths like dance, comedy and action. I'm not going to go into the experimental zone or doing something very niche. I don't want to do that right now. The short-term goal for me is to gather an audience. Hit the masses, so to speak. As a hero. That's the aim and the goal. I've heard some great scripts but there are roles I don't want to do right now. There were roles that I'll likely be interested in after three years, once I have an audience," Chaturvedi says.
I think this is a smart move and I tell him that. I'm reminded of Imran Khan, all of a sudden. Khan had burst on to the scene in 2008 with Jaane Tu... Ya Jaane Na at the same time that Ranbir Kapoor made his debut with Saawariya. While the former was pegged as the next big thing in Bollywood, Kapoor was sort of ignored. However, Khan most likely didn't want to go with the chocolate boy image that the media had bestowed on him. He did Kidnap in 2008 which was a dud and Luck in 2009 wasn't great either. Chaturvedi could learn something from Khan's decisions.
"I come from the masses. I have watched a lot of good films that had good concepts but the problem is that I watched them on my television or my laptop. I haven't exactly gone to watch them in the theatres. There was a film called Court and I watched in on Netflix. I was like yeh itni acchi film hai yaar, maine kaise isse theatre mai nahi dekhi," Chaturvedi says.
Of course, he wants to change the way we look at cinema but he's making the decision to build himself up first. "I want to hit the equilibrium between entertainment and concept."
Massy. Entertaining. Eventful.
These are the kinds of films he's looking for. Producers and directors, take note.
"It has to have a great concept like Badhaai Ho. Ayushmann (Khurrana) chooses great films like Article 15. It's either that or a film like War where there's Tiger (Shroff) versus Hrithik (Roshan)."
You can read up to 3 premium stories before you subscribe to Magzter GOLD
Log in, if you are already a subscriber
Get unlimited access to thousands of curated premium stories, newspapers and 5,000+ magazines
READ THE ENTIRE ISSUE
August 2019