Rihanna: Pop's Biggest Rebel
Rihanna is more than a superstar. She's the ultimate icon of the digital age. She's had more Number One singles in 10 years than Madonna has managed in three decades, and she's now the First Lady of the new free NME. Peter Robinson went to LA to hang out with pop's biggest rebel.
SHE'S THE FIRST artist to shift 100m digital singles; Vogue calls her the world's most exciting fashion muse; in music, her varied collaborators are an A-list dream team, from Drake, Paul McCartney and Coldplay to Eminem, Kanye and Nicki Minaj. Rihanna is, therefore, a person who can afford to run to her own schedule. It's approaching midnight when she sits down with NME in the low-lit upstairs room of an LA photo studio.
It's been a long day. We first meet during the afternoon, and while it's hard to predict how a Rihanna greeting might unfold, NME isn't quite prepared for the breezy stride into the room, the smiley.
"Hi!", the hug and the high five. "I'm off!" she then declares grandly, waving her arm around her head, "to transform!"
She disappears into the room next door. At another shoot down the corridor Will Ferrell comes and goes, but not before popping in to say hi to Rihanna.
When Rihanna reappears, she does so with a melodramatic, pre-emptive cry of "Finally!", but it's fine: waiting a few hours is fine for Rihanna.
Between 2005 and 2012 Rihanna released or re-released at least one album a year, every year. Then in 2013 something strange happened: no Rihanna album. But at least it's finished, right?
"It's not done!" Rihanna chortles. By now she's curled up on a sofa and draped in an oversized green bomber jacket. "To me it's never done until it's done. Until the final moment."
So her eighth album proper doesn't yet have a tracklisting ("I have so many songs I love – and they're so different – that it's hard to actually put them all on the same album").
And there's no title yet – Rihanna's whittled it down to two, but acknowledges that fans will probably always call it 'R8', the name they've given it in the absence of concrete information. "No matter what I post online, within three comments there's somebody saying, 'Where is 'R8'?'" She cackles. "I could post anything. Nothing else matters. They don't care about anything but that."
The problem here, NME proposes, is that 50m Twitter followers are on a hair-trigger waiting for an album,"I know!" she laughs. She seems to be enjoying this a little too much for NME's liking."But it makes me excited, because I can't wait to give them something great."
It's not just Rihanna's schedule that needs to accommodate the project's completion: earlier this year Kanye West announced he was exec producing the album, and tonight Rihanna confirms the continued involvement of the potential President Of The United States. "Kanye definitely wanted to be involved in making the album," she explains. "So he did start helping me make it. Now we just have to wait to get back in the studio together. His schedule and mine are totally opposite right now, but I think this month we'll be back in the studio."
With pop culture moving faster than ever, it might seem hazardous to leave such a gap between major releases. But Rihanna's career is peppered with moments that others may have considered risky, so NME asks her to consider her need to take risks when so many of her peers seem to succeed by playing safe. "I take risks because I get bored," she shrugs. "And I get bored very easily."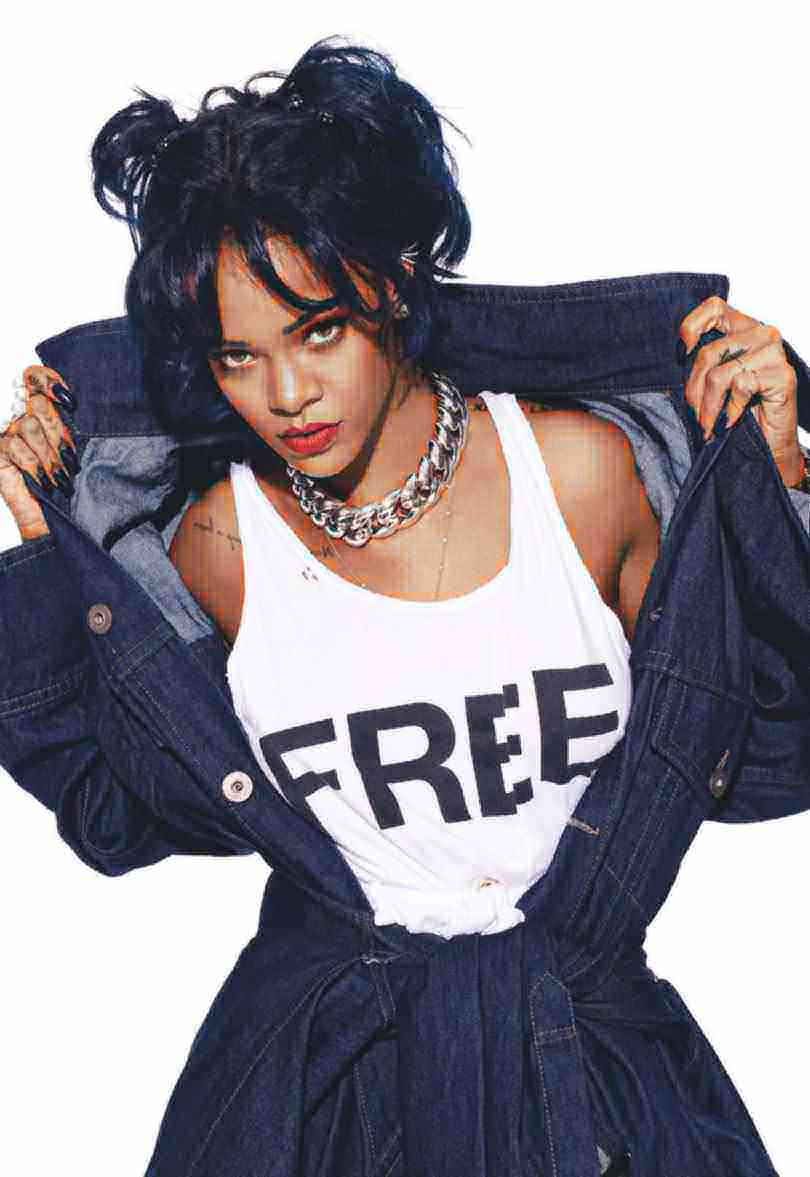 She tells the story of when she and her best girlfriend were 11-year-old army cadets, growing up in Barbados. "We'd have to give trouble in order to enjoy this discipline we were getting," she remembers. "And we'd refuse to do push-ups when we were punished. It was a question of: why just do it? It was so boring to follow the rules."
You can read up to 3 premium stories before you subscribe to Magzter GOLD
Log in, if you are already a subscriber
Get unlimited access to thousands of curated premium stories, newspapers and 5,000+ magazines
READ THE ENTIRE ISSUE
September 18 2015