Rita Ora: Badass, Beautiful, Brave
Marie Claire - UK
|
October 2015
Pitch-perfect vocals, sassy signature style and the hottest job in TV: all-round badass Rita Ora is storming ahead, professionally. But what of life outside the limelight? Here, she talks the women who inspire her, meeting Prince, and the dangers of mixing business with pleasure...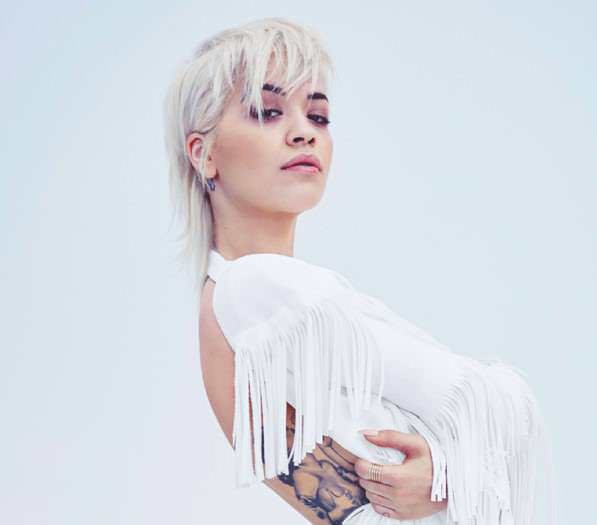 Rita Ora has a plan. The fashion (Roberto Cavalli) and beauty (Rimmel London) endorsements, clothing line with Adidas Originals, campaign with Coca-Cola, performing a song (Grateful) at the Oscars, and appearing as a judge on this year's X Factor, are all testimony that the plan is working. 'Oh, it is in full effect. We're these conniving Kosovan hungry bitches,' Ora (born Sahatçiu) says of herself and her older sister, Elena Sahatçiu, who is also her manager. 'I knew I was going to do things my way.'
The London-based 24-year-old insists the plan is a secret, but that it has been nearly ten years in the making. There was admission to the Sylvia Young Theatre School in Marylebone by improvising an 'uncomfortably sexual' dance to Britney Spears' I'm A Slave 4 U as an 11-year-old (before realising she hated musical theatre while attending school for musical theatre). There was singing torch songs by Janis Joplin, Carole King and Destiny's Child in her father's pub, the Queens Arms, when she was 14. There was recording her first song at the local youth centre on a council estate in Landbroke Grove. There was sneaking out to warehouse raves in east London, playing the house diva behind the turntables while her parents thought she was at a sleepover. 'I would rip my T-shirts and be really punk and not clean. And I would have blonde hair, really dark eyebrows, red lipstick and lots of fake rings that made my fingers go green. I wouldn't be smelling that great,' Ora says. 'I feel like I lived a lot when I shouldn't have.' She found her voice in those clubs and at her dad's pub, the soulful alto, the easy glissando that makes Auto-Tuning superfluous.
She and her sister shared a room with a single bed on each side, and Debbie Harry, Stevie Nicks and Winona Ryder posters on the wall. Ora used to cut out photos – models Kate Moss and Linda Evangelista, or outfits she liked – from magazines. 'When I saw things that made me feel good, I would put up a picture, and all these women would make me want to go out and be original, be myself, be different, be a misfit.'
Because she couldn't afford the high fashion taped to her walls, she would buy vintage pieces from Portobello Road and have her mother sew them according to Ora's sketches. 'People would be like, "Where did you get that?" It made me feel good because I made it on my own.' The sisters get their looks from their mother, Vera Sahatçiu, who has told her daughters, 'I was hotter than both of you put together,' back when she was 'the first woman in Albania to wear red lipstick and hair gel'. And that was enough, apparently, to lure their Muslim father, Besnik (Vera is Catholic). The two fled conflict-torn Kosovo in 1991, when Ora was just a year old, and settled in London. Her father, who had studied economics, opened his pub – he's not a devout Muslim – and her mother became a psychiatrist. She had Ora's younger brother, Don, in 1998.
You can read up to 3 premium stories before you subscribe to Magzter GOLD
Log in, if you are already a subscriber
Get unlimited access to thousands of curated premium stories, newspapers and 5,000+ magazines
READ THE ENTIRE ISSUE
October 2015