#MeToo is symptomatic of a culture of women feeling repressed but the music INDUSTRY WAS ALWAYS SEXIST
KIM GORDON SONIC YOUTH
Kim Gordon has come home. Although her name is more immediately associated with New York and the faded memory of the Lower East Side's 'no-wave' scene, in which artists mixed with filmmakers, actors, and the earliest punk musicians and rappers, she has returned to the California of her youth to continue an artistic career that is now into its fourth decade.
She began painting and making visual art in the 1980s, and recent solo exhibitions in London, New York and Dublin are now joined by No Home Record, Kim's debut solo album. It's a collection that's been anticipated not just since her critically-acclaimed collaboration with experimental guitarist Bill Nace as Body/Head, but since the release of her memoir, Girl In A Band, in 2015 and first single under her own name, Murdered Out, in 2016.
Kim started making music without any formal training, toying with guitars, drum machines, and lyrics often cut from magazine advertisements. Taking personal inspiration from early punk pioneers The Slits, The Raincoats and Patti Smith, she met her Sonic Youth bandmates at the age of 27. Over the next 30 years they would make 16 albums and 46 music videos, bringing the best elements of America's avant-garde to stages across the world. Sonic Youth's layers of noise, dissonance and percussive invention grew into a more melodic and textured sound by the early '90s, when they were able to bring bands like Nirvana and Babes In Toyland to European audiences.
Their influence on Nirvana found particular expression in the likes of Nevermind's Drain You, where Kurt Cobain brought sounds as unexpected as a squeaky mouse toy and several aerosol sprays to the song's sinister, distended middle section. Kim still misses Kurt's creativity and conscience, prompting her to accept the honour of singing Aneurysm with his surviving bandmates Dave Grohl, Pat Smear and Krist Novoselic when Nirvana were inducted into the Rock & Roll Hall Of Fame in 2014.
No Home Record brims with experimentation, distorted bass beats and Kim's personal sense of resistance and critique. Although many musicians that came in her wake were explicit political activists, her take on the predatory corporate forces that shape our lives makes for far more fragmentary, artistic and personal lyrics. Take Get Yr Life Back, for example, where she sings about the end of capitalism and its 'winners and losers', or Air BnB, where she interrogates the very American idea that you can fake your way towards happiness.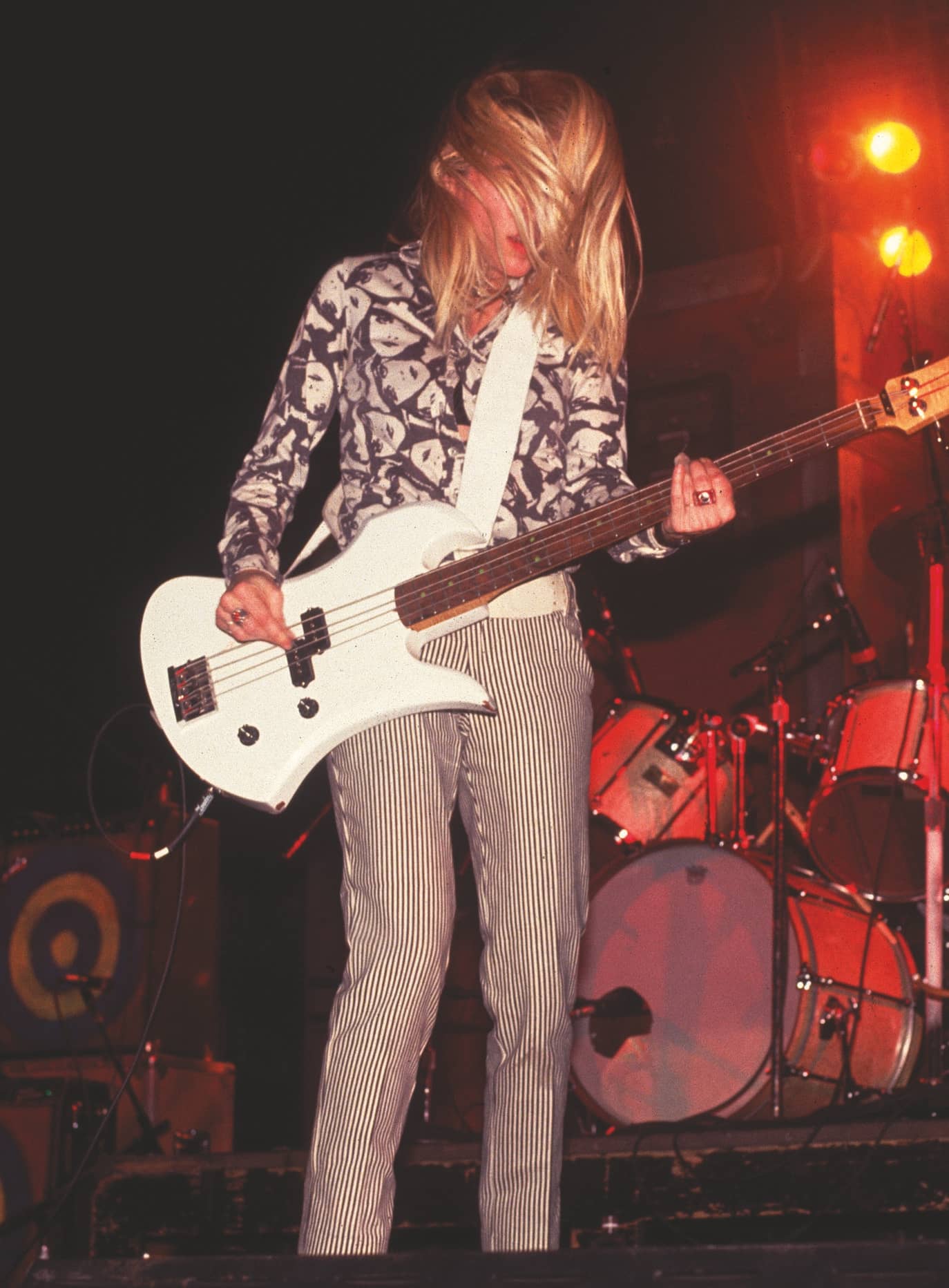 All but two of the record's songs are produced by Justin Raisen, who has previously collaborated with R.E.M.'s Michael Stipe and Smashing Pumpkins' Billy Corgan. Even in their most abrasive moments, the scathing distortion and shocking electrical noises offer a reprieve from the clamour of the world.
"Why a solo record?" says Kim. "And why now? I don't know, but it wouldn't have happened without the persistence of Justin. Living in LA the last few years it feels like home, but the transience of the place makes it sometimes feel like no home."
No Home Record captures something of the chaotic and deathly undertow of California. Is that something you've been aware of, even since songs like Sonic Youth's Death Valley '69, from 1985 album Bad Moon Rising?
"I've thought about that my whole life, basically. That's what I liked about the recent Quentin Tarantino movie, Once Upon A Time In Hollywood. Although it was indulgent, it captured that essence so well. It was almost serene, but that's the way things look from the outside. There's this book by the poet Trisha Low that inspired me, too, where she's talking about the concept of home. She's from Singapore, and she moved west to go to school, as her father had done. But I mostly moved back to California for the weather. I'd been living up in western Massachusetts, in Northampton, for the last 17 or 18 years. I didn't want to move back to New York. It had changed so much since I first lived there."
Sonic Youth have been classified as everything from avant-garde to indie rock, inspiring bands like Dinosaur Jr. and Nirvana. Ultimately, though, there's a punk sensibility at the core of it all. For you, what was the 'ground zero' of punk rock?
You can read up to 3 premium stories before you subscribe to Magzter GOLD
Log in, if you are already a subscriber
Get unlimited access to thousands of curated premium stories, newspapers and 5,000+ magazines
READ THE ENTIRE ISSUE
Issue1795