DESERT TRACKS
Point your car east, drive 150 miles or so out of Los Angeles and, soon enough, with a little help navigating the nothingness from the locals, you might just stumble across Rancho De La Luna. It is here that JOSH HOMME has assembled possibly his most ambitious, weirdest DESERT SESSIONS project ever – and reconnected with his true self…
If Josh Homme – Queens Of The Stone Age's totemic frontman and creative lightning rod attached to Kyuss, Eagles Of Death Metal and Them Crooked Vultures – were to detail his job description on paper, it would probably run along these lines: To bring mystery and surprise. To catch people off guard. There would be one or two interesting responsibilities: To put a tent pole up and then expand what is thought to be possible, or normal. Some controversial duties: My job and art is to elicit reaction, even if it's negative. And finally, a typically antagonistic disclaimer: Whenever people say, 'Don't do that part,' my response will always be to say, 'No.'
"It's great I don't work for you," he laughs, talking to Kerrang! about his new Desert Sessions album – the latest instalment in the long-running collaborative outlet currently featuring the likes of ZZ Top's Billy Gibbons and Royal Blood frontman Mike Kerr; the 11th and 12th volume of a project that very much ticks all the boxes within his imagined contract. "I urge people to understand that I'm not here to do what you think is supposed to happen. That's really not my job. And I don't mind being provocative. I don't care about that part, I never have. If you go into a hotel room and you don't notice the painting on the wall, well, that's a shame. The painting sucks if it doesn't elicit some kind of reaction from you, whether that's negative or positive."
If ever a recording concept was designed to draw response, it's the Desert Sessions Volumes 11 & 12, also titled Arrivederci Despair And Tightwads & Nitwits & Critics & Heels. A self-contained, collective concept started by Josh 22 years ago, its unpredictable, scattershot imprints on the tapestry of rock'n'roll have felt both lawless and otherworldly. Recorded at the isolated Rancho De La Luna studio set in the spectral, desert landscapes of Joshua Tree, California, each session has so far gathered together a mismatched cabal of songwriters and musical henchmen in a revolving door recruitment policy. "I think it's important to pursue bizarre chemistry that perhaps doesn't read right," says Josh of his supporting crew.
The roll call has certainly been impressive so far. Former QOTSA bassist Nick Oliveri, Ben Shepherd of Soundgarden and Eagles Of Death Metal sidekick Jesse Hughes have all featured in the past, plus PJ Harvey and Mark Lanegan. But Desert Sessions Volumes 11 & 12 promises to be the weirdest mashup of the lot, what with Billy and Mike shouldering Stella Mozgawa of Warpaint, Les Claypool (Primus), Matt Sweeney (Probot, Zwan, Iggy Pop) and singer-songwriter Libby Grace Hackford. This wouldn't be a typical Desert Sessions project, however, if one or two left-field names didn't appear on the credits. Surprisingly, Josh has invited comedian and Toast Of London/The IT Crowd star Matt Berry to the party, as well as Scissor Sisters singer Jake Shears.
"I've known everybody I've worked with," he says. "The festival circuit lends itself to boredom and conversation with people that you don't know and musicians you've never met. I have this long list of collaborations that seem odd on paper and I think to myself, 'Mike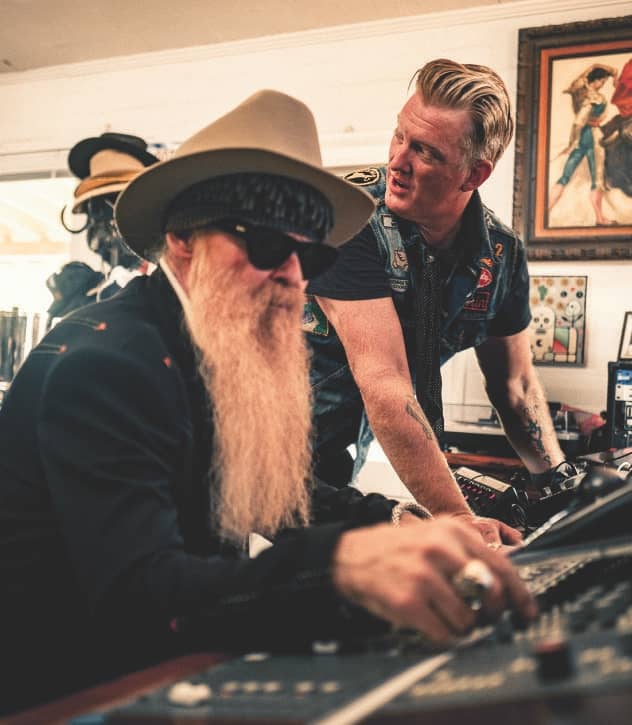 Kerr and Billy Gibbons together looks odd to me'. But [when you agree to play] you have to come alone. And you have to bring yourself. The rest we sort out in braille by feeling it out in the dark.
"[In the desert] I think people let go of the things they use to protect themselves because they're really unnecessary there. The conventional armour we put on to make sure that we're safe on tour, that all drifts away. And quickly you realise that if you were to use it, it would place you as an odd man out. In the very few instances where people have held on with what I call alligator arms – where you can't reach out, or get involved – that attitude is not successful."
"IT'S IMPORTANT TO PURSUE BIZARRE CHEMISTRY THAT DOESN'T READ RIGHT"
This latest collision of ideas and musical MOs has delivered Desert Sessions' most diverse collection yet. A recordset light-years away from Queens Of The Stone Age's 2017 record, Villains, Desert Sessions brings together the grime and glitter of California's badlands in equal scoops. From the slinky, twitching percussion of album opener Move Together – which features Billy Gibbons on vocals – via the funk squall of Noses In Roses, Forever (Josh) and the stoner rock thrash of Crucifire (Mike Kerr), Desert Sessions 11 & 12 is an artfully executed exercise in delivering the unexpected. "I have a healthy disrespect for genre," says Josh.
No better is this evidenced than in the surreal, eccentric garage pop of Chic Tweetz, which features the helium-voiced lyrics of Matt Berry: 'Nice ass! / Well give it a grasp / You'd better move fast, I got gas.' As if this wasn't disorientating enough, Matt's crazed harmonies are immediately trailed by the tender psychedelic guitars of Something You Can't See, with Jake Shears on vocals. "He's singing about the loneliness and confusion he's had at times of being gay," says Josh. "It's a great rock song. I'm proud to be part of that.
"Crucifire was written on purpose because there needed to be something up-tempo and short, a song that was catchy, that just went, 'Hey!'. It felt like we were running the risk of having every song become this episodic, individual, uncontainable thing. Strangely enough, it felt like everything was so individual and uncontained that people would say they're all the same because they're completely different."
You can read up to 3 premium stories before you subscribe to Magzter GOLD
Log in, if you are already a subscriber
Get unlimited access to thousands of curated premium stories, newspapers and 5,000+ magazines
READ THE ENTIRE ISSUE
Issue1795