SPIRIT & SYNERGY
Halftime Magazine|November/December 2019
With formations of giant stick figures doing the "floss,"
The Ohio State University Marching Band's "Dance, Dance, Dance," halftime show on Oct. 13, 2018, stood out from the rest of its viral shows, not only due to its rendition of the trendy dance move and the resulting memes or media coverage. The performance also featured Ohio State's cheerleaders, dance team and mascot—Brutus the Buckeye—for the biggest halftime collaboration of the season.
The program came together as a result of innovative concepts pitched by the multiple groups, according to Dr. Christopher Hoch, director of marching and athletic bands at Ohio State. "That dance show last year [wouldn't work] if we didn't have creative ideas from the band and the cheer squad and the dance team and Brutus," he says.
Ohio State certainly isn't alone in finding ways to partner with other school spirit groups. Colleges and high school bands alike team up with their cheerleaders, mascots, and dance squads to excite the crowd.
"Your goal is to entertain at a football game," says Cameron Kubos, director of athletic bands at the University of Houston in Texas. "We all share the same goal."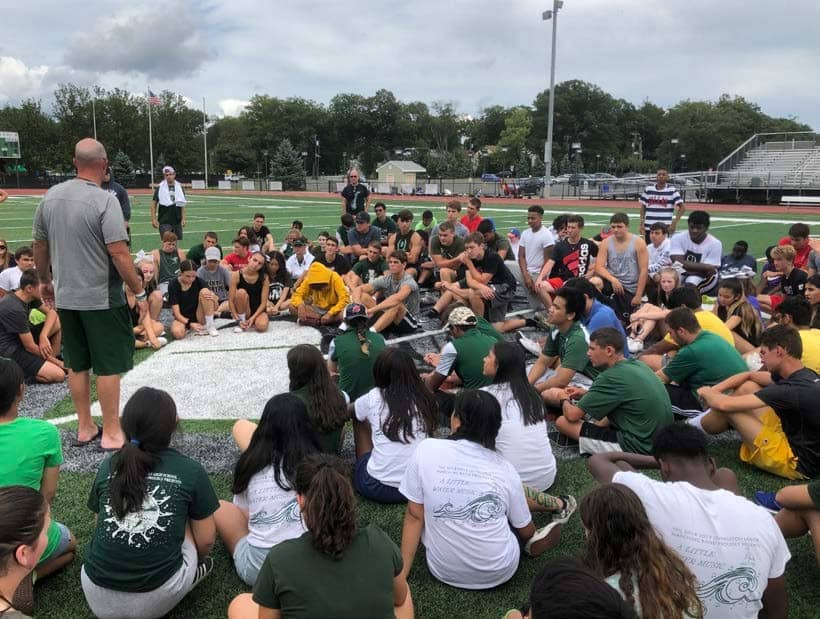 FROM COMMUNICATION TO COMMUNITY
Collaboration is not difficult for the band and cheerleaders at the University of Houston in Texas. Together along with the dance team and cougar mascot, Shasta, they comprise a comprehensive group called the Spirit of Houston. "Some people can't imagine having all those groups together; we can't imagine separating them," Kubos says.
At Houston, the band department oversees the entire spirit umbrella organization, which is led by David Bertman, whose official title is director of bands, cheer, and dance. "Because we don't have separation, everyone knows everyone," Kubos says. "When it comes to the games, there's a higher level of us being able to work with each other."
This level of cohesion requires planning and strong communication between the band staff and the cheer and dance coaches, Kubos adds. "We're already looking ahead and thinking about things for next marching season," he says. "We have meetings periodically with the band staff or the full spirit staff."
For a school like Syracuse (New York) University, where the band is a separate entity from the cheerleaders and mascot (Otto the Orange), community building among both students and staff happens a lot during travel. "A lot of it starts during NCAA basketball season," says Dr. Timothy Diem, director of athletic bands. "We're together a lot on these NCAA trips."
These trips provide a great opportunity for the staff to plan routines in the stands and on the sidelines. "We can start talking about different tunes, asking the cheerleaders which [they] think will work in the student section," Diem says.
You can read up to 3 premium stories before you subscribe to Magzter GOLD
Log in, if you are already a subscriber
Get unlimited access to thousands of curated premium stories and 5,000+ magazines
READ THE ENTIRE ISSUE
November/December 2019