LARKIN POE
Southern siblings Rebecca and Megan Lovell have reinvigorated the roots scene as Larkin Poe. They tell us about hitting hard, the importance of writing bad songs, the battle for equality and rock 'n' roll's post-pandemic fightback
Henry Yates & Jamie Dickson
From the bandmates scattered into solitary lockdown, to the fans left wondering if they have felt the hot crush of the front row for the final time, these have been hard months for all who thrive on rock 'n' roll's fundamental push-and-pull. Larkin Poe has keenly felt the loss of live music. Since 2014's debut album, Kin, the onstage telepathy between Rebecca and Megan Lovell has been something to behold, the Nashville-residing sisters switching up instruments as they stoke a setlist taking in rock, blues, soul, and psychedelia. Thankfully, while the live scene revives, this year's anthemic Self Made Man album is the closest thing to the shivers of a night out in their company.
What's the backstory to Self Made Man?
Megan Lovell (lap steel/backing vocals): "We did a lot of touring in 2018 and 2019, leading up to making Self Made Man. It was an incredible experience, we felt such a groundswell beneath us. We were touring like we never had before – entire tours selling out, people knowing all the lyrics. For this album, we were trying to capture that live energy we were feeling at our shows, and writing songs we could imagine singing with the audience."
How did you settle on the album title?
Rebecca Lovell (vocals/guitar/mandolin/banjo): "She's A Self Made Man was one of the first songs we wrote, so titling the album after that felt like a natural decision. I was inspired to write the song based on my own relationship to that phrase, 'self-made man'. I'd found myself saying it with some regularity, y'know, about men in my family who'd had success. It never occurred to me that I was actively gender qualifying success by attaching the word 'man'. I wanted to tear apart that sentiment in my own head and address the insidious nature of inequality in kind of a playful way. And we certainly do feel like self-made men. We've fought tooth and nail for 15 years to maintain a foothold in a competitive industry."
Is there pressure on female artists to be the stereotypical 'girl with acoustic?'
Rebecca: "I don't know that there's necessarily pressure placed on conformity. It's more representation. Within the rock and blues world, it is absolutely a male-dominated genre. Even now, when you look at the US bands that have radio success, you can count the female groups on one hand. For a lot of genres outside pop, there's a divide that is hard to explain – because it's certainly not for a lack of ability. We need that representation. We need more Joan Jett, Bonnie Raitt's, Suzi Quatros, and then going back to the Koko Taylors and Sister Rosetta Tharpes. We need to make sure these really important cultural performers – who just so happen to be female – are acknowledged by the next generation of music-makers."
Larkin Poe have played their part…
Rebecca: "We're happy to be part of that shift. We roll up to venues and I think people see our tour poster and expect they're gonna get something, based on our picture. We've really enjoyed freaking people out a bit. And I think a lot of people can appreciate that experience, that a female band can be just as loud as the boys. I do think it's up to people in power [to help] – like Joe Bonamassa, who's been incredibly inclusive of bands that certainly don't fit into the mould of a blues band. I've looked at his line-ups consistently, and the artists he chooses to include across the board – it's really inspiring."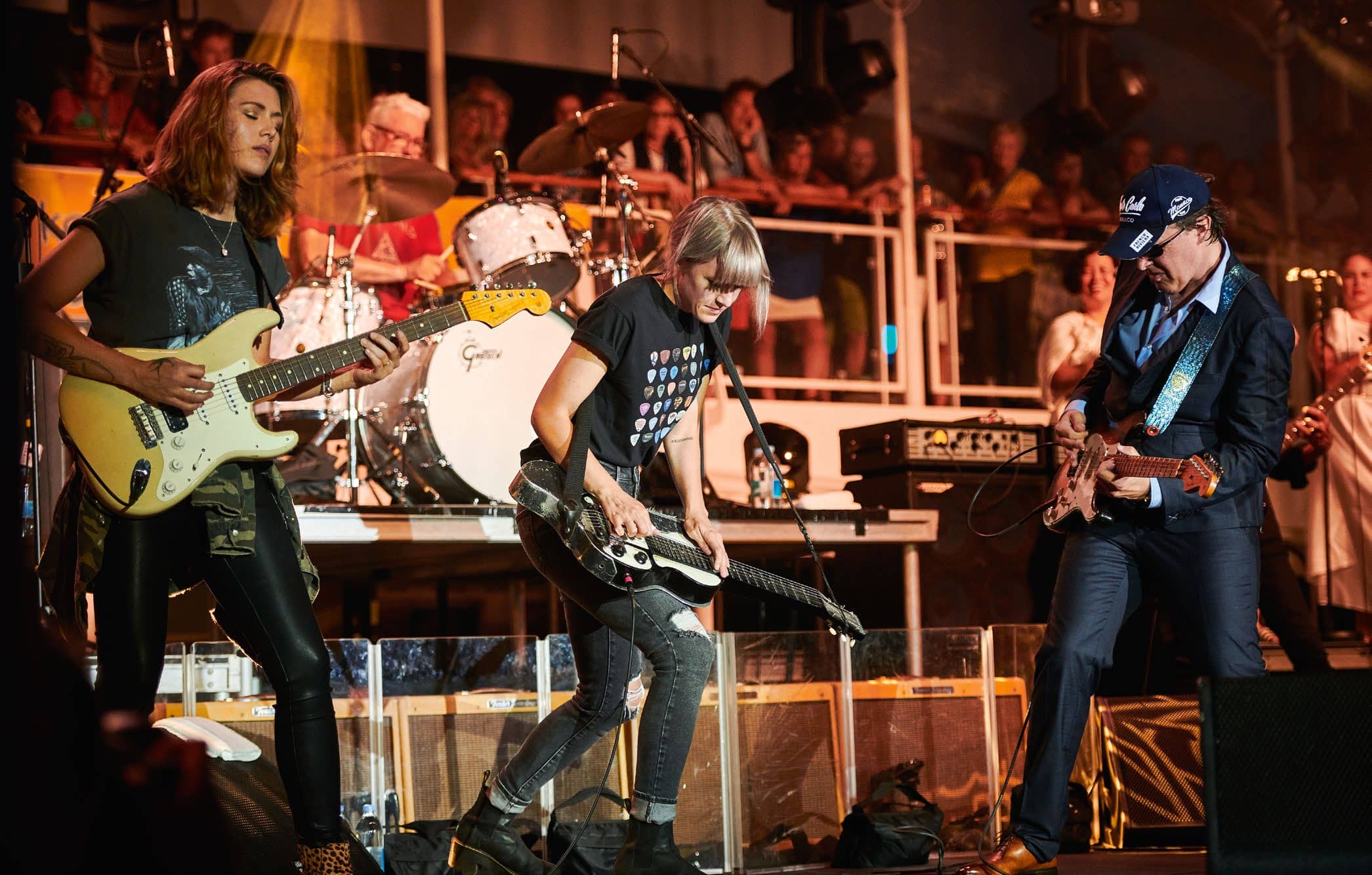 Megan, how did you approach your slide solos on the new album?
Megan: "It kinda varies. On Back Down South, I think I improvised that one. In the studio, we like to take things away in our production technique, leave things as raw as possible, kinda leave the humanity in it. For that song, I played a few solos through then we picked the best one."
You can read up to 3 premium stories before you subscribe to Magzter GOLD
Log in, if you are already a subscriber
Get unlimited access to thousands of curated premium stories, newspapers and 5,000+ magazines
READ THE ENTIRE ISSUE
October 2020