Hot Mods
CUSTOMISING YOUR GUITAR HAS THE POTENTIAL TO TRANSFORM IT FROM A WORKHORSE INTO A THOROUGHBRED. WE ASKED SOME OF THE WORLD'S FINEST CUSTOMISERS TO SHARE THEIR PRO TIPS ON HOW TO UPGRADE YOUR GUITAR'S TONE AND MAXIMISE ITS MOJO…
Most of us have experienced that rare but special moment in a guitar shop, where you pick up an instrument and instantly connect with it. Something about its tone and the way it plays – and even the way it looks – fits your musical world perfectly. That's great when it happens, of course, but if you take the right approach to modding, you might not have to wait for that magical moment to occur by chance. If you have a guitar that offers a solid platform for customization and you take a considered, well-informed approach to modify it, it's possible to make 'nearly right' into 'really right'. That's why, in the following pages, we invited some of the world's leading tone tweakers, hardware enhancers and finish fettlers to share their professional tips on how to coax more satisfaction from your guitar.
Some of the ideas they share are completely practical and can form the basis of tone upgrades that you can undertake at home, or commission from a qualified tech. Others might inspire you to personalize the finish and styling of your guitar. With guitars, like food, the first bite is often with the eye – and if a custom finish makes you feel the mojo that bit more, it's fair game for modding, too, provided you are aware not only of the benefits of undertaking the work but also how to avoid potential pitfalls before you make any changes to your beloved instrument.
So join us as the pros give their seasoned advice on topping up the tone, perfecting playability and burnishing the beauty of your guitar…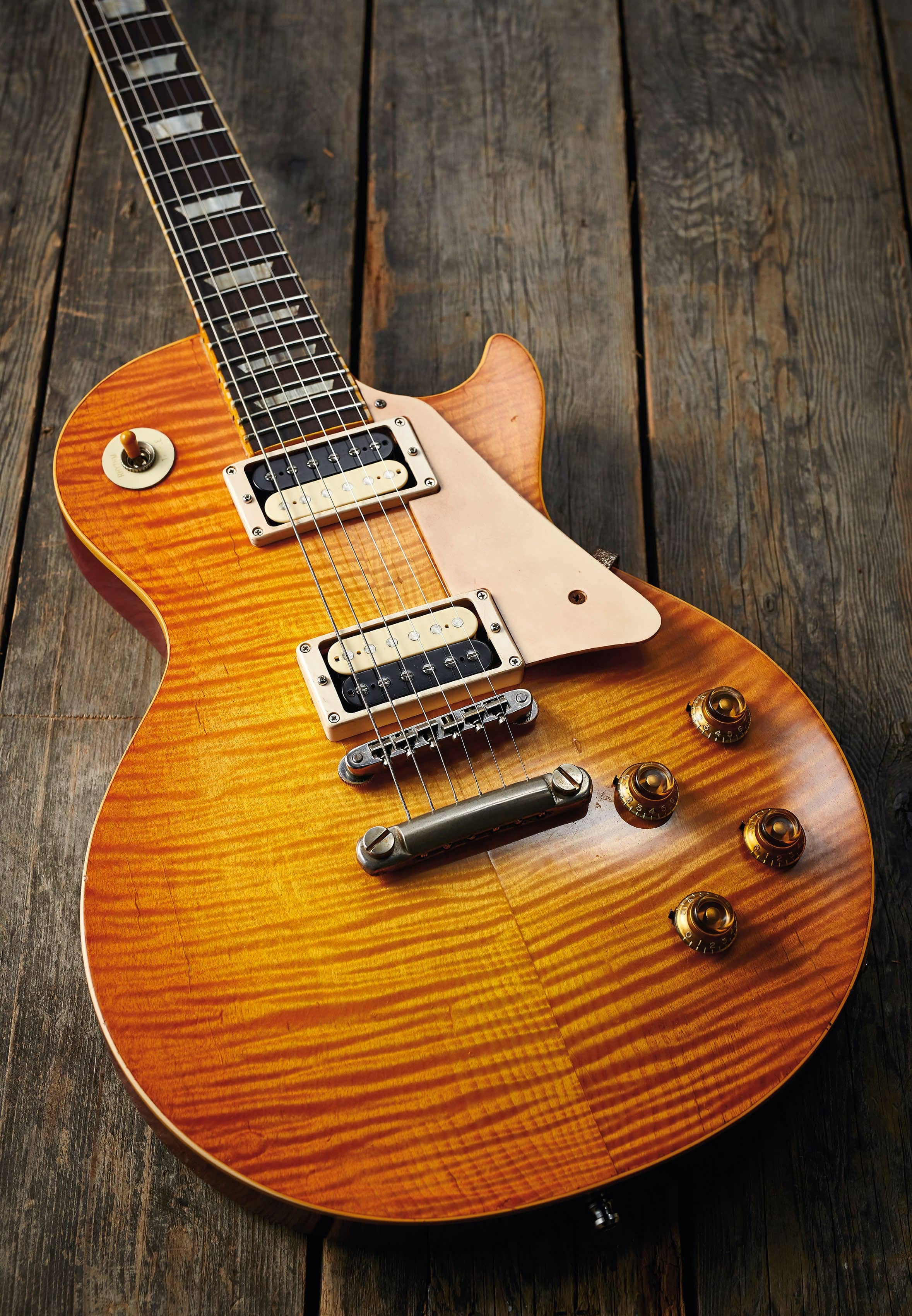 WIRED FOR SOUND
SOME OF THE CHEAPEST YET MOST EFFECTIVE MODS YOU CAN MAKE TO YOUR GUITAR INVOLVE RELATIVELY EASY TWEAKS TO ITS ELECTRONICS. TIM MILLS OF BARE KNUCKLE PICKUPS EXPLAINS HOW YOU CAN TAILOR YOUR TONE FOR JUST A FEW POUNDS – AVOIDING THE NEED FOR MORE EXPENSIVE UPGRADES
We all like to buy a shiny new toy – and guitar modders are by no means immune to the allure of expensive replacement hardware. But, argues Tim Mills of Bare Knuckle Pickups, you do yourself a disservice if you overlook your guitar's basic electronic components, such as tone and volume pots, when you go hunting for tonal improvements. Best of all, such parts are relatively inexpensive and simple to replace. Many guitarists are deterred from making upgrades in this area simply because they don't properly understand how changes in the spec of electronic components can enhance their instrument's tone – and sometimes give unloved guitars a new lease of life. If you are one of the uninitiated, fear not.
Pickup guru Tim Mills says the principles involved are pretty straightforward. Below are his seasoned tips for unlocking your guitar's full potential with a soldering iron and a few pounds worth of parts…
Why is it worth paying attention to basic things like your volume pots? What influence do they have over your sound?
"To put it simplistically, they are a link in the chain, starting with the strings, pickups, then going through the electronics, the cable and then to the amplifier – with probably a chain of pedals in between. All of these things are going to affect the tone and affect the way that load is introduced to those pickups. Dealing just with the guitar, depending on what the electronics layout happens to be, the pots [potentiometers] will be introducing a load onto the pickups and that will affect the tone. One of the very popular mods that people like to do, once they've done new pickups, is to upgrade the electrics as well."
Where's the best place to start?
"If we look at the majority of guitars, they're going to have at least two pickups. So there's going to be a pickup selector switch; there'll be a volume; often a tone pot, in which case there'll be a capacitor that goes in the circuit, between the volume and the tone, to produce a tone roll-off; and then eventually it'll go to a jack socket. All of those can be upgraded. The ones that are going to make the biggest difference in terms of tone are going to be potentiometers and the capacitor. The actual switch and the jack socket are more mechanical functions, rather than introducing huge amounts of load to the circuit. Whereas the type of pot and the value of pot that you use, and the value of the capacitor that you use, will have a big effect on the tone."
What are the typical pot and capacitor values that you'll find in well-known types of the guitar?
"Traditionally, anything with a single-coil – such as Telecasters and Stratocasters – will have 250k pots and a 0.05 [microfarad] capacitor, broadly speaking. And then, on guitars with humbuckers, a 500k pot is the go-to and anywhere from a 0.022 microfarad to 0.047 capacitors for tone. Those are the general go-to's that guitar companies will use."
If you think your guitar sounds too bright or too dark, then, how would you alter those components to achieve a more balanced tone?
"The actual load that the pot introduces, you can use that as a way to tailor the frequency response of the pickup. Let's say we've got a humbucker in a very bright guitar – somebody's installed a humbucker in a Strat-style guitar – and the response is very, very bright. They've got the amount of power they want from the guitar, so it's driving nicely, but it is excessively bright. So if they're currently using a 500k pot, they could try reducing that to a 300k pot or even down as low as a 250k pot. What that will do is load back the pickup and basically drop the resonant peak. So it's gonna control the highs; it's going to tame the amount of high-end that'll make it out of that volume pot. That's one way of approaching it.
"Conversely, you can follow a similar process with single coils. Let's say you've got a Tele with a big Broadcaster-style bridge coil, and let's suppose that the Tele itself is a really heavy guitar made of ash or something and the tone is coming out to be quite dark. In that scenario, you could move up from a standard 250k pot and maybe try a 300k pot instead – or even go all the way up to a 500k, to take the load off that coil and open out the high- end and let some more highs come through.
"Those are two simple, easy ways you can do it. But you can also do quite a lot in between. All potentiometers are made to tolerance and normally that can be plus or minus 20 percent. It's quite a wide range! So it's always worth using a voltmeter to check the pots on your guitar – because very rarely will a 250k pot be bang-on 250. And you can find them down as low as 190k. So I'd say if you're struggling with a guitar that sounds really dark and you've got pots that are loading back to that extent, then that could be exactly what it is – and a lot of people rush to change their pickups or make other major changes. It's always a good idea to check out what your electrics are doing first. Because sometimes that could be all the tweaking you need.
"Also, I tend to nearly always prefer logarithmic pots over linear pots, too. The resistance of a linear pot varies at a constant rate over the rotation of the pot, but a logarithmic pot has less resistance at one end than the other, which means it produces a 'taper'. The effect of this is that a logarithmic or 'audio taper' pot should sound twice as loud on 10 as it does on 5, with a gradual roll-off from 5 to 0 – and this is the way the human ear responds to the loudness of sound, logarithmically."
What about capacitors? There's a lot of interest in vintage-style paper-and-oil caps at the moment, for example…
"Generally, you can't go far wrong with a good-quality paper-and-oil capacitor. This tends to produce the smoothest, cleanest tone roll-off. When I'm absorbing myself in the sounds various tone roll-offs produce, I'm analyzing how cleanly it does it. I don't want any graininess or distortion as I roll out those frequencies. I'm looking to not lose the core of my tone, so I want to avoid any excessive coloration of the sound at either end [of the range of the tone knob].
"But you can tailor the value to suit the application. With David Mead's Les Paul (see The Build, p94), I individually tailored the capacitors to the bridge and neck tone. With the bridge, I specified a 0.022 microfarad paper-and-oil capacitor made for us by Jensen. For the neck, I chose a 0.015 microfarad capacitor as the neck position produces a lot more low-mid and bottom-end from the string. The pickup has a much warmer tone, so I like to hear a more gentle tone roll-off on the neck, rather than going: '10… nine… mud…' which happens when you use a higher-value cap. You get a more usable sweep, so I can get some nice effects at 5 and 6 on the tone control; it's even usable down to 2 and 3. That's very much a stock prescription for Les Pauls."www.bareknucklepickups.co.uk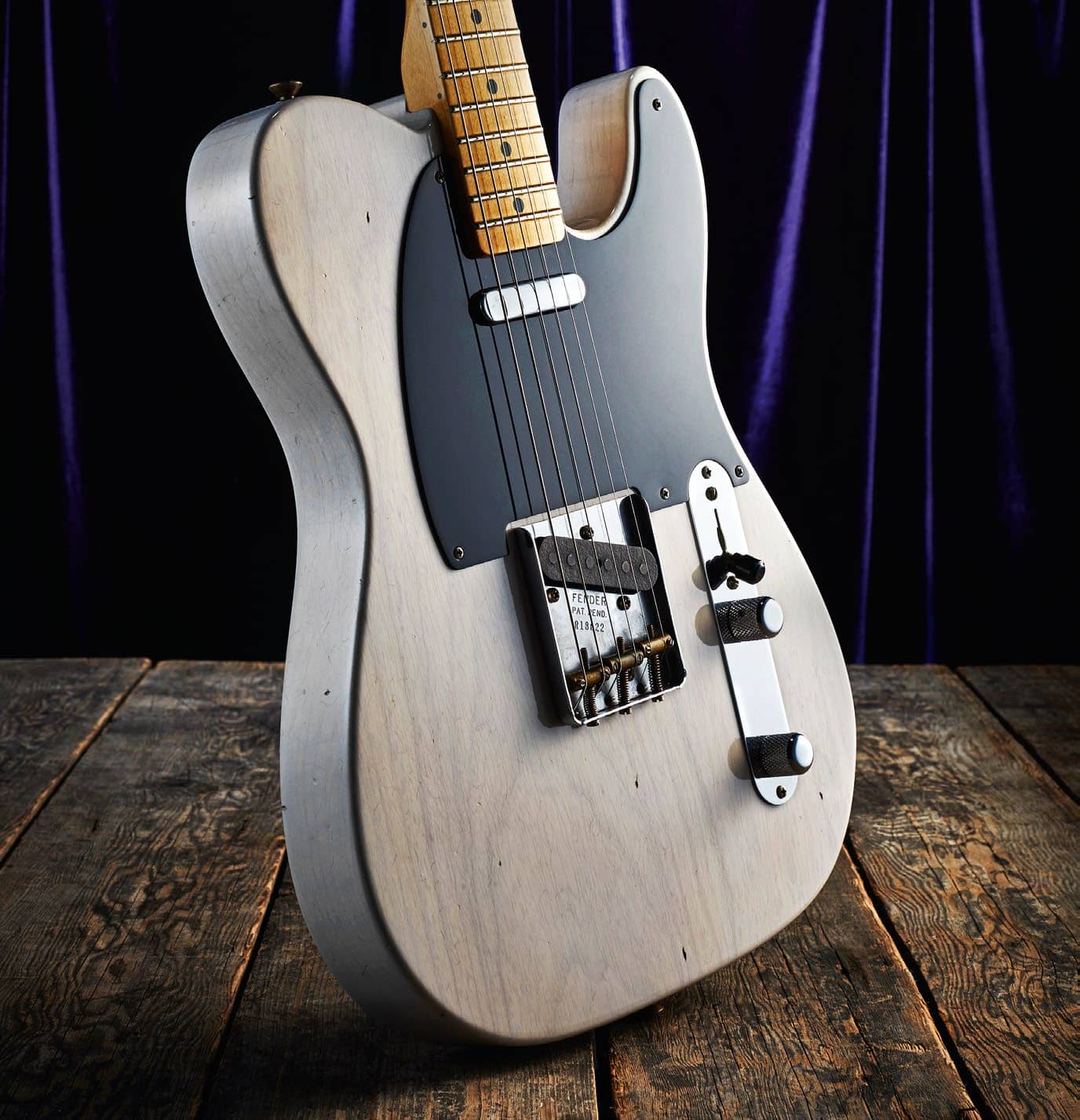 TELE MEISTER
AS ONE OF FENDER CUSTOM SHOP'S MASTER BUILDERS, PAUL WALLER IS A HEAVYWEIGHT AUTHORITY ON FENDER MODS – ESPECIALLY FOR THE SPECIAL-DESIGN TELECASTERS HE'S BEST KNOWN FOR
What Tele mods make a good starting place?
"I'd say the weakest link in the Tele electronics is probably the neck pickup. It's always been predominantly weak compared with the bridge, so that leaves it kinda open to whatever you want. Anything else – anything from humbuckers to P-90s, Charlie Christian pickups – you name it, you can put it in there and it's acceptable. Whereas if you try to do that to a Strat, people get upset. So that has become a free zone for modification. Definitely, the neck pickup would be the first order of business for many modders."
What are good options to tweak neck pickup tone if you want to keep to the traditional Tele pickup format and look?
"You could start with the Twisted Tele Custom Shop pickup that we released almost two decades ago now. The cover on the neck pickup is usually grounded into the coil as you wire it up. But by separating the cover – and grounding that separately – as we did on that pickup, that opens you up to doing four-way switching if you want series/parallel pickup selections, things like that, to get extra tones out. This has been pretty popular on some of our Artist Series guitars. The Merle Haggard model had it and a couple of others."
What sort of Tele pickup design tweaks are you most interested in now?
"What we see is trends, not unlike the fashion industry or cars or things like that. We [the guitar industry] have almost saturated the market with hot pickups and with pedals, and now we're seeing people have all this gear that they're having to push [the signal] through tons of signal path before it gets to the amp. But when you're searching for tone, it's often the case that you want to eliminate as much of that stuff as possible.
"My theory is the trend is heading back towards simplicity: a guitar and maybe a drive pedal, then straight into your amp. So I'm voicing coils to be just that – something that doesn't need to get through a bunch of signal path and where you can actually hear what the guitar is doing again."
Your European Master Design Tele was one of our favorite guitars of last year – and it had a cool onboard boost on it. Why did you add that detail?
"Because pedals are so popular and I did want to cater to that a little bit, I wanted to put a mild boost in it for the player who wants a guitar that can have an edge in the mix. So if you bring this 'secret weapon' Tele with a boost to the gig… normally you have to stop at 10, but you just went to 11. And that's without even going to a pedal. The idea was to make the control for the boost user-friendly by controlling it via the volume knob. So it was dial-able. That was important because a lot of times when you have a drive pedal, you can turn it on and off with your foot, but then you're stuck with the settings – unless you want to bend down while you're playing and change them. You don't really want to be reaching down in the middle of whatever you're trying to accomplish on guitar. But it's easy to change a setting on the guitar while you're holding it – just lower your pinky down and roll the knob off a bit. Or you can bring it in as you're coming up to a solo or whatever. I just thought that was a lot more user-friendly than a stompbox on the floor.
"The other thing is, I voiced those coils to work with that circuit so it would sound like a vintage-style guitar, with single coils, but then as the boost came on, it just felt like the gain channel on an amp or something." www.fendercustomshop.com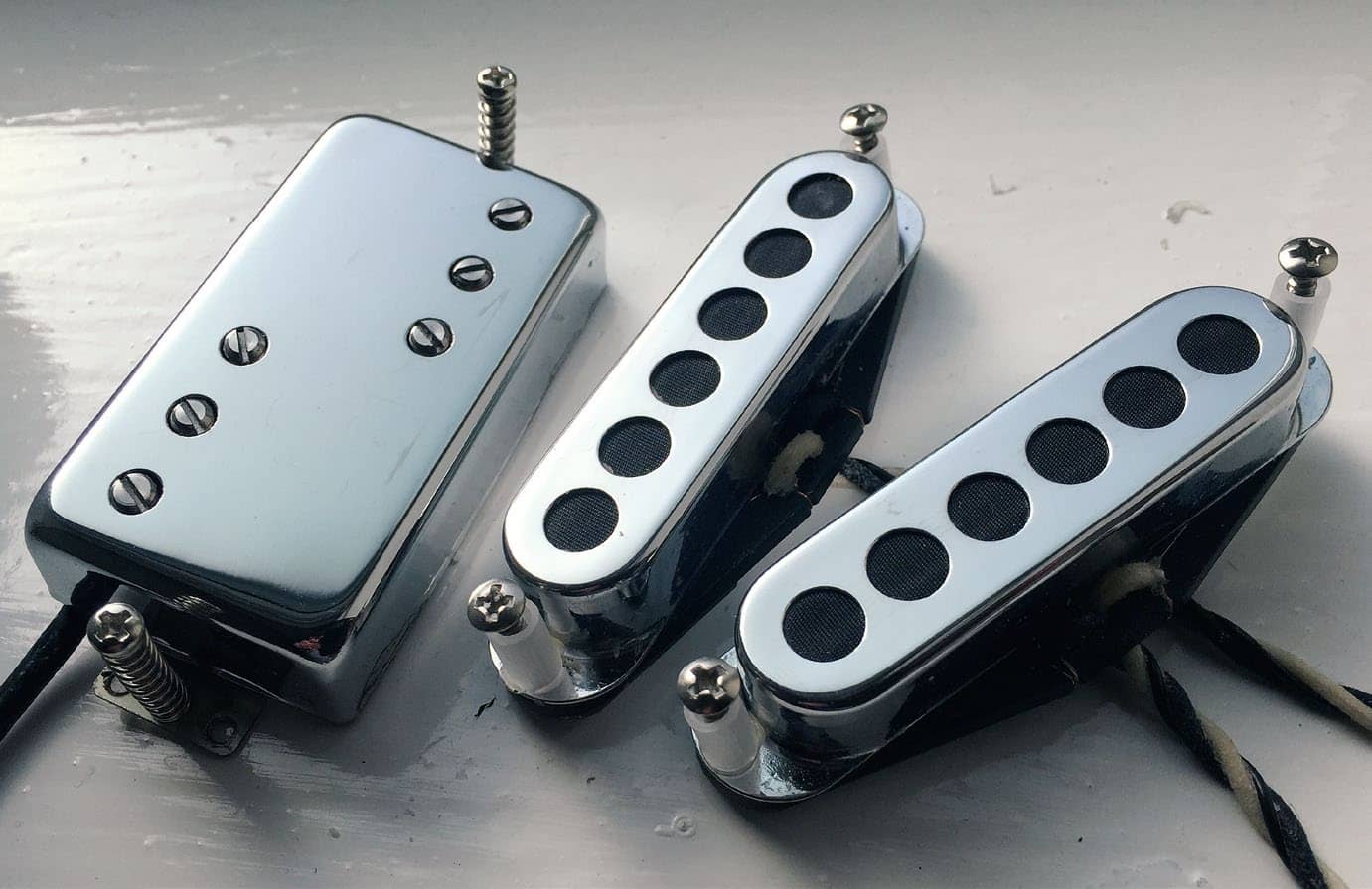 TONE TRANSPLANT
CHANGING YOUR PICKUPS IS ONE OF THE OLDEST MODS IN THE BOOK – BUT A GROWING NUMBER OF MAKERS ARE OFFERING HYBRID DESIGNS THAT TRANSPLANT THE INTERNALS OF ONE CLASSIC PICKUP INTO THE SHELL OF ANOTHER, OPENING THE DOOR TO A HOST OF NEW SOUNDS
We've covered why and how to change your pickups for aftermarket replacements many times in Guitarist, but in light of a rising trend in pickup design that many top makers are pursuing, the theme is worth revisiting.
Most of us have probably seen pickups such as Bare Knuckle's Mississippi Queen: a P-90 designed as a drop-in replacement for a humbucker, so you can access fat single-coil sounds in your Les Paul or 335. But other makers have taken the transplant idea further. Fancy a Burns Tri-Sonic-style pickup that fits your Tele without any modifications to the body? Or maybe a Fender Wide Range-style humbucker that fits a Jazzmaster? Thanks to imaginative makers such as Mojo Pickups and Creamery Pickups, you can radically modify the voice of your guitar without any need to reach for the router.
We join pickup-making maestro Jaime Campbell of Creamery Pickups to talk about the musical possibilities offered by classic pickup designs reconfigured to fit a greatly expanded variety of guitars.
When you're converting a classic pickup design so that it has the same form factor as another pickup – such as a P-90 that fits in a PAF-size cavity – what kinds of challenges do you encounter?
"It's a question of geometry: what kind of approximation of a well-known pickup can be made so it is a direct drop-in replacement for a different pickup design, which also fits in the shape, size, and space available? With a Jazzmaster, you have a pretty wide number of options because there's a large space within which to work – through the shallow cavity depth is always a consideration for those who don't wish to modify the body wood in any way.
You can read up to 3 premium stories before you subscribe to Magzter GOLD
Log in, if you are already a subscriber
Get unlimited access to thousands of curated premium stories, newspapers and 5,000+ magazines
READ THE ENTIRE ISSUE
Summer 2019