DREAMS OF GOLD
We're all quick to dismiss or critique a new guitar but what about if you're put in the design seat? Not so bloomin' clever now are you, Mr Burrluck?
Over my many years of writing about and criticising guitars, occasionally I've also been involved in designing a guitar from the ground up. It's all very well swapping some hardware or coming up with your own wiring system but designing the whole thing – where you're in the driving seat – is a different matter. Some of you may have been lucky enough to spec out your own custom-shop guitar, or take your idea to a guitar maker. But that's a very personal choice. What if you had to design a guitar that would be for sale and the whole world would be your judge?
I'm sure many of you will remember the furore surrounding PRS's Silver Sky design. It seemed like the whole world had an opinion, initially based on just a photograph and a spec list. Today, your design may well be judged on that alone. I recently saw a thread about a new design by a well-established boutique maker. A simple picture caused a raft of negatives: "That's ugly"; "Anyone could do better." As I write I'm looking at that very guitar. Having spent a lot of hours with it and recorded a near album's worth of song demos with it, I think it's one of the most creative-sounding, beautifully made instruments I've ever had the pleasure of playing. What do I know?
China Calling
Back in 2007 I somehow got involved in a project to design a guitar with Trev Wilkinson for the JHS-owned Vintage Advance range. The idea was that I'd write about the process, including visiting the Chinese factory that, back then, made guitars for the Vintage and Encore brands. A limited run of the guitars would be sold into the market and a percentage of any profit would go to the Guitar Aid charity.
I documented my exploits in a three-part 'Project China' feature but – to cut a long story short – designing a guitar to be made in China was far from a straightforward mission. Later on that year I received two prototypes of my design: one in a satin 'antique gold' finish, which had caused quite a rumpus in the Chinese factory, and another in a grey/black finish. Neither were playable, let alone saleable. I took on the remedial work on the gold sample and shipped the black one to luthier Chris George in Lincoln for more extensive work. Once done, I shipped the gold guitar back to JHS HQ.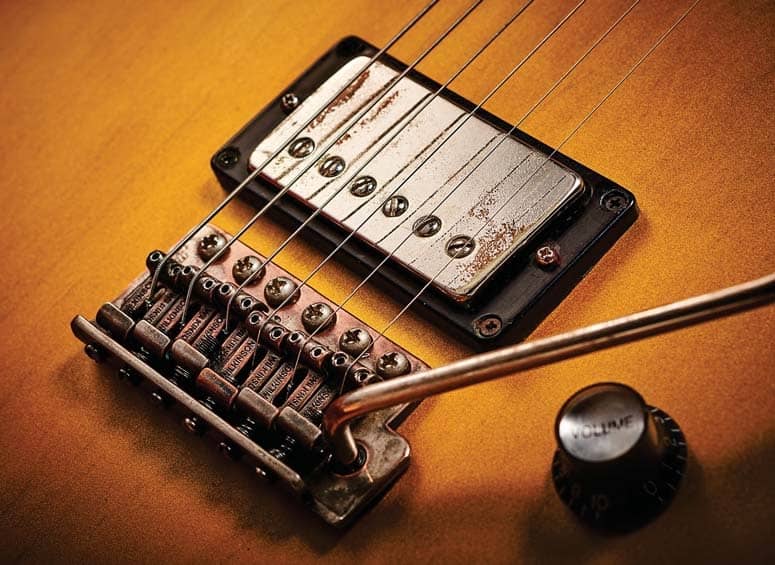 What happened next? Nothing. Somehow, the gold sample went AWOL and while I'd kept my side of the deal, the Vintage Advance AV1 VG never saw the light of day. Fast forward to the 2019 NAMM Show and while I'm chatting to Trev Wilkinson he mentioned that he'd just moved premises and had found that original gold prototype in an unmarked box among many others. Despite being surrounded by the world's best instruments at the show in Anaheim, I couldn't help thinking about that prototype. Some months later, and 12 years since I'd last seen it, a box from Wilkinson HQ arrived…
Except it wasn't the prototype at all. It was clearly another sample of my design – complete with satin antique-gold finish, a bolt-on Fender scale six-a-side neck, vibrato, twin humbuckers and some tricky five-way switching. But this sample was new and untouched, even the pickups had those clear plastic covering sheets. The obvious giveaway was the headstock logo. I'd worked with Trev to redesign the Vintage logo into more of a Fender-y script; the logo on this lost-now-found guitar, in similar style, was not 'Vintage' but 'Hadler'. Who? What? My design never got to the second prototype stage but here was a copy!
Time Travel
You can read up to 3 premium stories before you subscribe to Magzter GOLD
Log in, if you are already a subscriber
Get unlimited access to thousands of curated premium stories, newspapers and 5,000+ magazines
READ THE ENTIRE ISSUE
November 2020