Coming Of Age
A lot has changed for PJD Guitars in the past year. As well as a new workshop, there are also some new guitars that offer plenty to celebrate
What You Need To Know
PJD? No, you got me there…
Based in York, PJD was founded by Leigh Dovey in 2010 and became a fully professional operation in 2017. For a limited period the instruments were only available from Guitar Galleries but other dealers will now be added. The PJD range centres on the Carey Elite, which we looked at back in issue 451.
This sounds like more than just one man in his shed…
You're right. When we last caught up with Leigh he was building with just one assistant, outsourcing the finishing, and making around eight guitars a month. A team of three now builds the guitars and aims to produce about 12 to 16 instruments per month.
Who are these aimed at?
While the 10th Anniversary Custom edges into boutique territory, the core PJD model is the Carey Elite, which starts from £2,399. The slightly stripped-down new Standard drops into Fender USA production territory in terms of price.
It's been a busy year for PJD Guitars. Aside from a factory move, the company's founder, Leigh Dovey, has expanded his workforce to include Zach Pygall. "Zach does most of the work when it comes off the CNC machine, refining the necks and doing the sanding," Leigh tells us. "I still look after wood selection, milling up the wood and kind of getting everything as it should be – the crucial work is so often at the start, the right materials and stuff. Then we have Andy Jackson who has recently joined us; Andy mainly does assembly, wiring and setups."
A new spray booth was literally being installed as we spoke to Leigh. This will bring finishing in-house and the team is aiming for a capacity increase of between 80 and 100 per cent. As Leigh moved into his production stride back in 2017, a tie-up with Guitar Galleries meant the retail store took on sales and marketing in return for being the exclusive outlet.
"Now we're moving forward with some other dealers across the UK," says Leigh, while admitting he's poached Mike Dunn from Guitar Galleries to run the sales and business side of PJD.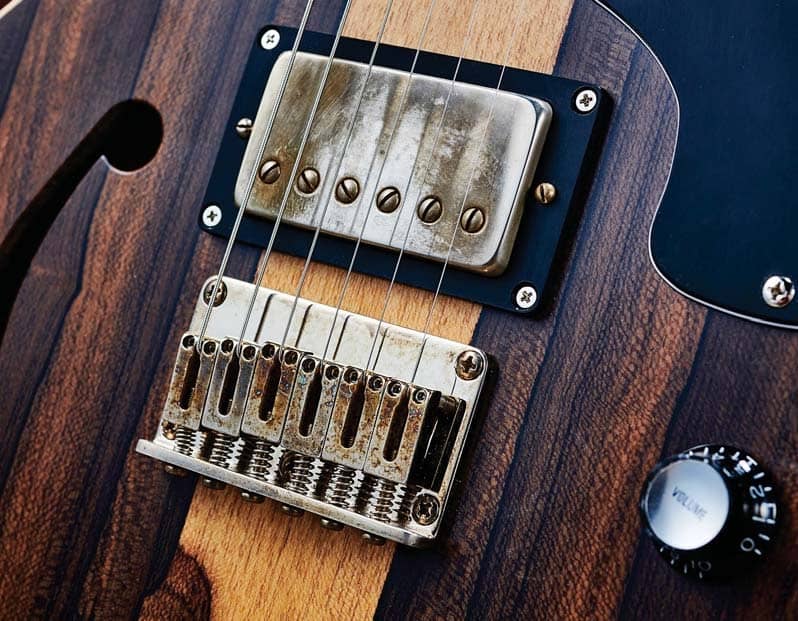 What hasn't changed is the superbly detailed and crisply built instruments. Our two review samples bookend the Carey Elite – PJD's core model – in both style and price. The new Standard is a big-hitter on price alone, bearing in mind it's made in the UK with a chambered, nitro-finished swamp ash body, quarter-sawn roasted and lightly figured neck and fingerboard, Gotoh hardware and Bare Knuckle Boot Camp pickups. It's deliciously light, too, and comes with a PJD logo'd Hiscox case.
Like many modern makers, Leigh pulls influences from benchmark designs to create a seemingly familiar look that's easy on the eye. The Carey model starts with a Fender-scale bolt-on neck that is a beautifully caramel-colored piece of quarter-sawn roasted maple with a separate fingerboard of the same stuff. The fingerboard has some subtle flecking punctuated by the unique acrylic rectangle inlays and, of course, the 22 frets. Detailing is superb: from the fretting – with each fret end beautifully domed – to the perfectly cut bone nut.
The Carey's slightly oversized single-cut light ash slab body – with no contouring back or front – apes a Fender White Blonde with its translucent bright-white finish. There's nothing to tell you it's a chambered construction aside perhaps from the weight, which at 2.63kg (5.79lb) is one of, if not the lightest we've had on test over the past few years. It's lighter than our 10th Anniversary model and also the previous Carey Elite we looked at in issue 451, which was hardly heavy at 2.74kg (6lb). There is a utility feel to the edges, though, which aren't so much radius'd as chamfered.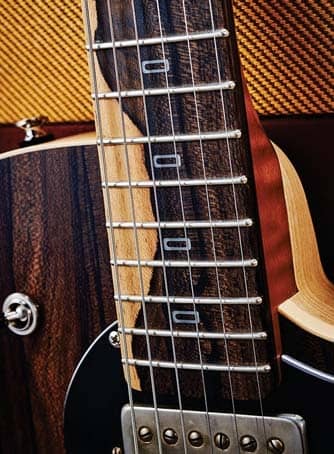 You can read up to 3 premium stories before you subscribe to Magzter GOLD
Log in, if you are already a subscriber
Get unlimited access to thousands of curated premium stories, newspapers and 5,000+ magazines
READ THE ENTIRE ISSUE
November 2020